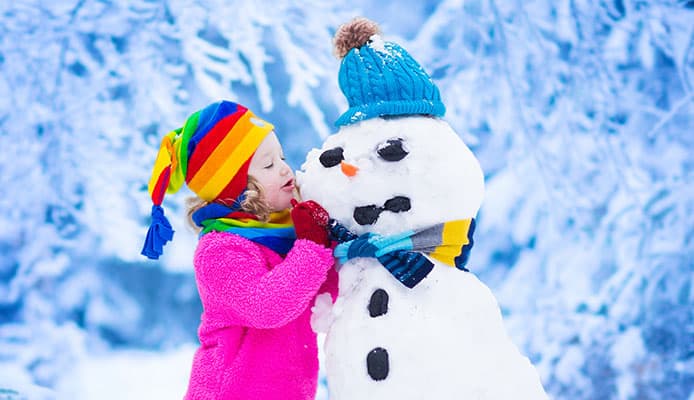 Just because it's snowing outside doesn't necessarily mean that kids should stay indoors. There is plenty of stuff they can do outside, plus a little fresh air doesn't hurt, does it?
Children are hard to keep indoors as they are used to being out and about. Every day is a play day for these little peeps, so winter or not, you got to keep them entertained.
There is a lot you can do, as a parent, to keep your children safe, warm, and happy during the cold season. Here are winter safety tips for kids to help you get through this not-so-friendly time of year.
Tips For Going Outside
When going out with your children, ensure that they are aware of the extreme weather conditions.
Children with respiratory problems should always be closely monitored to prevent their condition from deteriorating as a result of the cold.
Ensure that you set aside warm clothing for your children for the winter season. Always dress your children in different layers to keep them warm and dry. When dressing your kids in winter, go for warm winter gloves or mittens, warm winter boots, and a warm hat.
Do not allow children to participate in removing snow with a shovel if they are not with an adult as they can easily get hurt.
Keep an emergency bag in your car with extra clothes, blankets, mittens, and hats in case the weather suddenly changes. Also, pack enough food, a camping stove, a battery-operated radio, and a flashlight, in case you get stranded on the road.
Always let a relative or friend know when you go out with your little ones so they can notify the authority in the unfortunate event you fail to come back.
Stay alert when driving during winter as it can be hard to navigate through snow or ice without focus. Keep off from distractions such as texting on your cellular phone or listening to loud music.
Tips For Staying Indoors
When inside the house, ensure that they are warm at all times. Use an extra blanket for snuggling around a warm fire.
Let the children play in an area where you can closely monitor them. They can play with toys or watch television to ensure that they remain at one location.
Always ensure that children keep off drinking cold fluids straight from the refrigerator, as they can easily catch a common cold and flu.
Allow children to take warm food, soup, and water to remain hydrated throughout the season. Moreover, give them rejuvenating teas with a touch of lemon, ginger, and honey to keep the flu away.
Bathe your kids with warm water and once done, dress them up quickly so they don't catch a cold.
Let winter be a bonding time for you and your young ones. Take time to teach them different interactive skills such as baking, drawing, dancing, or playing the piano.
Add an extra blanket on their bed for extra warmth at night. You can go for a flannel sheet or quilt as these tend to be cozy and comfortable.
Important: In the spirit of ensuring winter safety for kids, make sure that your children know when it's time to come indoors. Also, as a parent, you should keep an eye on your kids to know when medical assistance is needed.
Winter Games
Sure, winter can be cold and all, but it is the only season that you can enjoy some of the best sports. Engaging in these sports can be interesting if you and your children have gone through the recommended training. However, remember to consult with a skilled instructor if you need the assistance of any kind. Here is a guide for sporting activities that children can indulge in during winter.
Ice Skating
Ice skating can be a great sport for both kids and adults. Whenever kids go ice skating, however, be sure to have an adult present at all times so that they can feel safe.
Find out from the recreational department the areas that have been approved for ice-skating and follow the rules and regulations that have been established for this activity.
You can have the child wear kneecaps, helmets, and elbow pads to protect them from ice skating injury especially if they are just getting started with skating.
Purchase ice skates that properly fit them and assist them to follow the simple rules of ice-skating like darting across the ice.
Sledding
If you want your children to enjoy the fresh winter breeze cruising down the hill, engage them in sledding. Remember this sport is recommended for children who are above 5 years.
Take note of kids to winter safety measures to ensure that the children enjoy the game and remain safe at the same time. Use safe gear that is structurally sound without sharp edges and ensure that the snow sled is well lubricated to prevent injuries.
Consider dressing them in warm clothing such as winter jackets, gloves or mittens, hats, and snow boots. Avoid scarves at all costs, as these can be caught in a sled, causing an accident.
Let the children sled in areas that do not have obstructions like fences and trees. Avoid crowded areas too, as they can put them at risk of injuries.
Snow Skiing and Snowboarding
Children can have fun while skiing on the slopes, but they should have undergone ski training. Being accompanied by an adult is one of the most effective kids' winter safety measures, as they can call for help if need be.
Ensure that they are privy to beginner ski mistakes and the ski dangers and risks that they are likely to get into while engaging in this sport. Let them carry the right ski gear and do not forget to pack skiing helmets for them even if the ski resort does not list it as a requirement.
Invest in ski equipment for your children so they can train regularly and gain more skiing skills and control when hitting the slopes. Children who are below 10 years should not be left to ski alone or try advanced ski moves without a skilled instructor present.
Snowmobiles
The snowmobile is an old sport that the children can engage in. It is recommended for children above 6 years. A parent should stay close to their child at all times or with an adult they trust, as the sport can be dangerous for them.
Children who use snowmobiles next to a pond or a lake are susceptible to drowning. It is best to keep off these areas if you can. Let your kids wear helmets to protect them from severe head injuries in the event they hit their head when riding.
Winter Health Conditions
If you are not careful, your children can easily find themselves spending the entire winter season in the hospital. This isn't pleasant for anyone.  To avoid such situations, ensure that they stay warm during the cold season. Here are the conditions your children are likely to suffer from if they get exposed to extreme cold.
Hypothermia
Hypothermia is a condition that happens when your body temperature goes below 95F. The condition is caused by exposure to extreme cold. Common symptoms include shivering, weak pulse, shallow breathing, and drowsiness.
If you suspect your children have caught hypothermia, seek medical help, because if left untreated, the condition can lead to respiratory problems.
Frostbites
The condition normally affects fingers, toes, and nose that have been exposed to severe cold. If your kid's skin freezes as a result of the cold, it will become pale or even blister.
Mild cases of frostbites can always be rectified by gradual warming, but if the condition is severe, it would be best to seek medical attention.
Globo Surf Overview
Winter is a great season for both adults and children. However, it comes with extreme conditions that can expose you and your children to hypothermia and frostbites.
It is essential to observe winter safety for kids to keep your little ones warm, dress them up with good layers, and ensure that they are taking warm drinks. Also, when you engage in winter sports with your children, ensure that they wear protective gear.
As a parent, it is important to pay attention to your kids, as they could easily get into an accident when out in the snow. Know basic first aid procedures and call for medical assistance if the need arises.
More Snow Reviews:
Source
3 ways to survive a cold winter,wikihow.com