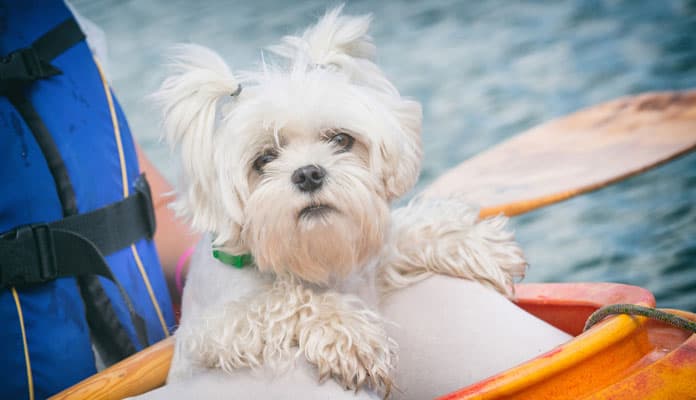 Just like we love to spend time outdoors, dogs also enjoy being outside. Generally, dogs love water, so next time you go on a kayaking trip, why not have them tag along? It is much better than watching them get upset every time you leave them behind to go enjoy yourself.   
However, kayaking with a dog requires some preparation. It is important that your furry friend not only be properly trained but also have the appropriate safety gear. Below are more tips on how to kayak with a dog. 
6 Tips For Kayaking With Dog (And Actually Loving It)
1. Put Your Dog In A Kayak First
Before getting too excited about a relaxing day on the water with your pooch, consider their personality. Would they enjoy spending time out on the water in a kayak that only has a small space for them? Would they be ok with the natural movements of the water? How strong of a swimmer are they? These are some of the questions you should be asking yourself before planning on kayaking with dogs. 
Most dogs will enjoy a day spent on the water, but that doesn't mean all dogs will. Ultimately, you know your pup better than anyone does, so you are the best judge on whether or not they will enjoy being your kayak partner.
2. Get Your Dog Used To Your Kayak
The first time your dog sees and interacts with your kayak should not be the day you decide to go kayaking with them. It is important to realize that kayaks are often unknown to your pup. They're big, scary and the paddles may easily intimidate them.
Putting your kayak on the ground and letting your dog explore it and get used to the look and feel of it will make him much more comfortable. If your dog is food motivated, try putting treats down on the kayak seat so they can positively associate it. Letting your dog take their time getting acquainted with the kayak will prove incredibly beneficial on your first paddle.
3. Train Your Dog To Sit In The Kayak
Training your dog while on dry land will be infinitely easier than in the water. When your dog hops into their spot in the yak (in front of you), teach him to sit down immediately. The motion of jumping in will be much different when on the open water, but having him sit right away is important.
Keep in mind that this training period will vary based on your dog. A 10lbs Chihuahua can be scooped up and put in place, whereas a big golden retriever will need to learn this motion himself. Not only the loading and unloading; a moving 70lbs dog will also rock your boat much more than a moving smaller dog.
4. Invest In The Right Kayak
When kayaking with a dog, you need a vessel that can comfortably accommodate both of you. Your best bet is getting a kayak with a dog seat.  The best kayak for dogs, in this case, would be either tandem kayaks or sit on top kayaks, as they have an area large enough for your pup to sit in. 
Consider your pup's personality when choosing your boat. A more active dog may require a seat that is close to you so you can calm him, while a calm, lazy dog will require a wide bow to lay on.
5. Carry The Right Gear
Like humans, kayaking dogs need to do the right gear to stay safe. Here are some things you want to stash in your dog kayak.
A life jacket
Just like you have a PFD, your kayak dog needs to be protected too. Keep in mind that putting your dog in a life jacket is an adjustment in itself and will, therefore, require additional training. This important gear should always be worn regardless of the dog's strength in swimming.
A leash
Even if your dog doesn't need to be wearing a leash the whole time, be sure to pack one. This will prove beneficial if you decide to get off somewhere for lunch.
A harness
Apart from a collar, your dog should wear a harness too. This is a safety feature that is quite important and can make your experience a lot more enjoyable. If your boat capsizes, you will be able to help your dog up if you have a harness to pull them up.
A water bowl
While they can drink from the lake or river you are in, your dog will likely not be able to reach while sitting in the kayak. It is important, especially on a hot day, that your dog has constant access to water. Having a bowl to scoop the water up for him to drink from now and then is important and can add to their enjoyment.
A dog that is new to kayaking, or one that is a bit more nervous on water, may not drink water while seated in the kayak due to stress. For this reason, make sure you pull over often and encourage them to drink.
Food
Even if you don't plan to stay the night, it never hurts to bring along some food for your kayaking dog. Plans can change quickly, so having some food on hand just in case you get home later than expected is always wise.
Water toys and/or bed
This is a completely new experience for your dog. Making it a fun one will help him calm down and enjoy the sport. Bringing some water toys for him to play with or even a bed to make him comfortable will make him realize this is where he belongs.
Globo Surf Overview 
Dogs and kayaks have been a topic of discussion for many years, with most people considering taking their dogs out on the water a dangerous venture. But dogs, like humans, love to spend time in the great outdoors and with the right preparation and equipment, kayaking with a dog can be a memorable experience. Train your pup beforehand and get them the right gear; it will go a long way in ensuring a safe adventure.
More Kayak Reviews:
Sources
Heartworm Preventative, PetMD
Dog Hydration, Healthy Pets