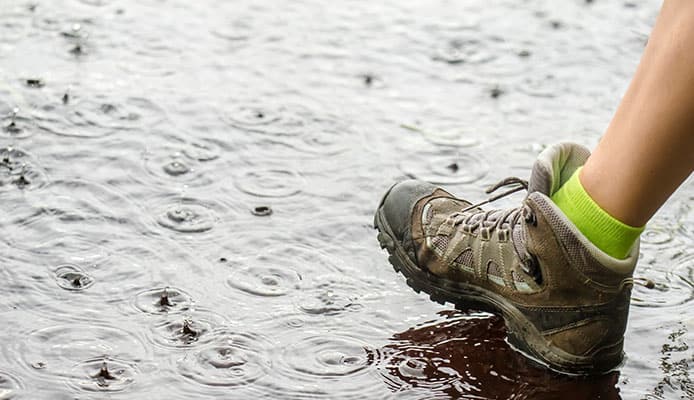 When leaving the factory, almost all hiking boots are treated using DWR (Durable Water Repellent) finish. For this reason, if you are breaking in new boots, boot waterproofing may be unnecessary.
The DWR finish wears off over time and needs to be replaced. You will know it is time to replace the finish when you notice that water no longer forms beads and rolls off the leather boot surface – the water starts absorbing into the outer boot layer. If you have started noticing this tendency, this article should solve your problem. We will be showing you how to waterproof boots.
Why You Should Waterproof Your Boots
Boot waterproofing has a wide range of benefits. You do not even have to be a hiker to enjoy the benefits offered by learning how to waterproof boots. Below, we will look at some of the main benefits:
1. To Prevent Blisters
This is the most obvious reason why you should consider waterproofing your boots before grabbing your hiking backpack and joining other hikers on the trail. A pair of wet and cold socks can ruin your whole day.
Moisture penetrating your boots won't just create an uncomfortable situation, it can also create an ideal environment for the formation of blisters. With boot waterproofing, however, soggy feet, uncomfortable days, and blisters could become a distant memory.
2. The Gore-Tex Liners Work Much Better
Most hiking boots for women and men feature Gore-Tex, a waterproof membrane. Re-waterproofing these boots helps moisture escape through the Gore-Tex liner. In other words, boot waterproofing helps you sweat out, making your day and night hikes more comfortable.
Related Review: Gore-Tex Boots
3. Extend the Boot Life Span
High-quality boots are never cheap. Most people want their boots to serve them for the longest time possible. If you ignore waterproofing, however, you will probably find yourself in the market, sooner than you would want, looking for a new boot.
Cleaning, waterproofing, and then drying the boots will help you get rid of the dirt and keep the leather conditioned. This allows you to keep your money in your pocket.
Choosing a Boot Waterproofing Product
For waterproofing to offer great results, you have to use the right waterproofing product. The ideal product depends on the material used to make the boot.
Each boot material will require a different product for waterproofing. While the process of waterproofing the boot will be the same, the spray or wax you invest in has to match the material. Below, we have a list of the common materials used to manufacture boots:
Full-grain leather – The majority of the hiking boots are manufactured using this stiff and smooth leather. When you imagine common leather, what you will be thinking about is full-grain leather.
Nubuck leather – While Nubuck is full-grain leather, it features a sanded finish. This gives the finished product a furry look. Compared to the regular full-grain leather, it will require different waterproofing products.
Split-grain or suede leather – Suede leather features a furry look just like the Nubuck leather. The major difference between suede leather and Nubuck leather is that suede leather is thinner and hence more flexible. Suede and Nubuck leather generally require the same treatment.
Fabric – As you have probably guessed, fabric is an entirely different material than leather. If you look at a boot and determine that it looks synthetic, there is a very high chance that what you are looking at is fabric.
If you are not 100% sure of the waterproofing product you will need to use, you can check your manufacturer's website. The manufacturer will most likely have information specific to your boot – this should help you determine the most ideal product for the boot.
How to Waterproof Boots – A Step by Step Guide
At this point, we assume that you have already determined the type of boot you own and even purchased an ideal waterproofing product. To have a comfortable day the next time you decide to grab your hiking daypack and hiking sunglasses, follow the steps below to waterproof your boot:
1. Clean the Boots
The first step to waterproofing all types of boots is cleaning them. Waterproofing sprays and waxes will not offer much protection if you apply them while your boots are still covered in dirt.
Boot cleaning is important even when you aren't trying to waterproof. The less mileage you put on the boots while they are dirty, the longer they will serve you.
In most instances, washing the boots with clean water and a soft brush should offer ideal results. All you will need to do is focus on getting all the dirt off the outside of the boot.
If your goal is to re-waterproof the boots, however, a deeper clean is often necessary. You will need to take out the insoles and laces and get as much dirt as you can off the boot. If needed, you can leave the boots in an inch of water for several hours. This can help loosen the dirt which usually lodges itself to the sole.
Using water alone may not make the boot clean enough for waterproofing. Waterproofing experts often recommend the use of a combination of water, specialized boot cleaner, and saddle soap. If no other ideal option exists, you can consider using a mild washing soap.
To prevent the buildup of dirt and salt inside the hiking boot from grinding into fabric and leather, you must wipe the boot's inner liners with a damp cloth. Once you have done all this, the boot should be ready for waterproofing.
2. Waterproof the Boots
As noted earlier on, the product you use to waterproof your boot will vary depending on the boot material – for the best results, ensure that the product you intend to use matches the boot. For example, if you have invested in a full-grain leather boot, ensure that you are using a product made specifically for full grain. For a leather and fabric combo, get a fabric and leather waterproofing product.
Depending on both preferences and the amount of money you are willing to part with, you may have options with the waterproofing product you decide to use. For example, with full-grain leather, you can get a product that offers great breathability and average waterproofing. For the same type of material, you could opt to get a product that offers better waterproofing but less breathability.
Most people do worry that the waterproofing product may change the boot color. If you would like your boot to have the same color the next time you wear it with your hiking pants, be sure to test the product on a small inconspicuous area before using it on the whole boot.
If you would like to use a wax-based product on your boot before the next summer hiking trip, be sure to warm the product with, say, a hairdryer, and then wipe on your boots. Be sure to cover the whole boot. Wipe off the excess product and then buff to shine.
If you will be using a cream, use an applicator. Be sure to rub everywhere on the hiking boot. To get the cream in tricky parts, you can use a cloth.
When using a spray, you will need to cover the whole hiking boot from approximately six inches away. Keep in mind that some spray products may need a second coat – this information may be available on the product package.
Irrespective of the waterproofing product you decide to use, you must get into all the creases, seams, and around the whole hardware. Those are the areas that bend a lot and are more likely to get punctured or to start leaking. You surely wouldn't want to deal with a leaking boot while hiking in cold weather.
Points to note:
It is always a good idea to not let the boot dry completely after the washing before you apply the waterproofing product. In most instances, applying the product on a damp boot helps it soak in.
When shopping around for waterproofing products, you need to keep in mind that conditioners are pretty different from waterproofing products. Some products, however, do both. Conditioning leather is a good idea when done once in a while. Since conditioning softens the leather, if you condition too often, the leather may become unsupportive.
3. Dry the Boots
Wet leather is generally not breathable or as supportive as dry leather. For this reason, before you lace your boots, you should let them dry. For some waterproofing products, drying helps solidify the waterproof layer.
If you are in a hurry, say, you have already put on your hiking socks and hiking hat and you would like to get on the trail as soon as possible, you may think that using an external source of heat for drying is ideal. This is not the case – you should let the boot dry without the help of an external source of heat, including the sun.
You should dry in normal and stable temperatures featuring great ventilation. External heat usually causes the glue holding your hiking boots together to deteriorate. This can reduce the boot lifespan significantly.
If you have to speed things up, consider putting a newspaper inside the boot, change the newspaper every hour. The newspaper can absorb moisture. Alternatively, consider pointing a plain air fan at the boots.
Since the insoles may also be holding the moisture, be sure to pull them out. Leave them out of the boot and allow them to dry.
Globo Surf Overview
If you would like your boots to last for a long time, you should consider investing some time into waterproofing them. If you follow the three main steps we have outlined in this article, learning how to waterproof boots should be extremely easy for you.
How often you waterproof your boots will depend on how often you wear them. If you wear the boots frequently, you may need to waterproof them more. A good rule of thumb, however, is to waterproof the boots whenever water stops beading on the surface or when they get extra dirty – this could equate to waterproofing the boots once every few months.
More Backpacking/Hiking Reviews:
More Boots Reviews:
Source
How To Waterproof Leather Boots, Workboothub.com