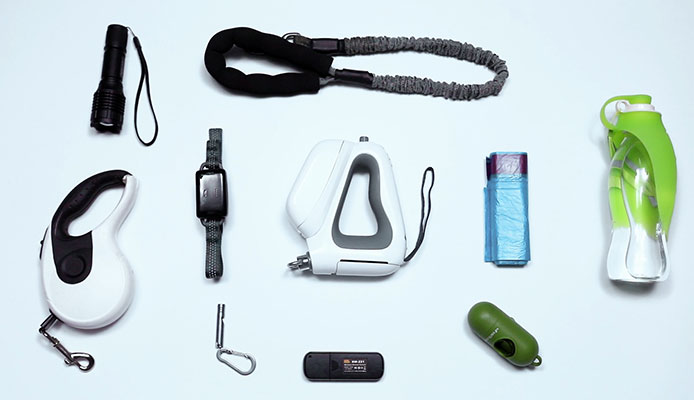 The GoGoLeash is a smartly designed dog leash that provides you with a convenient and easy-to-use solution to keep all the stuff you need to walk your dogs at hand, always nicely organized and easy to reach. Incorporating LED lights, a plastic bag holder, a water reservoir, and a large and comfortable handle, this innovative leash will have you be always ready to take your furry friend for a walk, without ever worrying about leaving something behind when you head out.
Walking your dog might seem like a simple affair, but there are several little things you want to be wary of to not end up having to shorten your walk considerably, change your route or even get a fine. How many times have you gone out without doggy bags? Or had to take a sudden turn towards a water fountain? How many times have you had to turn back in the wintertime, or stay very close to your house, because of the lack of light?
Thanks to the GoGoLeash, you'll be carrying the solution to all these problems comfortably in the palm of your hand every time you step out the door, letting you do away with the clutter that many small items are so quick to generate. One, single, well-designed dog leash that will solve numerous issues is a single sweep. The GoGoLeash can also be used for training purposes, with both vibration and a sound option, making it a complete tool for dog owners that will have you covered in any situation.
Features
The GoGoLeash provides an all-in-one solution designed to take care of all the needs of dog owners in a single sweep. The large handle includes a 100ml water tank and is designed to open so that it can function as a portable drinking cup as well. Other useful features include the plastic bag storage compartment, which is designed to hold up to fifteen doggy bags and lets you take one out using a single hand gesture. This will work with almost any doggy bag brand on the market, maximizing the versatility of the dog leash.
There are LED lights installed on the handle so you can light your dog's way in the dark, but other lights also line the collar to make your precious furry friend stay visible even when if you're out after sunset. The whole leash is waterproof and can sustain a load of up to 100kg, or 220 pounds, so you can handle larger dogs with ease, even adjusting the width of the collar. Even multiple dogs can be attached to the same leash since every one of them attaches the handle through a tough and sturdy hook. The buckle is even compatible with car seat belts so your dog can ride on the back seat of your car, right next to your children.
Thanks to its large and capable internal batteries, the GoGoLeash has enough juice to provide for many, undisturbed, dog walks. After only one hour of charging, you'll be good to go for 95 days of regular use, and even a quick, half an hour charge will give you enough power to last for around 15 days. The final treat that the GoGoleash has in store is the training modes, that give you an easy and effective way to teach your dog a couple of tricks. On the dog collar, there is a small, Bluetooth device that connects to the main handle, and can be used either to send a vibration or a sound to the dog, to give it clear indications as to what is accepted as behavior and what is not. If you have multiple dogs to take care of, you need not worry, since the leash can cycle through the settings, letting you select the most effective one for every single one of your four-legged friends. Here is a complete list of features of the GoGoLeash smart dog leash:
Large, comfortable handle

LED lights on the handle and around the dog's collar

Waterproof leash

Holds 100ml water reservoir

Also works as a drinking cup

Storage compartment for up to 15 doggy bags

Long-lasting batteries are quick to charge

The buckle is compatible with the car seat belt holder

Can be used as a training device

Can carry multiple dogs thanks to hook fastening system
Specifications
Collar diameter: 30-50cm/11.8-19.7 inches
Leash length: 1.3-1.8 meters/4.2-5.9 feet
Maximum leash load: 100kg/220 pounds
User Experience
Usability: The GoGoLeash feels nice and comfortable in hand and is very intuitive to use, so you'll be able to head out the door as soon as your batteries are charged. Everything is placed intelligently, within reach of your fingers, and operates smoothly and reliably. The adjustable collar wraps nicely around the dog's neck and always leaves your furry friend free to run around and enjoy the outdoors. Being able to fetch a dog bag with a simple swipe of the hand is a nice touch, the water reservoir will soon become one of your favorite features, and having a nice array of LED lights adds that layer of safety that you will wonder how you have lived without.
Versatility: Aside from its extreme convenience as a do-it-all dog leash, the GoGoLeash is also remarkably good at training your dogs to obey your commands. The device is studied to offer both the option to send a sound or a vibration to your dog, so it can make it unmistakable to them when they have done something wrong or right. Having this power within reach of your fingertips is extremely powerful, and will have your dog responding to your slightest hint in no time. The durable batteries installed in the handle work great and prevent you from any interruptions in the middle of a training session.
Pros:
Excellent handling

Very good battery life

The water reservoir and doggy bag holder work great
Cons: 
Leash might not be long enough for some users
Overall Rating
Usability: 99% – Ready to go as soon as you pick it up, the GoGoLeash manages the remarkable task of stuffing all the tools you need to comfortably take your dog for a walk in a single device, even adding further benefits on top of it all. This allows you to never forget anything you might need when you take out your furry friends and keep them extra safe thanks to the added set of LED lights.
Versatility: 98% – Not only does the GoGoLeash work great for a single dog, but its smart design and innovative build let you easily take care of more than one dog at once. Being able to just clip the leashes on, one next to the other is extremely useful and saves you from getting stuck with complicated knots. The compatibility with car seat belt holders is also an extremely smart touch, giving you an extra layer of security even as you transport your dog around. The addition of the training system completes the package, making the GoGoLeash probably the best accessory you can buy for your dog today.
Price: 96% – If we were only talking about a dog leash, then the price of the GoGoLeash could seem excessive. But, as we have established, this is no simple dog leash, but a complete and well-designed device that is programmed to help you make the most out of your walks with your best friend, without having to worry about any issue that might arise. Put in this perspective, it is easy to see that the amount of money you have to part ways with to have one on your side is well worth it, and we are sure you won't be regretting your purchase anytime soon.
Overall: 98% – There are some everyday items that we all believe it is impossible to improve on until someone comes and does it and surprises us all. The GoGoLeash is one of those items, taking something simple, like a normal dog leash, and turning it into a modern and smartly designed device that has everything you need inside it, and more. Delivering a complete package that is easy to use and adds safety features that are not found on most other leashes, the GoGoLeash is likely to be the last dog leash you'll ever have to buy.
Globo Surf Overview
The GoGoLeash brings together in a single item all the small little tools you need to take your dog for a walk, and that is so easy to forget if you are going out in a hurry or you happen to misplace one. Its design makes it comfortable to hold and easy to use, and the safety and training features it provides give it that extra value that most other leashes can't deliver. 
More Water Gear Reviews: