Waterproof bag can be perfect for a number of different situations, they will allow you to head off onto your adventure knowing that if you ever get caught in a storm, all your valuable items are going to be protected.
This backpack from DryTide though takes that to another level, as this bag has a brilliant mixture of the usefulness of a regular backpack with the waterproofing of a dry bag. When you see the word waterproof on many products it usually means that water can't get through the fabric.
With this bag it is literally true and water isn't going to be allowed to get into the main section of the bag. This makes it a highly attractive product and one which attempts to have the best of both worlds and succeeds. This makes it ideal for numerous activities whether you are near water or not, as it would be equally good on a kayak as it would be on a hike.
Features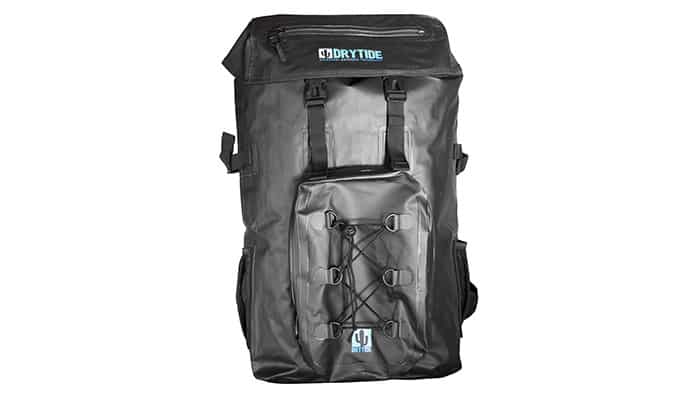 This is a bag that has numerous great features to ensure that you have everything that you need to have a comfortable backpacking experience. Often you have to make compromises with outdoor products in order to have one feature which stands out but this bag avoids that. Instead, it has numerous features which are all going to help you have a great day.
Will float on water
Large 50 liter main compartment
Numerous pocket options
Mesh side pockets
Padded shoulder and waist straps
Top handle
Stylish design
Specifications
Size: 60 x 34 x 25cm
Weight: 4.4 pounds
Capacity: 50 liter main compartment
Waterproofing: Heavy duty materials, welded seams and secure lock
Support: Shoulder straps with chest and hip belt
Pocket Options: Internal laptop pocket, top and side mesh pockets
User Experience
The fit: As a backpack, this is on the larger side when it comes to size with its 50 liter capacity and that is going to give you more than enough space to go on a sizeable backpacking trip. Despite the large size, it does feel very comfortable which is helped by the amount of support that the bag has.
It has the obvious shoulder straps which are adjustable to your body and these are lined with foam to prevent them from digging into your shoulders. There is also foam on the back to give you lumbar support and these areas of foam are non-absorbent, therefore you don't have to worry about getting them wet.
To add to that support, there is also a strap across your chest as well as a waist strap. This helps to keep the bag stable while it was on your shoulders and will help to prevent any movement. This is where the bag matches other similar backpacks of this size that don't have the same water protection.
I'm sure that there are many out there who will be hoping for DryTide to release a smaller version of the product but they might believe this market is already covered by dry bags. For a large bag though, this is as comfortable as they come.
The usability: Due to the waterproof nature of the backpack, there are always going to be others which are able to have a few more features and more pocket options available for you to use. Often this is a personal preference and some people prefer a more simple solution.
The large capacity of the main compartment means that some careful thought would have to go into packing the bag to ensure that any essential items are in easier reach than the ones that you'll be using less frequently. This avoids having to empty your bag every time you need something.
There are other pocket options available though which adds to the usability of the product with a top pocket above the bag and a back pocket too. While being highly resistant to water, these pockets aren't going to have the same level of waterproofing as the main compartment, which is important to remember.
The side mesh pockets are a standard feature on almost all backpacks but the elastic strap on the back pocket is a useful touch. While not having quite the usability of some non-waterproof backpacks, it is still very easy to use and you don't mind that at all due to the peace of mind you get from the waterproofing.
Pros:
Fully waterproof
Plenty of support
Supportive padding
Chest and waist straps
Large capacity
High-quality materials
Various pocket options
Cons:
Size could be too big for some
Not quite as usable as some regular backpacks
Overall Rating
This is clearly an impressive product which has done a great job at merging the two different elements together of a traditional backpack and a dry pack. Here we look at its overall ratings in four different categories.
Price: 90% – When you blend together a high build quality with innovative design you should expect to pay for the privilege and there is no surprise that this isn't going to be a very cheap bag. The price is fair though considering what you are getting for your money.
Material: 100% – If a bag is claiming to be fully waterproof then it needs to be made out of the best materials, as if it fails, the whole point of the product fails. This bag uses the best materials and there can be no complaints.
Design: 95% – This bag is very well designed and has achieved what others have failed to do in terms of having a large backpack which is fully waterproof. It may lack some additional features of other traditional backpacks but it's a great product.
Overall: 95% – DryTide have been able to produce a bag which ticks nearly all the boxes when it comes to what makes a great backpack and it is waterproof too. While it isn't perfect, as no product is, it is pretty close.
Globo Surf Overview
There are some great waterproof bags out there on the market which are going to be able to give you a comfortable space to place in your items. Those bags having a 50 liter capacity and having the usability of a traditional backpack though is not going to be seen.
This is a bag which will be a shining light for those who love having long backpacking trips when they are going to be travelling on or close to water. They are also great for those tropical areas and can be taken anywhere in the world. They can also be used for extreme backpacking or even just as a regular day pack.
Having the best of both worlds is usually a situation that doesn't happen with outdoor gear as one sacrifice has to be made for another. With this bag, no compromise is needed as it will give the extreme backpacker everything they need for their adventure.
DryPack have been able to produce a large backpack that gives you the peace of mind that you could be caught in a storm or tipped overboard and you know that all your valuable possessions are going to be safe and warm.
More Water Gear Reviews:
Waterproof Running Shoes
Shower Speaker