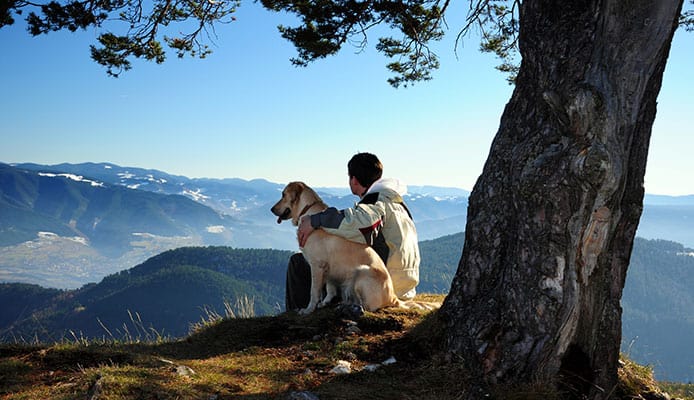 As a dog owner, a special bond exists between you and your furry friend. For this reason, wanting to share the benefits and beauty of hiking with your dog is natural. However, with numerous hiking trails in the US and other areas being closed to pets, one question you may ask yourself is "how do I find dog-friendly trails near me?".
In this article, we will focus on showing you how to find hiking trails near me that allow dogs. Whether you are looking for a day on the trail in the state park, a regular exercise hike near your home, or a trip to one of the national parks, we will help you find a place you can explore with your dog.
Where to Find Dog-Friendly Trails Near Me
1.    Municipal Areas
To find ideal trails for hiking with your dog, start with looking in your backyard. Local trails, which are usually controlled by the county, city, or town government are more likely to allow your four-legged friend than land controlled by the federal and state governments.
When planning to grab your dog backpack and hiking harness for your dog, be sure to check the recreation department and city parks websites to find hiking trails near me that allow dogs. Most of the municipal park departments will be willing to give you local trail maps featuring a lot of helpful information.
If you cannot determine whether a particular municipal hiking trail allows dogs by checking the official government or park website, consider calling the responsible department and talking to a live person. It is always better to invest your time into doing enough research than letting out-of-date or incorrect information ruin your hike.
Various non-governmental websites can help you find dog-friendly trails near me. A good example is Bringfido.com which features excellent lists of dog-friendly trails throughout the United States.
Another ideal strategy for locating good trails for hiking with your dog in municipal areas is to consult a local hiking group. Most towns and cities will have at least 1 group of hikers who are dedicated to the local trails – these hikers can help you choose the best dog-friendly outdoor areas.
2. State Parks
The US has over 10,000 state parks. While most of these parks do allow hikers to bring their dogs, the dogs usually have to be kept on a leash from 6 to ten feet.
It is worth noting that some state parks do not allow hikers to bring pets at all. Meanwhile, some of the parks will not allow dogs in certain parts, like in wildlife areas or beaches.
Before packing your hiking gear in your hiking backpack and deciding to head out with your dog, you must make sure the state park you intend to explore allows dogs. The most ideal way to determine whether a state park allows dogs is to check the park's website – you should be able to find a park's dog policy under the "protect and respect" or "rules and regulations" sections.
Another ideal way to find state park hiking trails near me that allow dogs is to check non-government websites. A good example of a website you can use is Hikewithyourdog.com – this website makes it extremely easy for you to find links to dog policies for different state parks.
3. Federal Areas
Whether they are in a park, monument, recreation area, or a national forest, federal trails feature some of the strictest dog rules. While you may want to take your dog with you after donning your hiking pants and hiking boots, this may not be possible in the majority of federally-controlled areas.
That said, you need to note that a sweeping policy against hiking with your furry friend on public land does not exist. While the policies in each park or forest are generally similar, they usually vary depending on the protection level for the federal areas. This tells you that it is still possible to find dog-friendly trails near me in the federal areas.
To give you an example, in most national forests, dogs are allowed. However, different forests may have varying leash policies.
While some national forests may allow you to explore with your dog, there may be specific areas in those forests where you may not be allowed to visit if you have a dog with you. A good example, in this case, would be established wilderness areas.
To avoid having issues in national forest areas, you can find hiking trails near me that allow dogs in the forests by checking the rules for each forest. This will help you determine whether you can take your dog with you after packing your backpack. Also, this should help you single out areas you may not be allowed to explore with your four-legged friend in different forests. The same goes for the monuments and the national parks.
While you may not be able to hike the backcountry with your dog, you need to keep in mind that numerous opportunities for exploring the federal areas with your dog are available. Since it will all depend on the park's policies, rules, and regulations, taking your time to go through the website for the federal area you intend to visit can be helpful – on most federal area websites, you will find the pet policy in the "plan your visit" section.
Globo Surf Overview
Contrary to what most new hikers think, finding dog-friendly trails near me is not too complicated. With government and non-government websites carrying all the information you need to locate hiking trails near me that allow dogs, it should be possible for you to spend time enjoying the great outdoors with your dog.
Before bringing your dog on a hike, ensure that he or she is healthy enough to handle the physical activity. Also, be sure to carry food and water for the dog – just like you, the dog needs to stay hydrated and well-fed to enjoy the hike.
More Backpacking/Hiking Reviews:
Source
Dog-Friendly Hiking Trails – Animalplanet.com