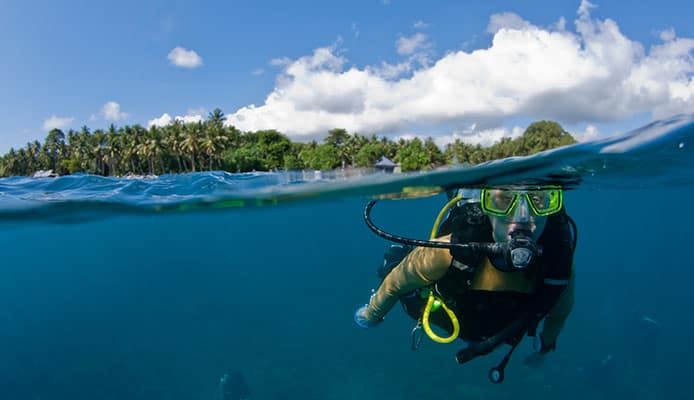 Malaysia is surrounded by water which means that it is not short of awesome and inspiring underwater sights and scenery. In fact, Malaysia is home to some of the best dive locations in the world.
However, to have unique and unprecedented access to some of the most beautiful underwater sights when diving in Malaysia, it is advisable to concentrate on the southeastern part of the country.
Some of the easiest dive sites to access can be found in the regions of Sabah and Borneo but you will need to pick the best time of year and avoid the monsoon. It's important to understand scuba diving dangers and risks. That said…
The 10 best dive spots in Malaysia
1. Sipadan Island, Kapalai Island, and Mabul Island
It could be argued that the best dive spots anywhere in Malaysia are situated on these three islands. Top of the list is Sipadan. However, the only thing that could make it difficult for a scuba diver to get to Sipadan has dived the restrictions and the fact that the scuba diver will require permits. However, once you get these, you are ready to grab your scuba gear package and take the plunge.
The waters in Mobul island may be murky but this is also a great place to take the plunge as a scuba diver. Kapalai on the other hand is a smaller island and while it is not top of the list among the three, it features a great resort that is built on stilts. The reason we have listed all three-islands is that it's nearly impossible to visit one without stepping foot on the other.
2. Lankayan Island
Yet another gem in Malaysia that offers an unforgettable experience and a chance to view the underwater world is Lankayan island. There is so much diversity to see here even with the island being so small.
You can get to Lankayan island by speed boat, a trip that will take you 90 minutes from Sandakan. This is also one of the best places to view whale sharks anywhere in Malaysia. Although whale sharks are gentle giants, it pays to know all about scuba diving with sharks.
And to spot these great giants the best time of year is between March and May. However, you can also view some bamboo sharks, mimic octopi, mandarin fish, ghost pipefish, and porcelain crabs.
And that is not all that Lankayan island has to offer. There is also a treat for the wreck diver one of the main ones being the Lankayan fishing wreck. Ghost pipefish, groupers, and yellow pikes can be found here in plenty.
3. Tunkul Abdul Rahman Marine park
This marine park was named after the first prime minister of Malaysia. 5 islands make up the park and they include Manukan, Sulung, Manutik, Sapi, and Gaya.
35 kilometers to the southwest of Kota Kinabalu is Pulau Tiga. This is one of the locations where the Survivor TV series was filmed.
On snake island, you can dive down and spot the banded sea snake. Keep in mind that these are highly venomous but will generally not attack anyone unless seriously provoked. If you maintain your distance, you should be completely safe. Also, it will help to learn the 5 scuba diving safety tips and solutions.
4. Pulau Satang and Kuching
If you are a macro lover, then Pulau Satang is the dive spot you don't want to miss whenever you are diving in Malaysia. There are two islands which include the smaller Pulao Satang Kecil and the much larger Pulau Satang Besar.
The majority of the diving takes place on the larger island of Pulau Satang Besar. Here, up to two-thirds of the island's waters have beautiful corals. There is such a huge variety of macro species which makes this the perfect place for underwater photographers.
Amongst the most common marine creatures that can be found here include groupers, pufferfish, parrotfish, snapper, the blue-ringed angelfish, and the copper banded butterflyfish.
However, you must always remember to watch out for the sea urchins as the visibility here is limited to between 5 meters and 10 meters. That said, it is quite easy to get to Pulau Satang as all you will need to do is to take a drive from Santubong and then use a boat to access the island. Also always know how to identify fire coral stings and treat a coral burn.
And for the avid wreck diver, you are simply spoilt for choice with over 19 wrecks that lie under the waters surrounding Pulau Satang. However, most of these are not available for recreational diving.
There are the Katori Mau and the Hie Mau which were sunk during world war II and are open for exploration. They lie at the bottom at an average depth of 21 meters and still feature artifacts such as ammunition, ceramic ware, and other ship parts.
Corals have taken over the wrecks of course and there is a big diversity of marine life that call this home. Some wrecks are more recently such as the Thai seven, the TK wreck, and the Barge wreck.
5. Layang Layang Island
Situated in the middle of the south china sea is the laying layang, a spectacular ring that consists of up to 13 coral atolls and is known the world over for being an excellent dive venue. Here you will see scalloped hammerhead sharks between March and July as this is the time of year that they rise to shallower depths. Other times of the year they tend to remain at lower depths.
The seas are deep with walls that go down 200 meters into the blue. Remember to maintain your buoyancy control, when you dive at layang layang. Also, a good dive watch will help you keep track of the time spent under the surface.
When you swim to the eastern part of the atoll, you will come across dogtooth lair which is the realm of dogtooth tuna.  But there are more inhabitants on this side of the atoll such as turtles, jacks, and fusiliers. Sometimes you could even spot the sunfish.
And let's not forget Georgian forest with its huge wall of large sea fans and the seaweed and sponges that add a tinge of color to this awesome marine forest.
6. Redang Island
Redang island will grab your attention the first time you see it owing to its breathtaking and natural beauty. This also makes it one of the best locations for diving in Malaysia and is a definite must-try for any avid diver who has his focus on peninsula Malaysia.
You may want to check out is Terumbu Kili. Here you will get to sample and enjoy some tropical local delights. There is a huge variety of coral mostly the dendronephthya soft corals, gorgonian sea fans, and mushroom corals.
These tend to attract a large number of sea turtles as well as many reef fish. And as you travel southeast you will come to cross Pulau Chupak where you will see brilliantly colored coral gardens. Even more stunning are the Sinularia corals that exist in the shallow waters. As you dive further downwards, you will be greeted by a whole range of vivid colors. You may need a good pair of dive boots to keep your feet safe from any sharp rocks and formations in the shallow waters.
You will also spot the white-eyed moray eels, batfish as well as rabbitfish, and if you are lucky you may spot the loggerhead turtle.
You can never be short of dive spots when you visit Redang island as there are over 20 of these distributed all around the island. What is even more fascinating about diving here is that you are going to see over 80% of all the marine life that can be found in the coral triangle which is boarded by Papua New Guinea, Philippines, and Indonesia.
7. Tenggol Island
Whenever your drifting takes you to the east coast mainland, you can access another exceptional dive location known as Tenggol island. It is a great place for the few people who choose to dive here with access to well over 20 dive sites. Most of these are walls.
If you are searching for turtles, you will find these at the Teluk Air Tawal. You will also see humped parrotfish in these waters.
And you are not forgotten if you simply love exploring wrecks. One of the most infamous wrecks that you can find here is the Kuantan wreck. With it comes a diverse array of fish which include batfish, leopard sharks, turtles, and moray eels. And if you visit the area between July and September, then you are even more likely to swim alongside whale sharks. Just make sure you have enough air in your scuba tanks.
Then after having a great time underwater, relax at the white sandy beaches and take in the surrounding sights.
However, it's important to keep in mind that Tenggol island is best suited for the experienced diver due to the stronger currents that are found in these waters. Beginners may be advised to visit the nearby islands of Tioman, Redang, or Perhentian islands due to the much calmer waters which allow much easier swimming. While there are plenty of dive sites to access, you may want to ensure that you visit Batu Chenanag, Tokong Laut, coral garden, and Tokong Buring.
8. Tioman Island
Tioman is located to the east of Pahang and you can access it from there using a plane or by boat. Here you will also gain access to many dives sites one of which is Pulau Reggis which is right off Tekek beach. The corals here are the hard variety and feature all manner of fish.
Barracuda, cuttlefish, and angelfish are just some of the main fish that you may also find. Another common dweller in these waters and near these reefs is the turtle.
If you want to swim alongside manta rays, then you can see them when diving at Pulau Chebeh. For the avid wreck diver is the Solak that is covered by both hard and soft corals and offers a home to a diverse variety of marine life. These include Moorish idols and trevally.
Pirate island and Labas offer excellent topography with large boulders, some of them being submerged and others being partially submerged. Always wear a good wet suit to keep your body warm in the cold depths.
This island was once considered among the most beautiful islands in the world and still receives thousands of visitors each year who look forward to the sunbathing, snorkeling, and of course divers.  There are marine parks here that were set up with the sole purpose of protecting the fragile reefs which include its fauna and flora. Mainly against human and fishing activities.
Between March and November is probably the best time of year to visit this island. You want to avoid coming here during the monsoon season which is between November and February if you want to avoid the strong winds.
9. Pulau Kapas and Lang Tengah Island
These two charming islands are located very close to shore making them simple to access. It explains why Pulau Kapas and Lang Tengah are very popular with the day-trippers. Even with the proximity to the mainland, you would be surprised at how good the diving is here.
You will see reef fish, wrasse, and butterflyfish. There is also a wreck from world war II as well as other wrecks from fishing boats.
If you choose to travel here between April and August, you may be lucky enough to come across the green turtles and the hawksbill turtles coming to nest on the coastline. And don't worry about where you will be spending the nights before the next day's drive as there is plenty of accommodation.
While you take the plunge here a dive compass will help you navigate your way in these waters.
10. Perhentian Island
Perhentian island features a marine park that includes two main islands— Pulau Perhentian Barsar, and the Pulau Perhentian Bersil.
When exploring the tiger reef, you will spot green turtles, and for an experience unlike any other, dive at Guac Cambling where you will receive an underwater manicure treatment from the much cleaner shrimp found at the bommies. They will be more than happy to interact with the diver.
Then there is the D-lagoon found on the north side of the Perhentian Kecil where you will find both hard and soft corals. There is a huge diversity of marine life and will include parrotfish, angelfish as well as black-spotted snappers. You may also spot the occasional green turtle and the manta rays. It is an excellent place for underwater photography and you will need the best dive lights to capture some awesome images.
Another excellent dive site is sail rock. Naturalists and biologists will particularly enjoy this dive spot with its multi-level diving and a huge diversity of marine life. Among the sea creatures are blue-spotted stingrays, parrotfish, and boxfish.
Most of the time you spend at this dive spot however will be to marvel at the staghorn garden, table corals, and the lettuce corals.  Not only are the Perhentian islands a great place to go diving, but they are also popular with snorkelers.
There are somethings that you can do to make sure that your dive trip to Perhentian islands is the best it could be. One is to carry enough cash with you as you will not find any ATM on the island. However, dive shops located here will take credit cards.
Second, keep in mind also that there aren't any supermarkets here so you will need to do your shopping on the mainland for your essentials such a sunscreen and mosquito repellant.
And lastly, remember that the Perhentian islands experience their peak season in July which means more people. If you prefer to dive when there is less traffic, then this is something you will need to consider.
Globo Surf Overview
Malaysia is adorned with some of the most beautiful islands anywhere in the world which in turn offer some excellent dive spots. You are simply spoilt for choice when you decide to visit Malaysia.
More Scuba Reviews:
Source
Scuba diving on perhentian kecil, tripsavvy.com