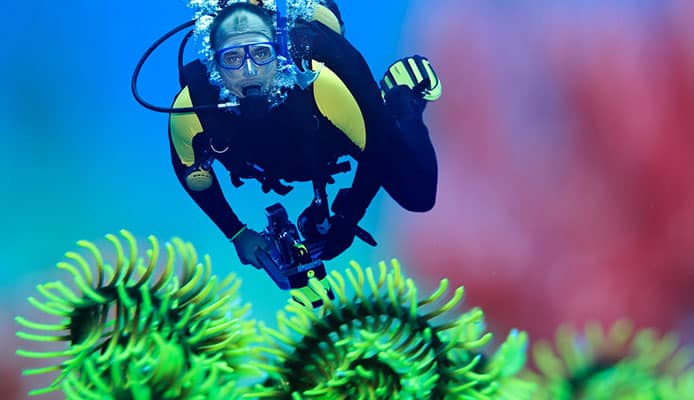 If you are looking for a new scuba diving destination, you can never go wrong by choosing to go diving in Asia. Asia features thriving marine life, colorful reefs, and diversity. Whether you love to search for strange and colorful critters or you simply love to look into the blue to see huge creatures like sharks, mantas, and other large fish, you won't be disappointed if you make Asian diving your next adventure.
We love to inspire both beginning scuba divers and experienced divers to go and explore new diving spots. We have done our research to locate the best Asian diving spots. If you have already familiarized yourself with scuba diving safety tips, read on to learn your next destination in Asia.
Top Spots for Diving in Asia
1. Derawan Islands, East Kalimantan, Indonesia
If you love being close to marine life, the Derawan Islands in Indonesia should be an ideal destination for you. The sea life in this Asian diving spot is not just breath-taking, it is also diverse. You will get to scuba dive with the sharks, barracudas, and green turtles.
While wearing your scuba diving safety gear, you can get up close to the Stingless Jellyfish without risking being stung. Over the years, the magnificent animal has evolved to become a harmless creature.
Other amazing sea life you should watch out for when exploring this Asian diving spot includes cuttlefish, batfishes, napoleon wrasses, scorpionfish, Spanish mackerel, sea horses, jacks, squid, and 50+ types of coral. If you are lucky, you may come across the rare Chelonia Mydas turtle.
If your goal when visiting this Asian diving spot is to see the larger species, the ideal time for visiting is between September and November. The visibility in the diving spot averages about 20 meters. The average water temperature is 28 degrees centigrade.
2. Shark Point, Phuket, Thailand
If you are planning to go diving in Asia, the Shark Point in Thailand is a spot that shouldn't miss. The Shark Point, which is otherwise referred to as Hin Musang by the locals, rises out of the surrounding waters from depths of approximately 18 to 20 meters. The diving spot acquired the official marine sanctuary status back in 1992. It offers visibility up to a depth of approximately 10 to 20 meters.
The Asian diving spot is ideal for both experienced and intermediate divers. However, even if you have already invested in the best scuba gear for kids, diving with your kids in the Shark Point is not a good idea. The Asian diving spot is located about 1 mile southeast of the Anemone Reef.
If you bring your best diving camera, you should be able to take photos of the beautiful leopard sharks. If you are lucky, you may also come across the whale sharks.
This Thailand marine sanctuary is famous for its wide variety of marine life. Apart from the leopard and whale sharks, the spot has numerous sea creatures. Typically, if you do wear your best dry suit and decide to explore the Asian diving spot, you should be able to see trevallies, jacks, morays, grouper, lionfish, scorpionfish, anemone fish, cuttlefish, and squid.
3. Raja Ampat Islands, Indonesia
When scuba diving in Asia, you wouldn't want to miss Raja Ampat. The Asian diving spot is one of the most bio-diverse places in the world. Actually, before starting your underwater navigation at Raja Ampat, you should learn how to take pictures underwater. This will ensure that you capture as much marine life as possible on your camera.
The Asian diving spot features over 600 coral species and 1400+ reef fishes. Both the soft and hard corals compete for space on the reefs. Swarms of small fish, including fusiliers, anthias, and damsels can also be found in the area. The large fish species available in the Asian diving spot include the giant sweetlips, bump heads and the Napoleon wrasse.
The diving spot is a shark sanctuary. This means that there is a very high likelihood of spotting one of the numerous reef shark species.
If you do love dolphins, you can always use your snorkel gear package to explore the areas close to the shore. Some of the local dolphins are often found closer to the shore. Most of them are friendly enough to interact with swimmers.
4. Mergui Archipelago, Burma
The Mergui Archipelago can be referred to as a hidden gem. The spot for diving in Asia is hidden from the rest of the world. The Archipelago is largely uninhabited. It is made up of approximately 800 small islands.
The Asian diving spot is an ideal destination for seasoned divers who are looking for a new and exciting challenge. The archipelago features varying diving environments. The shallow, inshore fringing island reefs feature an unsurpassed marine life diversity but the visibility is often poor.
The offshore fringing reefs feature better visibility. The corals are much healthier. The small rocky islands and the pinnacles which rise from the depths do attract larger marine life. If you do carry your best lens for underwater photography, you should be able to take pictures of the huge sharks as you explore the diving spot.
The Mergui Archipelago features interesting drop-offs and tunnels. Apart from the sharks, the rugged Asian diving location has numerous sea creatures, including red lionfish, barracudas, dogtooth tuna, batfish, ghost pipefish, unicornfish, lobsters, shrimps, frogfish, crabs, and much more.
5. Pulau Hantu, Singapore

If you intend to go diving in Singapore, you should check out Pulau Hantu. While visibility in this Asian diving spot can be challenging, on good days, you can experience up to 10 meters of visibility. On average, the visibility ranges from 3 to 4 meters.
If you happen to speak to the locals, they will probably tell you that Pulau Hantu means island of the ghosts or Ghost Island in the Malay translation. According to the local legend, 2 warriors engaged in a vicious battle and later turned into 2 islands – Pulau Hantu Besar and Pulau Hantu Kechil – after their deaths.
The spot for diving in Asia features a wide variety of marine life. When exploring the diving spot, you will come across hermit crabs, barracuda, nurse sharks, seahorses, flower crabs, anemone fish, blacktip reef sharks, sea slugs, and even resident turtles. If you are lucky, you can spot the rare sawblade shrimp.
Pulau Hantu is just a 45-minutes boat ride from Singapore. The dive site is ideal for diving all year round. The water temperatures in Pulau Hantu ranges between 28 and 29 degrees centigrade. This means that you won't have to deal with incredibly low temperatures.
6. Cocoa Island, Maldives
Cocoa Island is one of the private Islands in the Maldives. It is also one of the world-class spots for diving in Asia. Since the destination is part of the COMO Group, you should expect nice accommodations and facilities.
You should expect to find the Cocoa island dive center open between 8 am and 6 pm daily. If you are still wondering how your first dive will look like, you can ask the diving instructors at the dive center to show you a dive spot that matches your experience, interests, and needs.
Over 33 overwater suites are available. This means that you can slip right into the water. This spot for diving in Asia features a wide range variety of sea life. You can expect to see eagle rays, fusiliers, giant trevallies, reef fish species, and big green turtles.
The white and grey shark sightings are also very common in this spot for diving in Asia. If you would like to dive with these sharks, you should book your dive the day before.
7. Komodo Islands, Sumatra, Indonesia
The Komodo cluster of islands is best known for the Komodo Dragon. This is the largest living lizard on planet earth. Apart from its huge lizards, Komodo is also popular for its 50+ Asian diving spots. Therefore, if you are heading to Sumatra, Indonesia, you shouldn't forget to carry your best scuba gear package.
Diving in the Komodo islands gives you an excellent opportunity to be close to the various shark species, manta rays, dolphins, turtles, and eels. If you have scuba phobia, a dive in the Komodo islands is an excellent reason to learn how to get over your fear of scuba diving. This is because the dive will offer you an excellent opportunity to see the exotic and rare blue-ringed octopus.
The islands have a beautifully rich coral life. For the best diving conditions, you should plan to visit the Komodo islands between March and October.
8. Soneva Fushi, Maldives
If you are planning a dive holiday, including Soneva Fushi on your list of destinations would be an excellent idea. The private island is ideal for divers looking for an adrenaline-pumping dive each morning, a nice spa treatment in the afternoon, and a nice dinner in the evening. The experience you have when visiting this spot for scuba diving in Asia can be tailored to your needs.
If you do not know what is freediving, you do not have to worry. New scuba divers can learn the essential scuba diving skills from the PADI diving school available on the island. With the help of the best instructors, you should be able to wear your best freediving fins with confidence and enjoy exploring the underwaters in Soneva Fushi.
If you get tired of wearing your scuba fins, you can opt to relax on the white sandy beaches. If you already know how to use snorkel gear, you can also opt to try snorkeling in this spot for diving in Asia.
9. Koh Rong, Cambodia
The Koh Rong archipelago is home to white-sand beaches, warm turquoise waters, and extremely friendly fishing villages. The warm waters are always teeming with colorful sea life all year round.
Armed with your best underwater dive light, you will be able to spot a wide variety of corals, including big mountain corals, whip corals, and soft gorgonians. You will also come across a wide variety of tropical fish, including barracudas, giant trevallies, and cuttlefish.
The Koh Rong archipelago features Cambodia's first and only private island resort known as Song Saa. The private island resort spans 2 islands and has 27 private pool villas. The villas are designed to mirror the Cambodian fishing village theme. If you get tired of navigating the waters, you can always visit the private island resort.
10. Qiandao Lake, Zhejiang Province, China
This spot for diving in Asia is one of the best places you can visit. You will only need to drive for approximately 3 hours from Hangzhou to arrive at the Asian diving spot. The drive is worth your time and effort.
The 365 square mile lake features a large number of islands. Some of these islands are large. The islands themselves are an incredible spectacle even before you dive into the waters.
Once you dive, you will be able to view a 1,800-year-old city. The city was lost back in the 1950s. This was after the construction of a hydroelectricity dam. Today, the city lies about 100 feet beneath the water surface.
The city spans approximately 62 football fields. While most people prefer to call it the "Lost City", the underwater world was sacrificed to give way for the dam. When the dam was being constructed, approximately 290,000 people had to relocate.
Globo Surf Overview
Asia has no shortage of diving spots. Irrespective of whether you are a novice or experienced scuba diver, it is possible to find a spot that fits both your needs and experience. If you are planning to go diving in Asia, knowing the best spots can help with the planning process. The Asian diving spots outlined in this article guarantee you an incredible experience.
What makes Asian diving spots different from other diving sites is the wide variety of marine life. Irrespective of whether you love macro diving or you simply enjoy diving with the sharks, Asian diving spots capable of catering to your needs are available.
More Scuba Reviews:
Source
OUR TOP 5 BEST SCUBA DIVING SITES IN ASIA, Nomadicboys.com