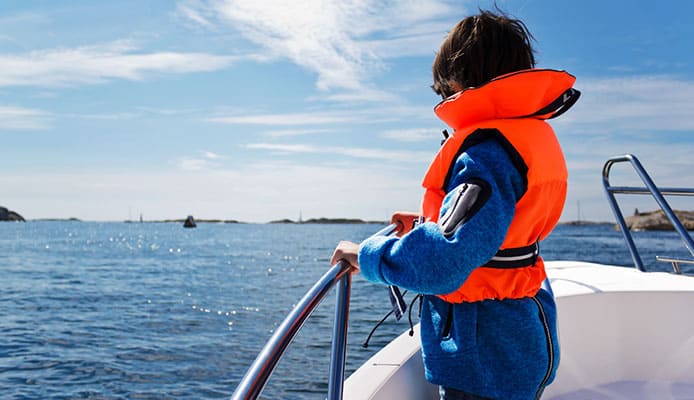 All marine vessels should be equipped with the necessary and supplemental boat safety equipment and supplies before leaving the shore. This applies to all types of boats, regardless of type and size. Knowing what to bring (and actually having them onboard) will make your day more comfortable since you'll have the peace of mind that you're prepared should anything go wrong while you're out in the water. That said, here's a list of the different marine safety supplies and equipment that you'll want to have on your boat at all times.
Life Jackets
Life jackets are a staple of any marine vessel safety gear and equipment checklist. No boat should ever leave the store without these. The rules regarding the carry and use of life jackets will vary from one place to another, but it is agreed upon that there should be at least one boating life jacket or sailing life jacket for every passenger in the vessel. There should also be a mix of adult and children life jackets, as well as a life jacket for dogs if you're planning to bring your pet aboard for the trip. The life jackets should also be clean and in good working condition at all times.
Stearns Adult Classic Series Vest
See Customer Owner Feedback >>
Last Updated: May 28, 2019
Last Updated: May 28, 2019
Communication Devices
Communication devices used for emergency communication will vary from one vessel to another, but for most boats, a marine VHF radio is generally the most basic communication device that they can have. VHF radios can be used in calling for help and sending distress signals, placing calls from ship to shore, as well as keeping up with the latest weather reports. Also, you'll need to have a marine VHF antenna installed in your boat. To ensure that your radio has a clear and reliable connection, invest in a top-rated antenna.
Cobra MRHH350FLT Floating VHF
See Customer Owner Feedback >>
Last Updated: May 28, 2019
Last Updated: May 28, 2019
Emergency Flares
During emergencies, flares are used to get the attention of other boats or aircraft in the area. There are different types of flares like parachute flares, red hand flares, and orange smoke flares. The first two types are generally the most recommended for boats since they provide better visibility in both nighttime and daytime. Check that the flares are also up to date, and any expired flares should be disposed of properly.
Life Rafts
Large boats are required to have life rafts ready if the boat capsizes. Life rafts are available in a variety of styles and designs, from wooden dinghies to self-deploying inflatable boats and others. In any case, life rafts should be large enough to accommodate several passengers at a single time. Also, depending on the size of the boat several life rafts may be required.
Sounding Devices
Sounding devices in boats are generally used to signal intentions in the waterways with each sound (e.g. one short blast, two short blasts, prolonged blasts, etc.) having its own meaning. However, sounding devices like horns and others are also used in emergencies such as to catch the attention of a nearby boat or to indicate your position in the water.
Emergency Beacons
Emergency beacons are crucial when your boat has stalled or lost power while you're out in the water. These emergency position indicating radio beacons are small electronic devices that will continuously send out signals to alert rescuers of your position. Smaller vessels can make use of personal locater beacons provided it complies with the requirements of the coast guard.
Fuel and Oil Back-Up Supplies
It is the responsibility of the boat captain or operator to check that there is a sufficient amount of fuel or oil in the boat fuel tank for the trip and back. And even then, it is still prudent to bring back up supplies of fuel, oil, coolants, and others just in case an emergency arises and the stored supplies aren't enough for the voyage back to shore. Along that line, check that the batteries are fully charged before leaving. Having an extra marine battery or a marine battery charger at hand is also recommended.
Universal Power Group 12V
See Customer Owner Feedback >>
Last Updated: May 28, 2019
Last Updated: May 28, 2019
Tools and Spare Parts

Every boat should have a toolbox ready in case of machinery or equipment breakdown. These toolboxes should include everything that one will need to conduct electrical, mechanical, and even plumbing repairs in the boat. Along with that, it is important to bring along some spare parts to replace any broken parts while in the water. These include impellers, belts, hoses, fuel filters, and others.
Fire Extinguishers
Medium to large boats that have their own kitchens or are equipped with boat grills must carry a fire extinguisher at all times. Even smaller boats should still have a small fire extinguisher at hand in case an unexpected fire erupts within the vessel. The fire extinguishers should be mounted in an easily accessible place. The boat captain or operator should also make it a point to inform all passengers where the fire extinguisher is and take time to educate them on how to use it if necessary.
First Aid Supplies
Every boat regardless of size, type, or purpose should have a fully stocked first aid kit on board. First aid kits should include pads and bandages, antiseptic wipes, creams and ointments, and other items necessary to treat cuts, wounds, and burns. First aid kits can also have towels, rescue blankets, cold packs, and other essential items necessary for a quick and effective medical treatment. You can put together your own first aid kit or get a pre-packed medical first aid kit. Remember also to replenish or replace any medical item that has been used or has expired.
First Aid Kit Hard Red Case
See Customer Owner Feedback >>
Last Updated: May 28, 2019
Last Updated: May 28, 2019
Globo Surf Overview
Safety is of paramount importance when you're out in the water on your boat. By ensuring that you have the above-mentioned boat safety equipment on board, you can deal with any emergencies that may arise during your trip. There are several other marine safety supplies that you may want to bring along like an extra anchor rope for your anchors, extra food and water supplies, and others. And to make sure that you don't forget anything, prepare a pre-departure checklist and go over it before you leave the docks.
More Boat Reviews:
Source
Boat Safety Equipment Checklist, Boater Exam