Bluegill is a freshwater fish species that can be found anywhere, from North and South America, South Africa, Asia to Europe and Oceania. If you plan to go on a fishing trip targeting bluegill, first check if it is located at your desired place, and then check out our detailed guide on how to catch bluegill and 10 bluegill fishing tips.  In this article, we'll show you cooking bluegill tips and some of the best bluegill recipes.
1. Bluegill Parmesan
Enough food for 4 people, it takes less than 30 minutes to prepare it from scratch to serving. What makes this recipe great is the fact that you can combine any seasoning you want. 
Needed Ingredients:
1/4 cup butter, melted

1/2 cup dry bread crumbs

1/3 cup grated Parmesan cheese

2 tablespoons minced fresh parsley

1 teaspoon salt

1/2 teaspoon paprika

1/4 teaspoon dried oregano

1/4 teaspoon dried basil

1/4 teaspoon pepper

1 pound bluegill
Instructions:
Put melted butter in a shallow bowl, while in the other shallow bowl mix the bread, cheese, and seasonings.
Take the fish, dip it in melted butter and drag it through the crumb mixture. 
Grease the baking pan, put the fish in it. Preheat the oven to 350°F and let it bake for about 20 minutes. 
2. Fried Bluegill Fillets
It takes about 20 minutes to prepare fried bluegill fillets that will be enough for 6 people, so if you're in a hurry or have no time for something more complex, this is your easy way out. And the best part – your guests will be thrilled!
Needed Ingredients:
1 cup seasoned bread crumbs

1 cup grated Parmesan cheese

1/2 teaspoon salt

1/2 teaspoon lemon-pepper seasoning

1/4 teaspoon pepper

6 eggs

1-1/2 pounds bluegill or crappie fillets

1/2 cup canola oil, divided
Instructions:
Take a shallow bowl and mix bread crumbs, Parmesan cheese, salt, lemon-pepper seasoning, and pepper.
In another shallow bowl, whisk eggs and dip the fillets in eggs.
Dip the fillets through the crumb mixture to coat, then dip it again in eggs and pull it through the crumb mixture.
Take a large skillet, put 2-3 tablespoons of oil, heat it to medium-high heat, and place the fillets in batches. Let it fry for 2-3 minutes, turn it to the other side, fry it until you can easily guide the fork through it. 
Remove from skillet to a plate, add additional seasoning and serve with salad or potatoes if wanted.
3. Campfire Fried Fish
One of the most fun parts of the fishing trip is a campfire lunch and learning how to make campfire fried fish should be your top choice.
Needed Ingredients:
2 large eggs

3/4 cup all-purpose flour

1/2 cup cornmeal

1 teaspoon salt

1 teaspoon paprika

3 pounds bluegill, walleye, or perch fillets

Canola oil
Instructions:
Break the eggs into a shallow bowl and whisk them.
Take a resealable plastic bag, add flour, cornmeal, salt, and paprika to it, seal the bag and shake until you get it all mixed.
Add the mixture to a shallow bowl, dip the fillets in eggs and roll them through the mixture.
In a large, cast-iron skillet add about a quarter of an inch of oil, and place it over the grill rack you've previously heated to medium heat. 
Add fillets to skillet, fry them in batches for 3-4 minutes, then turn them to the other side and fry for another 3-4 minutes. 
Once removed from the skillet, place the fillets on a paper towel to remove the moisture. Let them sit for a few minutes, then serve with fresh salad.
4. Crispy Cajun Bluegill
You're having a few friends coming over? Don't worry, this way of cooking bluegill will give you enough food to serve from 6 to 8 people in about half an hour.
Needed Ingredients:
2 cups all-purpose flour

3 teaspoons salt

2 teaspoons Cajun seasoning

1-1/2 teaspoons pepper

1/8 teaspoon ground cinnamon

2 pounds bass, bluegill, or crappie fillets

2 eggs

1/4 cup water

2 cups mashed potato flakes

6 tablespoons vegetable oil, divided
Instructions:
Take a large resealable plastic bag and add flour, salt, Cajun seasoning, pepper, and ground cinnamon. Add the fish fillet. Seal the bag and shake it until you get a good coating. Take the fillet out, place it on a paper towel, and add the next fillet. Repeat until all the fillets are coated.
In a shallow bowl, whisk the eggs, then place the potato flakes in the second shallow dish. 
Take the fillet, dip it in eggs then through potato flakes, and repeat. 
In a large skillet, heat 3 tablespoons of oil over medium-high heat, and add the fish. Let it cook for 3-4 minutes from both sides. When the fish becomes easy to go through with a fork, it's done. 
Serve it with salad or baked potatoes.
5. Moist Baked Fish
Great for 2, this bluegill recipe can be used as a romantic dish for you and your loved one.
Needed ingredients:
1/2 cup condensed cream of onion soup, undiluted

1 tablespoon 2% milk

3/4 pound perch, bluegill, or catfish fillets

Dash pepper

2 tablespoons butter, melted

1-1/2 teaspoons lemon juice

3/4 cup coarsely crushed sour cream and onion potato chips
Instructions:
Set the oven to 350°F. Combine soup and milk in a shallow bowl and dip fillets in it. 
Put fillets in a baking dish coated with cooking spray and sprinkle them with pepper. 
Drizzle the butter-lemon combination over fillets and top it with potato chips.
Bake it uncovered in a preheated oven for about 20 minutes. When you can easily go through the fish with a fork, it's done.
Serve it with some nice salad and a glass of white wine.
FAQ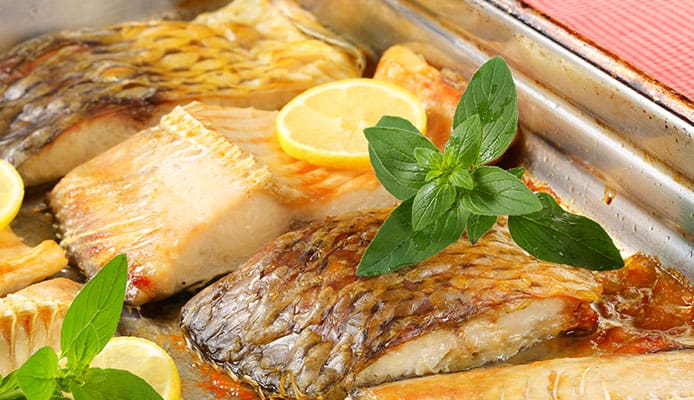 Here are the answers to some of the most frequently asked questions about cooking bluegill.
Q: What is the best way to cook bluegill?
A: 
Although possible doing it any other way, the best and the most popular way to cook bluegill is by coating it with the desired mixture and placing it in a skillet, a pan or an oven. They are the best when prepared right after the catch or when fresh.
Q: Is bluegill fish good to eat?
A: 
Bluegill is not only delicious, but it is also one of the healthiest fish species you'll run into. It is considered to be extremely healthy thanks to the fact that it eats insects, so it is not so likely it will contain lots of harmful materials. 
Q: How long do you cook bluegill?
A: 
It depends on the way you're preparing it. If you do it in a skillet or in a frying pan, it should be ready in less then 10 minutes. However, if you bake it in an oven, it may take about 15-20 minutes.
Q: What does bluegill taste like?
A: 
Bluegill has a rich and full flavor, and it is considered to be one of the tastiest freshwater fish species. Bluegill meat is white, flaky and it can even be sweet if water it comes from is cool and, more importantly, clean.
Globo Surf Overview
With these bluegill recipes, you'll enjoy cooking bluegill as much as the final result.
More Fishing Reviews: