OUR TOP PICK

---

EDITORS CHOICE

---
Snowboarding in the backcountry adds an extra adventure to the experience: splitboarding. Hiking up the mountains to access untouched terrain is demanding but having the right gear can make the journey to the peak easier and enjoyable.
Spliboard bindings are some of the most important gear for splitboarding. The best splitboard bindings are lightweight and responsive for easier climbing on snow and durable enough for use in the backcountry.
Here is a list of the best bindings for splitboard that will let you climb with ease, transition from tour to ride mode fast and also impress on the descent. Make sure to go through our buying guide for the factors to consider when choosing split board bindings.
Splitboard Bindings Reviews
OUR TOP PICK
Voile Speed Rail Splitboard Bindings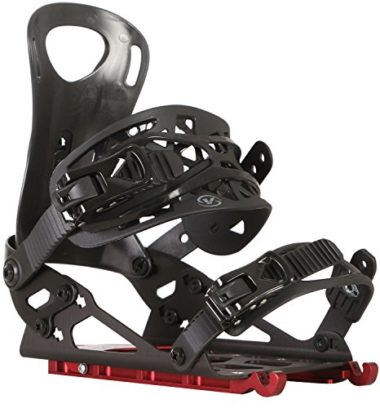 See Customer Owner Feedback >>
What Makes These Splitboard Bindings Stand Out

Splitboard specific bindings for optimal performance

Easy to use puck system

Quick and hassle-free pinless transitions

Highly adjustable lateral canting highbacks

Self-cleaning cutaways prevent ice build-up

A fully adjustable heel cup

Budget-friendly splitboard specific bindings

Lighter and more supportive and comfortable straps

Lightweight and durable tempered aluminum construction

Compatible with Voile pucks
Sizes: Small, Medium, Large
Boot Sizes: Small fits 4-7.5, Medium fits 8-10.5, Large fits 11+
EDITORS CHOICE
Union Flite Pro Splitboard Bindings
See Customer Owner Feedback >>
What Makes These Splitboard Bindings Stand Out

Lightweight and comfortable to climb with

Rugged durability for the wild backcountry

CP1 highbacks support a wide range of movements

Easy to set up, put on, adjust and take off

Duraflex baseplate material can withstand subfreezing temperatures

Thermoformed EVA bushings for cushioning and even flex

Classic ankle straps for comfort

Backed by a lifetime assurance
Size: Small, Medium, Large
Boot Size: Small fits 6-7.5, Medium fits 8-10, Large fits 10.5+
View More By Union Binding Company & Design »
BEST VALUE
Flow Alpha MTN Splitboard Bindings
See Customer Owner Feedback >>
What Makes These Splitboard Bindings Stand Out

All-mountain design and flex

Speed entry type of bindings

LSR ratchets for easier size and fit adjustment

Padded hi-back and footbed provide cushioning comfort

Inexpensive and awesome value
Sizes: Medium, Large, Extra Large
Boot Sizes: Medium fits 7-9, Large fits 9-11, XL fits 11-14
How To Choose Splitboard Bindings – Buying Guide
There are two types of splitboard bindings to choose between: hardboot splitboard bindings and strap splitboard bindings. Strap bindings are the more versatile and comfortable options. You will also have to decide whether to invest in splitboard specific bindings or use traditional snowboard bindings. To ensure that you choose a great pair of bindings that will serve you well in the backcountry and deliver value for money, be sure to pay attention to the following criteria:
Weight
Splitboarding is a physically demanding activity that involves climbing steep slopes. For ease of maneuvering when touring, it is essential that the bindings are lightweight so they don't weigh you down and cause you to tire quickly. Weight is, therefore, one of the most important factors to consider when buying split board bindings.
The best bindings for splitboards are designed with strength and weight savings in mind. They feature minimal designs, laser cut or cored out baseplates, minimal straps, and construction using high-strength yet lightweight materials such as the following.
Materials
The best materials for splitboard bindings are lightweight while also being rugged and durable. Materials that meet these requirements include aluminum, carbon fiber, titanium, nylon resin, and fiberglass. Bindings made using these materials are lightweight for splitboarding comfort and tough enough for the wide backcountry.
Durability
Splitboarding involves hiking for a number of hours in varied terrain and conditions. You will want bindings that can withstand the terrain and frigid temperatures, maintain their structure and offer long-lasting service.
Splitboard bindings should be made of high-quality materials that are lightweight but not at the expense of durability. Materials such as airline grade aluminum, high-grade nylon resin, carbon fiber, titanium, and fiberglass can handle anything they will be exposed to in the backcountry and offer long-lasting service.
Compatibility
A splitboarding setup is made up of many components. Many bindings have their own interface systems and some bindings have specific baseplates designed for specific boards.   When getting split board bindings, it is important to ensure that you get bindings that will be compatible with your boards and interfaces.
Confirm the requirement for your interfaces such as pucks, crampons and other hardware and consider what your bindings are compatible with. Get hardboot splitboard bindings for hard boots and plate system and strap bindings for a strap system.
If you prefer to use standard snowboard bindings on your splitboard, you can purchase a universal split kit that will allow you to attach any traditional snowboard binding to your splitboard.
Value
The best splitboard specific bindings don't come cheap. However, they are a worthy investment given the optimal uphill performance and superior durability they offer. If you're an avid splitboarder, split specific bindings will give you the best value for your money. If you only splitboard occasionally, you might find it best to use your regular snowboard bindings with a universal kit.
Fit
Feeling secure in the splitboard bindings is very important for responsive performance and fit is one of the crucial things to assess before you hit the order button. Go for bindings that offer a high level of adjustability as this will allow you to achieve a fit that is just right for you. A cushioning footbed made from EVA material and comfortable and supportive straps also ensure a comfortable fit.
Size
Splitboard bindings come in small, medium, large and extra large sizes. The sizes have corresponding boot sizes that they are designed to fit. To ensure your snowboard boots will fit in the bindings, be sure to consult the size chart and select a size that correlates to your boot size.
FAQs
Q: How Do Splitboard Bindings Work?
A: 
Splitboard bindings work just like snowboard bindings only that they are designed to connect to a splitboard via an interface. They can connect in two different ways. For touring, they snap in ski stance in the uphill position. For riding downhill, they lock into a snowboarding stance. Different splitboard bindings feature different chassis and interfaces. Be sure to learn how your specific bindings work.
While climbing, the splitboard bindings have high backs that give you more support and an increased range of motion. The slimmer profile reduces hangups while striding uphill.
Q: Can You Ski With A Splitboard?
A: 
No, it is not safe to ski with a splitboard. While splitboarding is the snowboarder's version of ski touring and splitboards work just like skis, (you might even be able to slide down on easy rolling terrain), skiing with a splitboard is dangerous. The shape of your splitboard will not allow you to make proper turns. Splits are also not designed to absorb the shocks and impacts of high-speed downhill skiing.
Q: What Is A Splitboard Binding?
A: 
A splitboard binding is the splitboarder's connection to a splitboard. It attaches to a splitboard via an interface. A splitboard is a snowboard that splits into two skis for climbing up the slopes. When the splitboard is separated into two skis, the bindings slide on each split in an uphill position for touring. When the two halves are joined together to form a snowboard, the bindings lock onto the downhill plates ready for riding.
Q: Can I Use Snowboard Ski Bindings?
A: 
Yes, you can use snowboard ski bindings for your splitboard. However, using bindings that are specifically designed for splitboarding in the backcountry will give you an edge. Splitboard specific bindings are lighter in weight which makes walking uphill easier and more durable than snowboard bindings thus better suited for hiking backcountry terrain. They also have features that make touring easier and even enjoyable.
Globo Surf Overview
If you would like to experience the thrill of snowboarding on pristine terrain in the vast backcountry, you've got to commit to climbing up the mountain using a splitboard. For optimal performance, it's worth it to invest in splitboard specific bindings. They are lightweight for easier hiking on snowy terrain and they are more rugged and suited for adventures in the backcountry.
If you don't want to invest in split specific bindings, you can also use regular snowboard bindings and a universal split kit such as the Voile system. Be sure to assess the factors discussed in our buying guide to ensure that you end up with the best splitboard bindings that will be compatible with your kit and serve you well on the slopes.
More Snow Reviews: