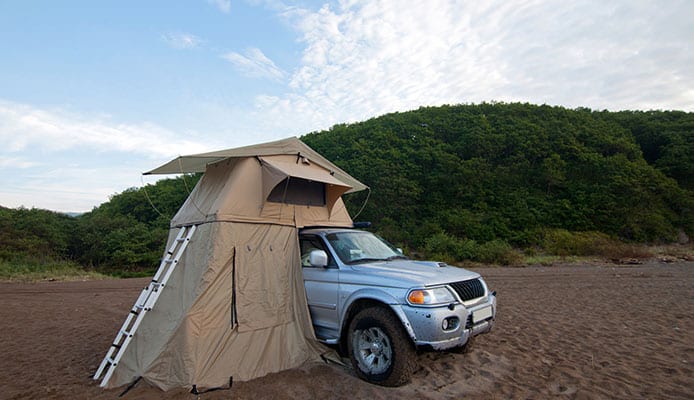 OUR TOP PICK

---

EDITORS CHOICE

---
If you enjoy camping but don't like the idea of sleeping on the ground, a rooftop tent is perfect for you. Since it mounts to the roof rack of your car, you'll be perfectly safe from all the creepy crawlies and unwanted guests. Additionally, it allows you to set up camp instantly anywhere you park your car.
With more and more options emerging all the time, choosing the right one requires some thought. To help guide you through the process, our rooftop tent reviews will take a detailed look at all the best rooftop tents and their features. By choosing one of these, you'll have a safe and reliable shelter anywhere you go.
How To Choose The Best Roof Top Tent – Buying Guide
Size and Capacity
While the size of car top tents is somewhat restricted because of the limited surface a rooftop provides, there are still some differences in size between models. Most models feature a more compact design that fits 1 or 2 people, but some car top tents like the Tepui Autana have a larger and more organized sleeping area that fits 3 people with some spare room for gear.
Weight
Two factors are important when discussing weight — the weight of the tent itself and its weight capacity. When choosing a rooftop camping tent, make sure that the roof rack on your car can withstand the combined weight of the tent, yourself, and the gear inside. Additionally, check whether the tent floor can hold your weight, otherwise, you might fall through or damage the structure of the tent.
Related Review: Ultralight Tent
Ease of Installation
With truck top tents, most of the installation is finished at home. Almost all of them come with fittings and hardware that is compatible with any standard roof rack, so putting the tent on the car top won't be more difficult than installing a hard-shell luggage carrier. Once you reach the campsite, the two main things you'll need to do is open the tent for the roof and attach the ladder.
Related Review: Truck Tent
Frame and Canopy Material
The material used to make the frame and canopy influences the overall durability and performance of your tent. For optimal results, the walls and rainfly should be made of high-denier nylon or polyester fabric that has a good hydrostatic head rating to keep the water out. As for the frame, most top-rated rooftop tents have aluminum construction that provides the required stability without adding too much weight to the setup.
Additional Features
While they are not necessary from a functionality standpoint, certain features can boost your experience when using a car tent topper. However, they can also raise the price, so we'll leave it up to you whether you need them or not. Take a quick look at what various tent models have to offer.
Annex: Whether you want more privacy, extra weather-protection, or additional space an annex is a great addition to your rooftop tent. It completely covers both the ladder and the door, significantly increasing the sheltered area.
Ladders: Most models come with ladders included, but not all of them are designed the same. Ideally, the ladders should be made of high-quality aluminum alloy and have a telescopic design that allows you to adjust the height with ease.
Foam Mattress: For sleeping convenience, some of the best rooftop tents come with built-in memory foam mattresses. They are usually between 2 and 3 inches thick, so comfort is guaranteed too.
Mesh Screens: For insect protection, nothing beats mesh screens. It's a big plus if all the windows and doors have mesh covers that allow you to enjoy the view and fresh air but keep nasty bugs out.
Pockets and Hanging Loops: Lack of storage can be a big problem for many campers. By adding wall pockets and ceiling hanging loops, some top-rated rooftop tents allow you to neatly store and organize your gear.
FAQs
Q: What are the Benefits of Using a Rooftop Tent?
A: 
The main benefit of getting a roof tent is sleeping off the ground. Some areas are very nice for camping but have dangerous wildlife, so a tent on the roof of your vehicle gives you extra protection. Another benefit is easy to camp setup since you don't have to worry about campsite selection.
Q: Are Rooftop Tents Safe?
A: 
Yes, they are one of the safest tents to have. They are firmly attached to the roof rack of your vehicle, so there is zero chance of them tripping and falling over. Additionally, the ladders are usually made of strong aluminum alloy so climbing is safe too.
Q: Is a Rooftop Tent Going to Damage the Roof of the Car?
A: 
No, it won't because it doesn't come in direct contact with the roof itself. Instead, the tent is mounted on a roof rack that is tested to hold the weight and distribute it evenly. Due to this, there is no chance of damaging your car in any way.
Globo Surf Overview
As you've had the chance to see, mounting tents on top of cars greatly expands your options while camping. Not only does it provide additional protection by keeping you off the ground, but it also allows you to quickly set up camp anywhere you can park your car. With the help of our guide and reviews, we're sure that you'll get the best rooftop tent that can stand up to the task no matter where the road takes you.
More Camping Reviews:
More Tent Reviews: