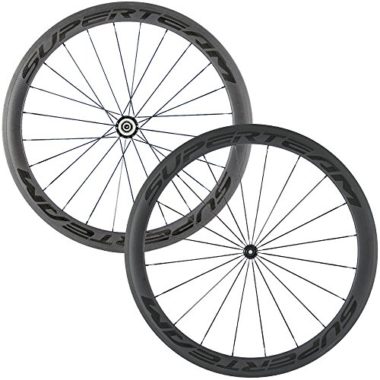 See Customer Owner Feedback >>
See Customer Owner Feedback >>
No bicycle is complete without a set of wheels, but not all wheels are designed for the same terrain. Wheels for road bikes will be very narrow and have minimal tread to ensure that you are gliding smoothly over the pavement. But finding the best road bike wheels can be challenging if you aren't familiar with what features you need on your ride. There are a lot of different designs of road wheels and it's important that you take the time to sort through all the options on the market so that you find exactly what you need. 
Our article highlights some of the best products on the market that stand out from the crowd and will serve you well throughout your cycling adventures. With our help, you have all the information you need to shop with ease and find your ideal set of road bicycle wheels. All you have to do is choose a pair and you'll be all set to take off on your journey.
How To Choose Road Bike Wheels – Buying Guide
Type of Ride
Wheels for road bikes are not all the same and there are many different types to suit various riding styles. There is a lot more than just cycling on the road and while all road riders use skinny tires, there are still different features that better suit specific riding styles. The most common types of tires are training, touring, aerodynamic, climbing, and gravel. 
Training road bike wheels under 1000 dollars have to be the most durable design because they will take a lot of abuse while you ride. With a larger braking surface and a strong rim, these are actually better as alloy road wheels because aluminum will last longer than carbon. But the increased durability of aluminum and heavier weight also means that you don't have to spend as much money on the wheelset. 
Touring bikes need wheels that are easy to maintain because you won't always have the time to stop and pamper your tires. With easier maintenance, riders can focus on going the distance and worry less about their wheel breaking down. However, the best road bike wheels for the money for touring cyclists will have more spokes to make the design stronger. 
Aerodynamic road disc wheels are designed to make you go faster because they are less likely to be affected by strong wind. With a wider depth of about 50 millimeters, these tires are normally a carbon wheelset, which is uses for racing. But road bike wheels under 500 dollars that have an aerodynamic feature will be made out of aluminum and not carbon, which reduces the cost. 
Climbing wheels don't have to worry as much about wind as they do about weight. Similar to road bike race wheels, climbing wheels will often be made of carbon because it is the lightest material. With less weight, you don't have to carry anything bulky up steep hills so that you can put your energy where it matters and make it to the top. 
Finally, some wheels for road bikes are made more robust so that they can be used on groomed or maintained gravel roads. While these tires are still narrow, they often have a stronger rim to ensure that they can't be damaged by the gravel on the road. 
Hub
The hub is the center of your road wheel, which is what the spokes, rim, and tire spins around. The axel of the hub is then attached directly to the frame or fork of your bicycle. The best road bike wheels have a hub and axel that support a quick release feature, which makes it more convenient for the rider to attach and detach their wheel. But since disc brakes have become popular, freehubs are more common, which means that they have a thru-axle. 
A freehub allows the wheel to spin, even if your cassette is not moving. While all brands have a slight variation between the size and design of the hub, a small adapter will make the wheels compatible with almost any frame. However, you can also read road bike wheel reviews to see how others have managed the difference in their hub design and the compatibility of their bicycle. 
Spokes
The best carbon wheelset or every wheelset needs spokes. Spokes are made out of wire and they attack the rim to the hub of your bike. Most spokes are made out of aluminum or steel, but the material will depend on the brand and design. The important thing to consider about spokes is the number. More spokes mean that your road wheels will be heavier but stronger. Less spokes means a lighter weight but weaker design overall. 
The best road wheels also have a part called the nipple, which is simply a nut on the wheel that can adjust the tension of the spokes. This means that you can always keep your spokes positioned how they're needed for the best performance while you ride. 
Rim
The rim of an aluminum or carbon wheelset is what you use to keep the tire in place and to brake. Most rims are rather wide to ensure that you have a good braking surface and that your tires won't slip off of the rim. The most common size is 700C. With a wider and stronger rim, riders will be able to control the speed of their bike and have a smoother feel when riding. 
Braking Type
The most common types of brakes used on road bicycle wheels are rim or disc brakes. Rim brakes use the entire surface of both sides of your rim to create friction with brake pads to slow you down. The system is often controlled by a cable mechanism.
But road disc wheels will use a disc braking system that has a hydraulic feature to pus pads onto the rims and mounted hub to slow you down. Disc brakes are more powerful and reliable, but not all frames are compatible with this type of braking system. 
The best road bike wheels will always state in their product information what braking type they are compatible with so that you know exactly what you are purchasing and aren't surprised or caught off guard if it wasn't the braking type that you were expecting. 
Tube vs. Tubeless
Another consideration is whether you want a tube or tubeless design. Tube compatible wheels means that they use an inner tube to inflate the tire. These are the most affordable designs, but their downside is that you can run into flat frequently. Tubeless road wheels do not use an inner tube to inflate the tire and instead have a special seal between the tire and rim to keep the air inside.
Tubeless road wheels are less likely to have flat while you are riding, but the downside is that if it is punctured, it can be difficult to repair. The best carbon wheelset that uses tubeless tires will actually still be compatible with tubes so that in case of an emergency, you won't be stuck with an unfixable flat tire. However, you should also consider the cost. Most budget road bikes will use tube compatible tires because it reduces the overall cost and investment required by the rider. 
FAQs
Q: Is It Worth Upgrading Road Bike Wheels?
A:
Usually, only serious cyclists will upgrade their road bike wheels. This is because most stock wheels that come with the bicycle when you purchase it are just fine for your cycling needs. But expert riders who are looking for the best performance will often invest in a new set of road bicycle wheels. If you are a really serious rider, you may have even worn out your old wheelset and are looking for quality replacements to keep riding.
Q: What Is A Good Weight For Road Bike Wheels?
A:
Most road bike wheels will be less than 1,700 grams total. But the best carbon wheelset will actually have a heavier back tire than front tire. This gives you more stability and balance while you ride, so that you get the best performance out of your wheels.
Q: Are Carbon Road Bike Wheels Worth It?
A:
For serious or professional riders who need a set of road bike race wheels or are climbing steep inclines, a top rated carbon wheelset is worth every penny. This is because carbon is a lightweight material and when you're having to lug a bicycle up a massive hill or mountain, weight is important. For racers, speed is also important and heavier road wheels can slow them down enough that it becomes a problem when you're looking to shave seconds off the clock.
Q: Do Road Bike Wheels Make A Difference?
A:
Yes, because they have been specially designed for road riding conditions. Road bike wheels are not all the same, but they share the same theory and that is to enhance a riders experience while riding on paved or well-groomed surfaces. With a set of the best road bike wheels, you'll notice an improvement in your riding and may even see your skills advance.
Q: Do Better Wheels Make You Faster?
A:
While the weight of wheels for road bikes does matter for racers, you can't always say that better wheels will increase your speed. Speed is often down to the power of the rider, but for serious cyclists who are into racing, then better wheels to make you faster. But road bike wheel reviews can help you determine whether you really will go faster and if the wheels are truly worth the investment.
Globo Surf Overview
All bikes need wheels, but when you match the design to the style of riding, you'll elevate your riding experience to the next level. Whether you've chosen carbon or alloy road wheels, any road cyclist will be happy to have a set of reliable rims and tires carrying them on their journey. With designs to suit all budgets, riders can choose exactly what they need without breaking the bank. Our list of quality products gives you a place to start your search and will help you find exactly what you need to conquer the road. 
More Wheels/Tires Reviews:
Do you own a pair of the road bicycle wheels that made it onto our list? Let us know which top rated carbon wheelset your favorite is in the comments section below.