One of the most versatile pieces of equipment for your home is pressure washer. With the ability to safely clean a variety of hard surfaces and vehicles, a residential power washer is a great investment for any homeowner. The best pressure washer will be easy to use and setup so that you can blast away any stuck-on dirt or grime. 
But not all home pressure washers have the same features, so it is important to take the time to compare various models. There are gas and electric powered pressure washers, as well as various hose designs that can make a huge different when using your washer. 
We have made the task of finding a power washer easier and provided you with a list of ten quality pressure washers for you to consider and compare. With one of the products on our list, you should be able to find a top rated electric pressure washer that helps you maintain a clean living space.
How To Choose A Pressure Washer – Buying Guide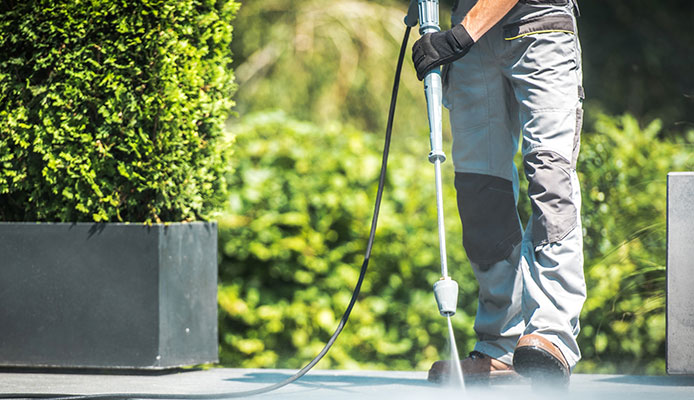 Length of Hose
While this may seem like a feature that isn't something to be too concerned about, it actually is a very important part of the design of your unit. The best pressure washer will have a long hose, which allows you more space to move around the object that you are cleaning.
It also makes it easier to use your pressure washer because it means that you don't have to have the motor attached to your hip. Instead, with a hose that is at least 20 feet in length, you can leave the unit in one spot and spray down a small area before repositioning or making any adjustments. 
Pump Type
Not all power washers use the same type of pump to bring the water into the hose. However, piston and plunger types are by far the most popular options used in top rated pressure washers. 
Pistons tend to require less maintenance than plungers, which makes them a popular choice. One of the best pumps is an axial cam design, which requires no maintenance and have a direct drive to pump your water. But no matter which pump type you choose, you may want to review pressure washer reviews to ensure that it is functional and reliable. 
Power Source
Even the best pressure washer can't run without a power source. The two main sources of power are gas and electrical. Gas pressure washers are quite popular because they allow your unit to have a higher pressure or PSI and faster flow rates. This means that a gas-powered budget power washer will clean faster than an electrical design. These designs are also great for harder jobs like getting rid of moss on concrete or cleaning your patio.  
But electric power washers have their own advantages over gas models too. Electric pressure washers are often lighter in weight and more compact. They also have an easier startup process and you don't have to worry about the motor idling, which can cause damage to the unit. There is also no exhaust, so they are more friendly towards the environment. These types of washers are also great for delicate jobs like cleaning bike frame materials or patio furniture. 
But even the best electric pressure washer will make you choose between a corded or cordless design. A corded electric washer will connect to an outlet and use a power cord. A cordless design has an onboard battery that can be recharged but it is not required to always be connected to an outlet. 
Auto Start/Stop
The best electric pressure washer will have an auto start and stop feature, which is often built into the trigger control on the handle. These automatic features mean that when you pull the trigger, the motor starts up so that you can begin spraying water. But an idling motor can damage itself, so to minimize any risk to your unit, the automatic stop features turns off the motor when the trigger is released. 
Gas powered units do not have this feature and they often do not have an auto start and stop at all. Instead, the motor will idle, so you have to be mindful how long you allow it to stay running without actively spraying water. 
Water Source
All pressure washers need an interrupted source of water, which provides a steady and constant supply of H20 to your machine. While some people have been able to rig their pressure washer to use a bucket of water, a much safer and easier way to supply your unit with water is to use the garden hose. 
A garden hose has its own level of pressurization, which your residential power washer is then able to concentrate and pressurize even more. This means that most home pressure washers will have garden hose attachment built into the unit to make them easier to use. 
Pressure
Not all pressure washers produce the same amount of pressure. There are units that are aren't as strong and have a PSI of less than 2,000 and some of the large units have a PSI that is well over 3,000. The amount of pressure you need will depend on what you are cleaning. 
But be aware that you can also change the pressure with various nozzles that can increase or decrease the pressure based on the nozzle design and opening. However, in general, hard surfaces like when you're pool deck cleaning can withstand higher pressure. Lower pressure is better for more fragile surfaces like cars. 
Gallons Per Minute
The gallons per minute simply refers to how much and how quickly your power washing unit can move water. Most units have a GPM of 1.6, which means that they are moving 1,750 PSI. But it also gives you an idea of how strong the washer is and how fast it cleans. Again, more cleaning power is better for hard surfaces like concrete. 
Noise
Pressure washer are also noisy because of the motors required to run the unit. But that doesn't mean that they should hurt your ears either. The best pressure washer will run quietly and be no louder than a newer lawn mower. Some of the best electric pressure washers have a noise that is just a louder hum. 
Pressure washer reviews can be a great way to determine the noise level of a specific unit so that you can decide if it is too noisy for your taste or if it will disrupt your neighbors too much. 
FAQs
Q: What Is A Good PSI For A Pressure Washer?
A: 
Most standard home pressure washers will have no more than 2,000 PSI. This is a decent amount of pressure to clean everything from cars to patios. But if you know you have heavier duty jobs, you may want to look at units with a PSI of 3,000 or more.
Q: Is A Pressure Washer Worth It?
A: 
Yes, pressure washers are extremely versatile pieces of equipment to have around the home because they can efficiently and effectively clean a large variety of surfaces. Many owners find that pressure washers help them keep not only the exterior of their home and yard clean, but they can also be used to wash your car or motorcycle.
Q: What Should I Look For When Buying A Pressure Washer?
A: 
The best value pressure washer will be easy to use and last for a long time. It should also come with a set of accessories so that you can get started cleaning right away. When you're looking for a pressure washer, you should consider the categories of our buying guide when your reviewing models to ensure that you have found a washer that suits your needs.
Q: What Is More Important In A Pressure Washer? PSI Or GPM?
A: 
While PSI and GPM are similar, they are not exactly the same but they are both important to consider when you are buying a pressure washer. While the Psi is the amount of water pressure, the GPM tells you the speed of the water's flow. Together, the two numbers can help you determine how best to clean surfaces around your home.
Q: What Is The Difference Between A Power Washer And A Pressure Washer?
A: 
While many people use the name interchangeable, there is actually a difference between a power and pressure washer. A power washer uses heated water to clean a surface, which means that you can only use them on heat safe surfaces like concrete. A pressure washer does not use heated water and is safe for any hard surface. 
Globo Surf Overview
Whenever you see a little dirt and grime around the house, you may have the urge to clean it up. But sometimes it can be hard to sit and scrub. It's especially frustrating you're scrubbing and seeing no visible difference. With the best pressure washer, you can let the machine do the hard work for you and blast away any unsightly particles of dirt, dust, or grime. With a quality pressure washer, you will have the versatility to keep your home clean all year round.
More Water Gear Reviews: