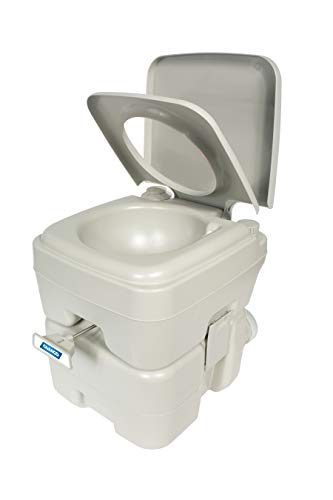 See Customer Owner Feedback >>
See Customer Owner Feedback >>
When campers are out having fun in the great outdoors, the last thing on their mind is what to do when nature calls. But getting down to business in nature is unavoidable. Luckily, when you learn how to set up a campsite, considering to add a portable toilet can be a useful addition to your camping gear and offer you the best personal hygiene while camping.
We have made a list of the 10 Best Portable Camping Toilets in 2018 to help you choose which toilet design to take along your trip. These toilets have many different features to make using a portable toilet comfortable. With these top rated portable toilets, you will bring excellent sanitation station wherever you go!
Portable Camping Toilet Reviews
How To Choose The Best Portable Camping Toilet – Buying Guide

When you are deciding which portable toilet to buy, you will have to decide which design and features will best suit your needs. There are elements to each portable toilet design that can enhance your experience when answering the call of nature. You may even wonder what is glamping? And if a portable toilet is too much of a household commodity for camping, but the best portable toilet will help you feel comfortable and clean in the great outdoors.
Ease of Use
A portable toilet will be easier to use because you do not have to rely on a water tank, like the toilets that you would find in a home. Portable toilets should be fairly easy and straightforward to use. As well, you should be able to take it with you anywhere you go. A portable toilet should be so easy to use that you can take it on fishing trips, boat trips, and camping trips.
Hygiene
The portable toilet design should be hygienic. The toilet should keep you clean by having a dedicated space for the waste to do. All waste should be collected in a container where you do not have to come into direct contact when emptying the receptacle. Hygiene is extremely important in the wilderness and a portable toilet should assist you in safely and confidently handling waste when on a trip to the outdoors.
Type
There are many different types of portable toilets that you can choose from. Some portable toilet designs have a water reservoir which is used to flush the toilet. Other toilets will use a bag system to collect the waste. Either way, both designs should be hygienic and easy to use. However, if you would like to avoid having to deal with waste and water, a toilet with waste bags in the design would be best for you. As well, toilets that use a water reservoir are best used in a regulated area where you have constant access to water and a safe waste disposal area. If not, bags are best for campers who are looking to explore remote locations.
Waste Disposal
The waste disposal method will depend on the toilet design. Toilets that rely on a water reservoir system need to be emptied in specific locations that are built to manage waste. This means that the campsite or area where you go would have a system to deal with waste management and a water source to refill your tank. Toilets that rely on bags to dispose of waste can be cleaned easier for campers on the go in remote places. The bags are best made of biodegradable materials, so that they can be buried in the ground. You can buy a powder that makes liquid waste into solid to make disposal easier. If you are going to be using the bag management method, it is best to also use a biodegradable toilet paper so that everything breaks down faster.
Cleaning
The advantage of a waterless toilet design with cleaning is that it shouldn't need to really be cleaned. The toilet should stay clean and collect all the waste into the bag. This means that all you have to do is regularly empty and properly dispose of the bag. Toilets that rely on a water tank will need to be cleaned using a cleaning agent and deodorizer. These toilets should come with their own cleaning instructions.
Waste Bag Capability
Some toilets have the capability of using a waste bag and others do not. Toilets that rely on a water tank, normally, do not allow for the feature of a waste bag. If you want a toilet that has a waste bag, ensure that you are buying a model that does not rely on water. Waste bags should be able to easily handle and manage waste and can be easily disposed of. Just remember to change out the bag frequently and replace it with a new one.
Comfort
Toilets at home are normally comfortable, but on the road, you may not find the same comforts. Portable toilets will not be the size of a home toilet and therefore may make you squat or hover in unusual positions. It will depend on you and your preference on whether a toilet is comfortable or not. However, remember that no portable toilet will give you the comforts of home, but they will be better than trying to squat over a hole in the ground.
Portability
Portable toilets are meant to be portable. Hence the name. These toilets are designed with accessibility and portability in mind because they are meant to be used on the road. The best portable toilets will be lightweight, compact, and easy to move to ensure that you aren't struggling when setting it up at your campsite. A portable toilet is meant to enhance your experience in the outdoors with waste management, not make it more frustrating. Be sure to choose a model that you know you can easily move around and use.
Volume
The volume of the toilet will depend on how many people you are travelling with and how long you will be gone. Most toilets come with a 5-gallon capacity, which should be sufficient. But it is important to factor in the number of people and time spent on the road to ensure you are getting a toilet design that can handle all the waste easily.
FAQs

Q: What is a portable toilet for camping?
A:
A portable toilet is a toilet that is design to be used in the outdoors when there is no access to a restroom. A portable toilet is meant to help you manage waste while on a camping trip.
Q: Why do I need a camping toilet?
A:
You don't need a camping toilet. It is simply camper preference. A portable camping toilet may or may not be listed on an essential wild camping guide, because it's up to your own personal choice if you want that comfort of home. There are some campers who prefer to not have to add another item to their gear and will choose to forgo a camping toilet. But a camping toilet can be an excellent way to manage waste while on the road. They can give you the comforts of home when you are spending time in the great outdoors.
Q: Where do I dispose the waste from it?
A:
This will depend on the toilet's design. Toilets that feature a water tank will need to be disposed of in a location that can handle waste. Often this is a campsite or ranger station that has a tank or system to handle waste. The toilet waste should go into a separate tank from the toilet bowl. This tank is what you will clean and empty. Toilet designs that use bags are easier to dispose of. After doing your business, you simply remove the bag and dispose of it properly. The best bags will be biodegradable, so you can easily and sanitarily bury them in the ground. The waste should be buried at least 6 inches deep in the ground. Then, you simply replace the bag with a new one.
Q: What to do with the smell?
A:
For toilets that use a water tank, there should be cleaning agents or deodorizers, which you can use to help manage the smell. As well, where the waste is held should be properly sealed, which should help keep the smell inside. For toilets that use waste bags, the bag simply can be changed after every use, if preferred, to manage the smell. The bags should be biodegradable, which means they can be buried in the ground. You will need to bury the bag at least 6 inches deep, but once it is buried, you should not have any lingering foul odors.
Globo Surf Overview
When it comes to your portable toilet needs, finding the best portable toilet for you can greatly enhance your experience when doing your business in the great outdoors. An ultimate guide to camping with a baby will also say that portable toilets make it easier. With these top rated portable toilets, you will have comfort and peace of mind on the road. The best portable toilets will be sanitary, easy to use, easy to move, and durable. They should last you throughout many camping trips and campsite locations. If you know exactly what you need and what portable toilet design you want, you can save time and money by investing in the best portable toilet for you!
More Camping Reviews:
Do you own one of the portable toilets that made it onto our list? Let us know how it has worked for your outdoor needs in the comments section below.
Globo Surf Camping Knives Reviews
★★★★★
"
The buying guide is very helpful. Thanks!
"