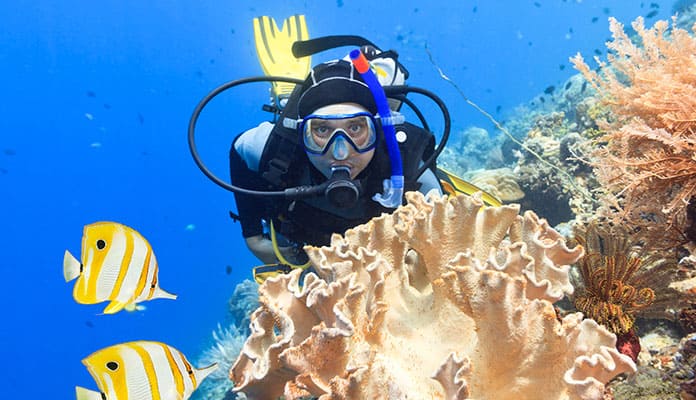 You don't have to travel far to find great places to scuba dive. In fact, some of the best scuba diving is in the USA. These aren't your everyday scuba diving locations. Each one has been hand-picked because they offer something special. You will be able to check some of the most amazing adventures off of your bucket list with these places whether it is diving a shipwreck or swimming with sharks.
Ready to get started? Let's go!
Quick Answer: Best Places to Scuba Dive in the USA
1. Monterey, California – Glenn's Aquarius II Dive Shop
The Point Lobos State Marine Conservation Area allows no more than 30 dives a day; reservations can be made up to 60 days in advance. The restrictions may prove a challenge for impromptu types, but the reward is a pristine playground. "There's so much there you won't see in Monterey Bay," including harbor seals, abalone, leopard sharks, and rock cod, says Glenn Bernasconi, owner of the Aquarius II Dive Shop. Conditions can be favorable year-round; navigation is always easy, as rock formations run parallel to the U-shaped cove's beaches. When visibility extends to 80 feet, encounters will be all the more memorable. "You can see leopard sharks swimming through sand channels; normally they get spooked when you get close, but with good viz, you're far enough away."
2. Kona, Hawaii – Jack's Diving Locker
Three miles off Hawaii's Kona Coast, dive "black water" where odd and bioluminescent creatures emerge from the depths, like this planktonic larval left-eyed flounder. This night dive will give you the rare opportunity to see some of the most interesting species of fish. The dive will hover around 50 feet (15 meters) with a group of 6 divers.
You should expect to see jellyfish that light up, zooplankton that only show themselves at night. To take part in this dive you will have to be a certified PADI diver. It is also recommended that you have some dives under your belt as night dives can push your limits, even for experienced divers. Don't forget to bring your dive bags with you.
3. Missouri – West End Diving Center
The world just ended: It's a fate we know from The Twilight Zone and other post-apocalyptic stories. It's also one we can dive into. As if preparing for a nuclear holocaust, the miners of Bonne Terre Mine fled the three square miles of tunnels once resources were exhausted. "Once they abandoned the mine," says Doug Goergens, owner of the site, "they shut off the pumps, and everything flooded," becoming a feast for divers. Picks and shovels lie everywhere. Guides will lead you through the 24 numbered paths to ore cars, a machine shop, geology labs, offices, a movie theater that once played safety films, and the drinking fountain outside a locker room. And, yes, the iconic structure of the elevator shaft remains.
4. Denver, Colorado – Denver's Downtown Aquarium
If you have always wanted to dive with sharks but were too scared to do it in the ocean, this is the place for you. The 400,000-gallon tank houses species including toothy sand tiger sharks, zebra sharks, guitarfish, and sawfish. It is situated in a controlled environment where you are guided by a trained professional. You don't have to have any diving experience to take part in this amazing experience. In fact, children 6 years and up can swim. This is an incredibly rare opportunity to get up close and personal with some of the most beautiful creates the ocean has to offer.
5. Morehead, North Carolina – Olympus Dive Center
"I have had to move out of their way many times," says Olympus Dive Center's Jon Belisario, of the sand tiger sharks at Spar. The site is largely popular for two reasons: Divers are almost guaranteed to see between five and 20 sharks — and nothing in the sea lurks like a sand tiger. "I don't know if they're exceptionally lazy, but I wouldn't call them curious," he says of the fact that the sharks don't spook. Second, the purpose-sunk cutter is an ideal site for penetration training. "It's one of those Hollywood wrecks — very intact and easy to navigate.".
If you have always wanted to dive a shipwreck and swim with sharks, this will soon become your favorite place. The ship used to be a US Coast Guard vessel that sank in waters between 85 and 110 feet (26 to 33.5 meters) deep. You will want to visit this site in the summer as the waters will be around 70 degrees Fahrenheit (21 degrees Celsius).
6. Bellingham, Washington – Gone Diving
Currents present the greatest challenge to the uninitiated. Those unfamiliar with pinpointing slack tides should dive with an instructor and dive regulator. Then it's a cakewalk through one of the most common places to encounter a giant Pacific octopus out of its den, cruising around. Put in at Fort Casey State Park to dive the jetty, home to a wall blanketed with white anemones. This small area is a habitat to a wide variety of cold-water curiosities, including wolf eels, huge lingcod, rockfish, decorator war bonnets, mossy-head war bonnets, and every local variety of nudibranch. One of the biggest highlights — literally — is a "lingcod the size of a Volkswagen bus," says Charlynn Andrews, owner of Gone Diving. Because of the dense marine life, dive slowly and look in every nook to reap the full benefit of what this site offers. Bring your dive watch.
7. Key Largo, Florida – Horizon Divers
Nothing rewrites maritime history like a storm: In 2002, USS Spiegel Grove sank unexpectedly, six hours ahead of plan, landing on its side. Three years later, Hurricane Dennis righted the landing ship dock measuring 510 feet long — almost as much as two football fields. The superstructure starts at about 60 feet, depending on tides. Strong currents frequently rake across the ship, making this an advanced dive. As one of the older purpose-sunk reefs, Spiegel Grove is blanketed in corals, making it popular with life ranging from goliath grouper and barracuda to surgeonfish and damselfish.
Globo Surf Overview
Every one of these places has something amazing to offer. Whether you've waited your whole life to dive with sharks or want to experience one of the best night dives – there is something for everyone.
More Scuba Reviews:
Source
Point Lobos State Marine Reserve, Parks.ca.gov