EDITORS CHOICE

---
In one way or another, all of us rely on the internet for a great number of things — business, entertainment, research, and many more. However, if you're traveling abroad or to a remote area, the connection might be unstable or very expensive. It's in these situations that a mobile hotspot can make things infinitely easier.
Mobile hotspots are clever devices that usually use a regular SIM card and share the internet via Wi-Fi with other devices. When looking for one, it's important to consider aspects like connection speed, coverage, battery life, and whether the device is locked or not. To help you choose, this article will take a close look at all the best mobile hotspots available, guaranteed to provide fast and reliable internet anywhere you go.
How to Choose a Mobile Hotspot – Buying Guide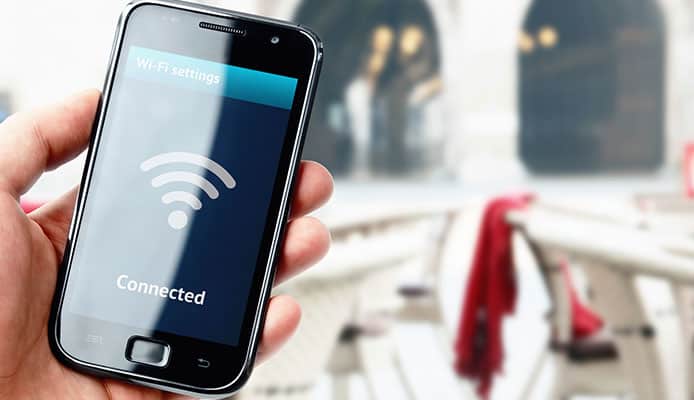 Connection and Coverage
Every hotspot model that you'll come across has information about the carriers, types of networks, and brands they support. While the best mobile hotspots support 4G and even 5G networks, always make sure that a model is not limited to 3G since there is a significant difference in speed.
As for network coverage, a weak signal can be a problem if you're going to a remote area. If you want to ensure you always have good internet speed, look for a model that is compatible with external TS-9 antennas.
Speed
If you have an old hotspot model, it may limit the potential speed that you can get from the carrier. For example, if the network allows download speeds of 300Mbps but the hotspot has a limit of 50Mbps, you're not using the network's full potential. Be sure to pay attention to this when buying and get a device that can keep up and follow new technology.
Compatibility
The biggest advantage of the best mobile hotspots is that they are compatible with any device that picks up a Wi-Fi signal (smartphone, PC, tablet, console, or anything else). This is a great thing for "Wi-Fi only" devices since you can get internet on the outside of your home — in the car, the woods, or on the beach.
In addition to Wi-Fi, many high-end products have an ethernet port that allows you to link them to a laptop directly. Some even have USB ports, which have multiple functions like charging, data transfer, and others.
Battery L
ife
Since you'll be using a hotspot when you're on the go, it needs to have a long-lasting battery. Unfortunately, this is not always the case. As you can see in the product specs above, there are big differences in battery capacities.
Even though mobile hotspots are much more energy-efficient than phones, you can't expect a 2000mAh battery to last very long. So, if you're going to a remote area with no charger, you want a high-capacity battery (at least 4000mAh).
Size and Portability
Wi-Fi portable hotspots are devices designed to bring on a trip outdoors or abroad, so they must be easy to pack. The best mobile hotspots are very compact, so they easily fit into a backpack pocket. You generally want to avoid models that are sized as your home router, as this will be a problem to pack and carry.
Display
If you want instant information about the signal strength, speed, number of devices, and many other things, you need a hotspot with a display. Even though these tend to cost a bit more, it's really neat to have instant feedback. On the other hand, a device with LED indicators is a nice alternative if your budget is limited.
Additional Features
Many of the best mobile hotspots come with additional features that make them truly versatile and multi-functional. One of the things we particularly like is if the hotspot can double as a power bank. Since many of them come with large batteries, the manufacturers have made it possible to plug in your phone via USB and charge it on the go.
Some of the mobile hotspots listed here can also work as media hubs, where all the users connected to its Wi-Fi network can access the data (usually an external drive). Lastly, many manufacturers also design apps (either for smartphones or web-based), allowing you to set passwords and control usage if you don't have unlimited data.
Locked vs Unlocked
If you want to get the most out of your device, this is where you need to pay special attention. A locked mobile hotspot is usually sold through carriers and their affiliates and will work on their network exclusively.
For example, if you buy it from AT&T and it's locked, you can only use AT&T's SIM cards in it. On the other hand, if you get an unlocked device, you can use it with pretty much any carrier, locally or globally.
If you plan to use the hotspot only within the country, getting a locked one won't be a problem and you may even get a better deal from the carrier. However, if you travel often, you might be better off with an unlocked device that allows you to change SIM cards.
FAQs
Q: Do Mobile Hotspots Work in Remote Areas?
A: 
As long as there is a signal, your mobile Wi-Fi hotspot will work in the remote area you're in. The device relies on the same signal as your mobile phone so, if you're in an area without coverage, it won't work and you won't have the internet. 
On the other hand, if the signal at your camping site is weak but still exists, hotspot devices will often do a better job at picking it up (especially newer models with TS-9 antenna capability).
Q: Will the Hotspot Work in Any Country?
A: 
This depends on the model you buy, as there are big differences between them. This being said, if you get an unlocked device, you can put any SIM card and choose between different data plans in it, and you'll have the internet. 
Practically, this means that you can buy a local SIM card abroad and use it for your hotspot, which greatly reduces the cost. On the other hand, a locked device won't recognize a foreign SIM card.
Q: How Does a Portable Wi-Fi hub Work?
A: 
A portable Wi-Fi hotspot is essentially a router that emits a Wi-Fi signal (just like the one you have at home). However, internet hotspot devices use SIM cards and data from a carrier (cellular signal), meaning that you'll need to get a card with a good data plan. Since it doesn't have ground connections, you can take it anywhere with you.
Q: Why Shouldn't I Just Use My Phone?
A: 
We all know that every decent smartphone can be used as a mobile with a hotspot. For a short period, this is perfectly fine. However, if you plan to use it for a longer period or need more data, the phone won't cut it. On the other hand, dedicated hotspots are better at picking up signals, have higher-capacity batteries, and offer a much wider Wi-Fi range.
Globo Surf Overview
If you have multiple smart devices and want to have portable internet available anywhere, you need the best hotspot you can afford. Whether you plan to use it for work or entertainment, in the country or abroad, this neat little device will keep you connected. We hope that you have all the information you need to choose the best mobile hotspots, and we're sure you'll enjoy your new gadget.
More Camping Reviews: