The secret to staying warm and comfortable even during wintertime, whether you're just roaming the city or off on a hiking trip, is layering. Placing 3 layers in a particular order on yourself can make you impermeable to any kind of weather, and keep you as warm as you'd be indoors. Out of all three layers, the middle one is the most important for retaining heat.
In this buying guide, we will give you a quick overview of the best mid layer jackets you can find, as well as explain how this insulation layer works and how to pick one. Especially if you're engaged in some high-energy sports outdoors (like skiing, snowboarding, hiking etc.), a reliable mid layer fleece is essential. If you get too hot, you can just remove it, while still keeping the waterproof top coat. So, without further ado, here are the best midlayer options on the market.
Marmot Men's Drop Line 1/2 Zip Midlayer
See Customer Owner Feedback >>
What Makes This Midlayer Stand Out

DriClime lined collar keeps out moisture

Super lightweight (100-weight fleece)

Ideal mid layer fleece for everyday use

Zippered chest pocket for storage

Generous cut will keep more of your body warm
Levelwear NHL Men's Midlayer
See Customer Owner Feedback >>
What Makes This Midlayer Stand Out

Stylish color block design

Official NHL licensed product

Super lightweight but warm

Wicks out moisture

Mechanical stretch (will fit better)

Great mid layer fleece for everyday use
Levelwear LEY9R NHL Mens Midlayer
See Customer Owner Feedback >>
What Makes This Midlayer Stand Out

Great design for winter sports

Contains spandex in addition to polysester

Tight snuggling fit

Performance tested stretch

Mid pocket for safe storing
View More By Levelwear LEY9R »
Levelwear NCAA Mobility Midlayer
See Customer Owner Feedback >>
What Makes This Midlayer Stand Out

Cool design with support for mobility team

100$ polyester, soft feel

Lightweight, loose fitting

Variety of colors to choose from

Very affordable

Suitable for everyday use
View More By Levelwear LEY9R »
Yukon Gear Men's Technical Fleece Midlayer
See Customer Owner Feedback >>
What Makes This Midlayer Stand Out

Ideal for winter sports and everyday use

Polyester-based, superior quality

Softer and more silent fleece than others

Camouflage colors design

Adjustable wrist cuffs
View More By Yukon Gear »
Callaway Men's Big & Tall Opti-Therm Long Sleeve Midlayer
See Customer Owner Feedback >>
What Makes This Midlayer Stand Out

Great design for winter sports

Solar protection UPF 50

High-performing insulation and warmth

Carefully designed stretch, ideal not to restrict movements

Perfect for golf and finesse outdoor activities
Helly Hansen Men's Vertex Stetch Midlayer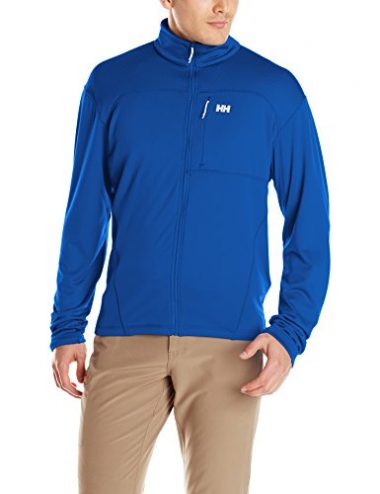 See Customer Owner Feedback >>
What Makes This Midlayer Stand Out

A great mid layer for camping, but also urban use

A few colors to choose from

Longer cuffs with thumb holes

Will keep your hands warm

Front zip and chest pocket
View More By Helly Hansen »
Helly Hansen Men's Regulate Lightweight Midlayer
See Customer Owner Feedback >>
What Makes This Midlayer Stand Out

2-in-1 mid layer and top layer

Provides both insulation and waterproof protection

Combines well with other Helly Hanson items (via zipping)

Based on the awarded HFlow technology
View More By Helly Hansen »
How To Choose A Midlayer – Buying Guide

Still don't know which of the above options is the best midlayer for you? Here are a few more considerations to have in mind.
Temperature Adaptability
A breathable, high-quality fabric will allow your mid layer fleece to keep the body heat in but still regulate it a bit. When you get too hot, taking your mid layer off shouldn't be the only option. If it were, you would soon be stuck in a vicious circle of getting cold and hot and so on.
Insulation Type
The different layers worn by outdoor adventurers (bottom top and mid layer) are made from different materials, which provide an unique kind of insulation. When it comes to mid layers, their type of insulation should be the highest, as their main job is to keep you warm. However, it should also be a breathable fabric. All of the best midlayer options in our top fulfill this condition.
Breathability
The best midlayer items on the market are made of a highly breathable fabric, even though they retain the heat so well. If the mid layer fleece fabric isn't top notch, you will start sweating soon and there's a risk for catching a cold.
Style
A matter of personal preference, of course, the style of the best rated mid layers can differ. Some are plainer, some are elegant and clearly thought out for urban use, while some support a sports team or some other athletic effort.
Fit
For urban use, you can get away with a loose fit in your mid layer. But if you're looking for the best mid layer for skiing or other winter sports, you need to choose a more closely-fitting one. The cuffs and the collar should be tight as well, for preventing heat loss.
Features
Extra features could come in handy, depending on where you plan to wear your fleece. The best mid layer jacket for you should have some solar protection, for example, if you're going skiing, or lots of pockets for your valuables, if you don't carry a bag.
Warmth
Most of the best midlayers available are quite lightweight, in spite of providing a lot of warmth. Some are more heavy-duty than others, though, especially if they are designed for winter sports and outdoor adventuring.
Weight And Compressibility
For camping in winter, you need your items to pack easily and not weigh a lot, either. The best midlayer jackets on the market tend to score highly on both those counts, unless it's a 2-in-1 option that naturally weighs more and takes up more space.
FAQs

Q: How To Wash A Midlayer?
A:
There is no universal answer here, but each mid layer fleece comes with detailed washing instructions. Follow those and you'll be fine.
Q: What Type Of Activities Require Layering With A Midlayer?
A:
Anything done outdoors during winter time or simply cold weather, from jogging around town to ice fishing or winter hiking.
Q: How Does Layering With A Midlayer Work?
A:
Different fabrics provide different types of insulation, and layering is the key technique to keep in mind for combining them for the best. The bottom layer when venturing outdoors in winter should be based on wool, like a Merino wool T-shirt, for example. The mid-layer should be the layer providing the heaviest insulation, so it should be synthetic. Lastly, the top layer should be waterproof and windproof.
Globo Surf Overview
Once you will master the layering combo in winter clothing, you'll see that nothing stands in the way of you and the outdoor adventure you yearn for. From skiing to camping or snowboarding, our top of the best midlayer clothes has a great option for everything.
More Backpacking/Hiking Reviews:
Do you use midlayers yourself, either for hiking and outdoor trips or during cold times in the city and everyday commuting and travel? What kind of midlayer do you prefer using? Which one from our list of the best midlayer jackets would be your first pick? Feel free to share your experience with the Globo Surf community in the comment below. After all, learning pro tips from each other is the best way to prepare for outdoor adventures!