OUR TOP PICK

---

EDITORS CHOICE

---

BEST VALUE

---
Hockey is a sport that everyone can enjoy and if you happen to play the sport yourself, you'll want the best gear to help you score goals. Before you can step out on the ice, you'll need a pair of skates. But it can be challenging to choose a pair of skates because there isn't one design suits all hockey players option. When you are looking for the best hockey skates, you'll have to take into consideration your skill level, style of skating, size, blades, and more.
The ice skates that suit your needs will be comfortable and have a quality performance. We want to help you find the perfect pair of skates, so we have made a list of the five best hockey skates and included a detailed buying guide. With our assistance, you will have an outline of criteria that can help you determine which skates will have you conquering the ice like a seasoned pro.
How To Choose A Pair Of Hockey Skates – Buying Guide
Hockey is a fun way to stay active in the winter. But without ice hockey skates, you can't go out onto the ice to play the game, which makes them essential for all players. But there is a vast array of options to choose from like expensive and cheap skates.
It is best to purchase a pair of top-rated skates and the features of the design are what give skates their quality rating. But remember that each pair of hockey skates should be tailored to function for a specific hockey player and their needs. Below, we will review what features you need to consider before making a purchase with our comprehensive buying guide.
Size
Before you can look at other features of hockey skates, you need to first consider the size of the skates. If you do not get the correct size that you need the skates will be useless to you. It is crucial that you get the proper sizing for your skates.
But size isn't just a number. Skaters often misinterpret the size of their hockey skates and believe that the skate size should be the same as your shoe size. This is not correct and most comfortable hockey skates are full 1-2 sizes smaller than your regular shoe size. This means that you cannot directly correlate your regular shoe size to your hockey skate size, which makes taking measurement and following a size chart very important.
The size of women's and men's hockey skates may also vary between brands. Hockey skates that are made by a reputable brand will provide a size chart for your use. Some charts will be all-inclusive and have size information for US, European, and UK shoe size. You can simply measure your foot to get your accurate size and then use the chart to find which skate size would best suit your feet.
If you are worried about accurately measuring your feet, a great method is to trace your foot onto a piece of paper and take the measurement from the tracing. This method is also useful because you can put on your hockey skate socks to get an accurate measurement with the thickness of your sock included. You then want to measure the longest distance to get an accurate length measurement, so you should measure from your heel to the tip of your longest toe. For foot width, you want to measure the widest distance between each side of your foot.
For adult skaters, you want the size to be accurate so that you aren't leaving too much room at the end of your toes. But if you are shopping in youth sizes, you may find that some brands offer half sizes. The half-size is a great option for kids because it allows the hockey skates to grow with the child as it provides a little extra room at the end of their toes.
Fit
The skate fit is not the same as the size. If you have taken the correct measurements and found the proper size for your feet, you should also find the best fit. But the fit can help you determine which size is best for you.
The perfect hockey skates will have a comfortable fit, which will make your feet happier for longer when you're on the ice. But it can take a lot of patience, trying to find the proper fit because there may be a period of trial and error.
The proper fit of any pair of comfortable hockey skates should have your toes just barely touching the end of the toecap. You do not want more than ¼ inch of space between the back of the boot and your heel. But to make finding the proper fit easier, there are a few methods you can try to determine whether the fit is good or bad.
The most common method that has proven to be the most accurate is the pencil test. To perform this test, you need to have a pencil and put on your boots, but do not lace them. Instead, pull the tongue out so that the top of your foot is exposed. You then place your pencil horizontally across your foot at the third or fourth eyelet down from the top of the boot. The pencil should rest on top of your foot, without moving, which indicates that you have a good fit. However, if the pencil touches your foot but does not touch the eyelets, the boots are too shallow and will not comfortably fit your foot when fully laced.
Another method to try is the finger test. For this test, you will want to put on your hockey skates and properly lace them. Once they are on your feet, you can attempt to slide a finger inside the boot and between the back of the boot and your heel. If you can slide more than one finger inside the space, then the boots do not have the correct fit and are too big.
The firmness test can help you determine the flexibility of your hockey skates. To complete this test, you can simply take your hockey skates in hand and squeeze the backside of the boot at the ankle with your forefinger and thumb. If the boot easily caves in on itself, it does not have enough support. While a little flex is okay for beginner hockey players, experienced skaters will want more rigid support in the ankle.
Finally, a great way to determine the fit is to simply put on your boots and walk around. Walking around can actually help you determine whether the boots are comfortable and what fit would best suit your needs. There are three different types of fit for the most efficient hockey skates.
An anatomical fit is the most natural fit and it will feel rather snug. It should have a close fit around your entire foot for a more customized feel. The classic fit is best for skaters with wider feet who need more space around their feet for comfort. Lastly, the tapered fit is narrow and V-shaped in the ankle and heel.
If you are concerned about how a specific design fits, we suggest that you read hockey skate reviews to determine whether the fit is accurate when compared to the size guide. Hockey skate reviews can be a great resource to help you find the best fit for the most comfortable hockey skates.
Skate Length
The skate length refers to the total distance between the heel of the boot and the tip of the toe. It correlates to the size of the boot and the measurements of your feet. Again, you should remember that the size of your boot may not be the same as your regular shoe size. The skate length can be 1-2 sizes smaller than your regular shoe size, so it is important that you properly measure your foot length to find the correct skate length that you need.
While the skate length is fairly straightforward, you do want to keep in mind the fit. The skate length should not leave too much space in the toes or heel of the boot because it will be uncomfortable. Instead, look for a snug fit in the skate length.
Skate Width
Similar to regular shoes, women's and men's hockey skates come in a variety of widths to better fit your feet. The majority of players will be comfortable using the regular width, but for the extra-large or small feet, there are also options of wider and narrower boots. And just like the skate length size charts, there are size charts and guide for skate width.
The most common size charts for width will use the letters C, D, E, or EE. However, for most people, this will correlate as N, R, and W (narrow, regular, and wide). The narrow width is best for slender feet, whereas most people are comfortable in a regular width. If your feet are wide or extra wide, then the wider skate width is best for you.
It is important that you find the proper width because it is part of finding the proper fit too. The width of your skates should never be so tight that you feel like you are forcing your foot into the boot. If you attempt to wear hockey skates that are too narrow, you will cut off circulation to your feet and feel clumsy on the ice. Additionally, a width that is too wide may be dangerous because the boot will move around too much on your foot, which can drastically affect your performance on the ice.
Most widths are also determined by ratio, which correlates to the size or type of hockey skates. A high volume skate is best for a width ratio of less than 2.5. The high volume skates have a deep heel and wide forefoot, which is better for wider feet. The medium width ratio is between 2.5 and 3.0. The medium volume lightest skates are the most standard or regular of all the designs and will fit the majority of hockey players. Finally, a low volume ratio is greater than 3.0 and suited for narrow feet. The low volume has a shallow heel and narrow forefoot, which will fit more snuggly around small feet.
The hockey skates will fit your foot snuggly, but not uncomfortably. With a snug fit in the skate width, you will have better control and confidence on the ice. Your feet will also thank you because they won't feel as sore or tired after your time on the ice.
Type
While we've been discussing different features of skates, you may also be curious to find that there are different types of skates for hockey. The three different types of skates are recreational, performance, and elite.
Recreational skates are often also hockey skates that have the most basic features for beginners or casual players. Recreational skates are the best starter design that is also affordable. If hockey is on your winter bucket list, but you don't end up loving the sport, you won't have invested too much money for a big loss.
However, even if you are casually using your hockey skates, you will want to consider the size and weight of the player. The most efficient hockey skates for recreational use are designed for beginners but depending on the size and weight of the person, the skates may actually prematurely break apart. This is because adult skaters put more force on the skates and some designs cannot handle the increase of pressure. For adults, it may be best to look at performance skates instead because they will last longer.
But recreational hockey skates are great because they have a flexible upper, which allows for beginners to learn the skate stride and movements on the ice. A downside is that recreational skates often do not have interchangeable or replaceable blades. But most people who graduate from the beginner's stages of the game are ready to look at investing in performance skates instead.
Performance hockey skates are suited for players who have experience on the ice and are looking to enhance their performance. Most players who reach this level area actively on the ice 1-2 times per week and are familiar with the rules of the game. Performance skates are stiffer in the upper which provides more support for power and agility. The stiffer boot is also more protective. Most performance women's and men's skates have removable or interchangeable blades. This feature allows you to easily replace the blades when they are dull and allow you to get back on the ice without having to wait for the blades to be sharpened.
You may also find that the performance type is also cheap, though they will be slightly pricier than recreational skates. But for the additional price, you can get heat molded skates, which can give you a customized fit for better comfort.
Finally, elite hockey skates will excel in their performance, durability, support, and comfort. Their skates are ideal for consistent hockey players who are out on the ice several times per week and are familiar with playing high-level hockey games. These comfortable skates will be the most expensive, but the price is worth the investment if you are a frequent player.
Elite hockey skates will be the lightest skates that are also the most responsive on the ice. Most brands put the newest technology into elite skates, so you may see features like full one-piece boots, asymmetrical designs, facing systems, and enhanced durability. The outsole of most elite women's and men's skates are also made of durable composite, instead of plastic, that is vented and reinforced. The blades of these skates are also taller and of better quality. The blades should provide a better turning radius and a sleeker profile. Extra features like a durable coating can hold the edges for longer and stop corrosion, which improves the sharpening life.
Play Style
While you may be tracking your progress on the ice with your Garmin watch, it is also important to consider your play style and the features you need in your skates. Every position that is played on the ice needs to have different features to get the best performance out of their top-rated skates.
Forward positions need to be faster on their feet and have precise cornering to maneuver around the opposing team. The faster the hockey skates, the better. The forward position is constantly moving towards the goal, so being agile on the ice is necessary.
Defense positions may occasionally need the speed that forward positions utilize, but they are more concerned with blocking the opponents from advancing forwards on the ice. This means that they do not need as precise cornering or speed as forwarding positions. However, padding is a great feature that can provide more stability and protection for the player.
If you are more aggressive on the ice, then you will likely be in the center of the action for the game. Aggressive players need the most padding because they may take hits or place in a situation where they could be injured, and the skates damaged. Better padding will protect the player to keep them more stable on the ice.
Reserved players would be better with skates for hockey that have speed but less padding. The same level of padding as aggressive players is unnecessary because reserved players are less likely to be taking direct hits. The lightest skates would be fine for reserved players who need minimal padding for support.
Price
There is a wide range of prices of skates because of the various types and features of each design. Hockey is an expensive sport, but it can be made affordable for beginners who are wanting to test out their luck with the game.
Cheap skates will likely be the recreational type skates that beginners use to first learn their techniques on the ice. These are the most affordable because they offer the most basic level of features that beginners can easily manipulate to learn how to take proper strides and turns on the ice. But the downside of cheap skates is that they are not as long-lasting. The perfect skates for beginners will be durable, but they won't last as long as performance or elite skates.
Mid-level top-rated hockey skates will be more expensive than cheap skates, but still won't break the bank. These skates are often considered to be performance skates that have better features than recreational skates and will ultimately, enhance your performance on the ice. You could consider these skates to be worth the investment if you love the game but are still not on the ice frequent enough that you'll wear the skates down quickly.
The best hockey skates will be the elite type or design, which has the newest technology and features. These ice hockey skates can be quite pricey but are worth the investment for players who are frequently on the ice and know their techniques and rules of the game. These skates are often worth the price because they are exceptionally durable, reliable, functional, and comfortable. With the longest lasting design, these ice hockey skates will also need to be replaced less and may only need their blades sharpened every season.
Ultimately, your skill level will determine how much you want to spend on the best hockey skates. Hockey skate reviews can help you determine whether the price of the skates is worth the investment. Many reviewers will comment on the features of the skates and whether they are suitable for beginner, intermediate, or advanced players.
It is also important that you invest in your own pair of ice hockey skates. While you may be looking to save on your budget, purchasing used skates is not the best idea. This is because skates are molded to fit each individual foot and what works for one player may not work for you. Instead, look at purchasing cheap skates if you are wanting to try getting out on the ice to play. And if you are an avid lover of the sport, it will be worth the investment to get your own pair of comfortable skates.
FAQs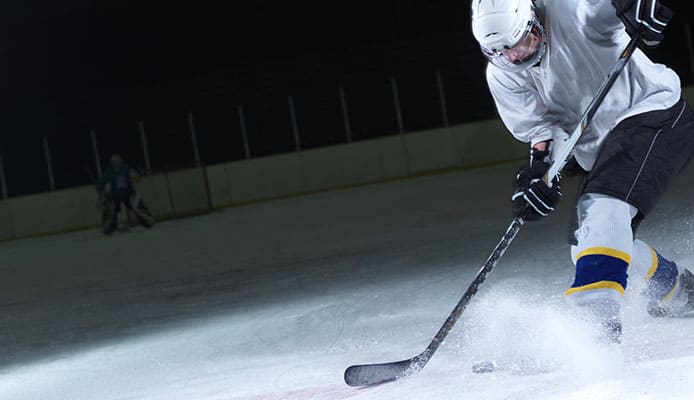 Q: What is the difference between hockey skates and regular skates?
A: 
While you may think that hockey skates and regular skates are the same, we guarantee that they are not. The difference between the two types of skates is in the features and design of the skate. Skates for hockey are the most durable type of skate that you can buy, and they are specialized for the ruggedness of the game. Regular skates are built for casual skaters who like to simply navigate the ice in smooth and simple turns.
For and hockey player, the best hockey skates will deliver exceptional performance and provide protection and comfort for your feet on the ice. When you're playing hockey, fast turns and precise movements are required if you want to win. So, the skates are designed to reflect the needs of the players. Hockey blades are cut differently and may be available in different widths so that you can control the turns better and pick up speed.
Padding is another feature that varies drastically between skates for hockey and regular skates. Hockey skates will be fully padded for protection, comfort, and support. The padding helps keep your ankles strong in the boot but also ensures that any collisions on the ice don't put you out of the game. With more durability, skates for hockey are also longer lasting and more wear-resistant.
Regular skates are great for casual days on the ice and may even be used in both rink and outdoor settings. With less padding, regular skates are not built to be in close-quarter one on one with other players and won't hold up to aggressive tactics. Instead, regular skates are ideal for just recreation and not a technical game. While regular skates can be made comfortable too, you are less likely to be making rapid movements or colliding with other people where more padding is necessary to keep your feet and ankles safe.
Q: How to clean and dry hockey skates?
A: 
Top-rated skates are a sizeable investment, so it's best if you properly maintain your skates for consistent performances on the ice. But cleaning your skates can be difficult because of the blade and structure of the boot. Before you can clean your skates for hockey, there are actually a few preventative measures that you can take to reduce the number of cleaning sessions needed.
You should always use socks with your women's and men's skates because it creates a barrier between your skin and the material of the equipment. Your socks can absorb sweat from your feet and prevent the buildup of grease or dead skin inside the shoe. By preventing these problems from occurring, you are more likely to have to wash your skates less.
As another preventative, you should always air out your cheap skates after every use. The insoles should be easily removed, and you can unlace the laces to fully open the tongue for better exposure to the air. This will allow your skates to fully dry after every use and may eliminate nasty odors.
If you do need to wash your skates, you can separately wash the insoles and gently wash the inside of the skate. The insoles can be fully submerged in water and washed in the bathtub or sink. A mild detergent should eliminate odors and remove stains. But if you need to wash the inside of the actual skate, it is recommended that you wet a washcloth and rub it on the inside of your skate. Again, a mild detergent that is diluted or a natural cleaner like vinegar can be used without causing damage. You should never fully submerge the skate in water or soak the insides of the boot, as this could cause damage.
Anytime that you are done washing your skates, you should always allow them to fully dry. Again, the best way to do this is to remove the insoles and fold back the tongue after removing the laces. Fully dry skates are less likely to develop mold, rot, mildew, or bacteria when they are not being used on the ice.
Q: How to break in hockey skates?
A: 
Even the best hockey skates may be uncomfortable out of the box, which means that you'll need to break them in while you're on the ice. Cheap skates are likely going to require hours on the ice to loosen the material and customize the fit around your feet. While it may take a while to break in the skates, you should not experience pain or blisters. If you do experience significant pain or blisters, it may mean that the skates are too small for your feet. Most of the time, you will have snug spots that will loosen with time to be more comfortable.
However, the most comfortable skates will have a heat-moldable design that allows you to bake your skates and customize the fit around your foot. This method means that your skate is safe to put inside your oven at a low temperature. As the materials heat up, they soften but don't separate. Then you can put your foot inside the boot and as the materials cool, they will conform to your foot for a customized fit.
While the heat-moldable design is a great way to reduce the time needed to break in your skates, it is more expensive and usually only a feature of performance and elite skates. Most cheap skates save on the price by using materials that are not heat safe, so don't try to bake all your skates without first reading the product specifications.
Globo Surf Overview
Top-rated skates will guarantee that you have a blast on the ice. The best ice hockey skates will provide you with the stability, flexibility, and support that you need to master your techniques and conquer the game. With our guide of the best ice skates for hockey, we hope that you find a pair of skates you'll rely on throughout the year. Whether you're a beginner or an expert, having a pair of quality skates can remind you why you love the game and encourage you to be active on the ice.
More Snow Reviews:
Do you own any of the hockey skate that made it onto our list? Let us know how comfortable your skates are in the comments section below.