OUR TOP PICK

---

EDITORS CHOICE

---
Even if your little one is too small to walk the trail, it doesn't mean they can't join in on the fun – all you need is a good hiking baby carrier. Equipped with a comfortable seat, a carrier allows your child to enjoy the view or take a nap when they're tired. At the same time, it distributes the weight exceptionally well so you can carry it around all day.
While choosing a baby carrier is somewhat similar to buying a backpack, you need to consider additional features like frame strength and seat design. To help you do this, this article will talk about everything that a reliable model needs to have. In addition, our hiking baby carrier reviews will present the best hiking baby carriers on the market so you and your child can share every adventure.
How To Choose A Hiking Baby Carrier – Buying Guide
Child Safety Harness
Perhaps the most important thing that a baby carrier backpack needs to have is a reliable child safety harness. Trips and falls happen when hiking, and your child needs to stay protected. It should be made from strong materials and give your child the same level of protection as they would get in a car seat.
Support and Padding
To ensure top-level performance and safety, child carriers need to have a sufficient amount of padding. Not only does it absorb impact in case of falling, but it also makes the carrier more comfortable. In relation to this, it's a plus if it has an adjustable back panel with sufficient padding so you can find an optimal fit.
Weight and Capacity
The weight of the carrier itself is secondary because it will hold a 20 or 30-pound child. However, the combined pack weight is important because it shouldn't go over the recommended weight limit. While it depends on the model, most carriers can handle a maximum load of 40 to 50 pounds.
Frame
Due to the large amount of weight that it needs to hold, a carrier should have a firm and strong frame. However, the problem here is that the frame itself mustn't add too much weight either. Because of this, the number one choice in all high-quality models is aluminum alloy.
Quality And Durability
Most of these products are designed to carry little ones until they turn four, and the carrier shouldn't fall apart before that. Of course, frame and harness quality play the most important role here. Some manufacturers give a multi-year warranty with the purchase which can be a good indicator of quality.
Additional Features
Sun, Wind, And Rain Protection: Your child is often exposed to the weather when sitting in a carrier, which is why you should look for a model with an integrated sunshade and rain cover.
Reflective Patches: If you'll be crossing roads or walking in an urban area, reflective accents on the carrier will make you more visible.
Mirror: A mirror can be very useful because it allows you to see your child while walking so you don't have to stop and take off your backpack every time you hear a suspicious noise.
Kick Stand: Kick stands allow the hiking baby carriers to stand upright when you put them on the ground, so you can get your child in and out more easily.
Storage Pockets: As you well know, babies require a lot of gear when going on a hike – food, toys, and everything you need to change a diaper. Instead of bringing a separate bag, it's a plus if the carrier offers lots of storage.
FAQs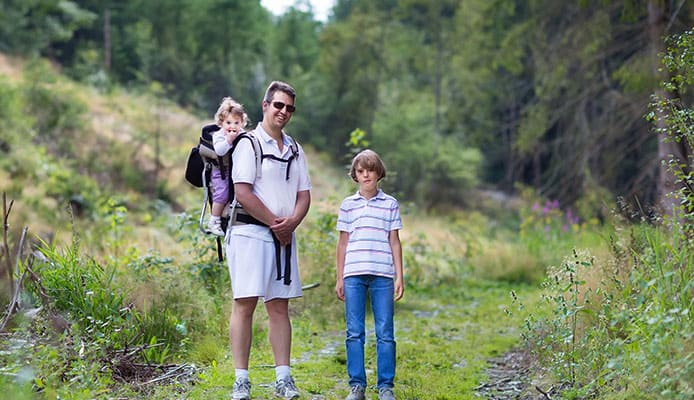 Q: When To Use A Hiking Baby Carrier?
A: 
It's generally accepted that you can use the carrier as soon as your child can sit firmly on their own. However, keep in mind that carrier designs differ and won't be universally sized. This being said, hiking carriers are very useful not only for hiking, but also for theme parks, or short walks around town.
Q: How To Wear A Carrier?
A: 
If you want to avoid shoulder and back pain, it's important to position the carrier properly on your back. The harness should fit more or less the same as a backpack would which means close to the body, lifted, and with weight transferred to the hips. We suggest that you get a carrier with an adjustable torso length so you can easily switch between parents.
Q: What Are The Safety Requirements For A Baby Hiking Carrier?
A: 
The main requirements refer to the design and construction quality. The carrier needs to keep your child secure in its seat, which means it needs to have a firm frame and easily-adjustable safety straps. In addition, the main harness system needs to have the strength to withstand the load and prevent your child from falling out. If you want to be safe, choose a product that meets the federal safety requirements.
Q: Do I Need A Hiking Baby Carrier?
A: 
Yes, unless you want to carry your child in your hands all day (or stay home). It's the most convenient way of taking your child outdoors, as it allows you to carry them without putting too much strain on your body.
Q: Can You Take A Baby Hiking?
A: 
Yes, you can. A well-made hiking carrier provides a comfortable sitting and sleeping position for your little one, while its easily-adjustable harness makes sure that you can handle carrying the load all day.
Globo Surf Overview
Having a small child doesn't have to put your outdoor adventures to a halt. With the right baby carrier, both you and your little one can fully enjoy your time outdoors. We hope that our reviews and guide helped you decide on the most excellent hiking baby carrier that will make taking your hiking family adventures both comfortable and safe.
More Backpacking/Hiking Reviews: