Spending quality time outdoors is something we all appreciate. Camping is a great opportunity to relax and enjoy yourself with friends and loved ones. Still, we find ourselves in completely different surroundings compared to what we're used to every day. Some campers like to take part in outdoor activities, but don't wish to give up the comfort they have at home. If you are one of them, then you should really consider getting a glamping tent.
These tents are designed in such a way to give you greater convenience, larger sleeping space and more options to set up your camping accommodation just the way you like it. This way you can fully enjoy nature and still have a luxurious place to stay. Different tent styles are used for glamping, but they all need to meet high expectations.
In order to find the best luxury tent, you need to think about how and where you plan to use it. We have reviewed fantastic products for you to choose from, and also created a buying guide to give you some pointers on what to expect and look for in high end tents, so don't miss out.
Kodiak Canvas Flex-Bow 6-Person Canvas Glamping Tent
See Customer Owner Feedback >>
What Makes This Glamping Tent Stand Out

Cotton duck

All-season tent

Steel frame
View More By Kodiak Canvas »
Northwest Territory Large 10 Person Family Cabin Glamping Tent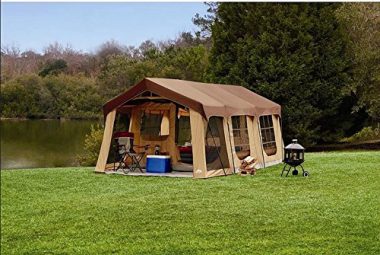 See Customer Owner Feedback >>
What Makes This Glamping Tent Stand Out

Large front porch

Room divider

Wheeled storage bag
View More By Northwest Territory »
Vidalido Dome 5-6 Person 4 Season Glamping Tent
See Customer Owner Feedback >>
What Makes This Glamping Tent Stand Out

Double layer

Removable outer layer

Reinforced steel poles
Dream House Luxury Outdoor Family Glamping Tent
See Customer Owner Feedback >>
What Makes This Glamping Tent Stand Out

Multiple sizes

Excellent waterproof rating

Thick ground sheet
View More By Dream House »
Winterial Teepee Glamping Tent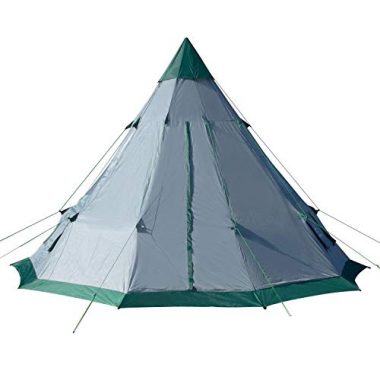 See Customer Owner Feedback >>
What Makes This Glamping Tent Stand Out

Quick setup

Great ventilation

Light for its size
Timber Ridge 8-Man Log Cabin Glamping Tent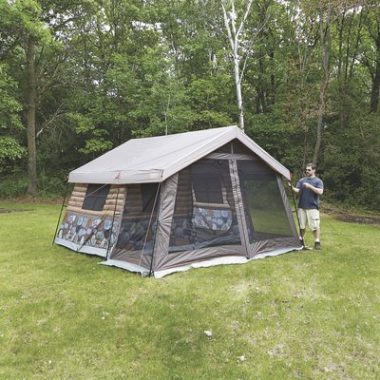 See Customer Owner Feedback >>
What Makes This Glamping Tent Stand Out

UV and water-resistant fly

Cable port

Vent system
View More By Timber Ridge »
Lotus Belle Original Hybrid Deluxe Glamping Tent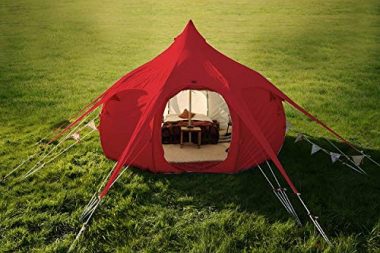 See Customer Owner Feedback >>
What Makes This Glamping Tent Stand Out

Looks great

Very spacious

Mesh vents and screens
View More By Lotus Belle Tents »
Crua Outdoors Tri Luxury Winter Glamping Tent
See Customer Owner Feedback >>
What Makes This Glamping Tent Stand Out

Noise and light reduction

Excellent breathability

Tear and puncture resistant
View More By Crua Outdoors »
Big Agnes Big House Deluxe Glamping Tent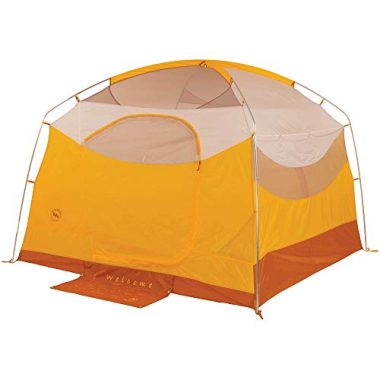 See Customer Owner Feedback >>
What Makes This Glamping Tent Stand Out

Color-coded setup

Many pockets inside

Color choice
Mongulai Portable Yurt Glamping Tent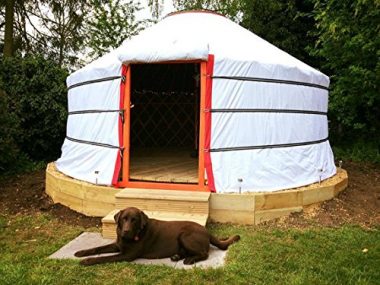 See Customer Owner Feedback >>
What Makes This Glamping Tent Stand Out

Unique design

Strong frame

Very stable
How To Choose A Glamping Tent – Buying Guide

When you set out to buy a deluxe camping tent you expect excellent quality and a multitude of useful features. Your new tent should be constructed well, with top-notch materials to keep you protected in every weather condition. Since you've decided you want to raise your camping game to a higher level, you should learn more about certain factors that greatly influence the amount of comfort you're going to get. Take a look.
Size
Space is almost synonymous with glamour camping tents. Regular tents are often cramped up, which causes discomfort to some campers. There's not enough room to move around, and your sleeping space is limited. Glamping tents eliminate this problem completely – they are spacious and often have room for several air mattresses, as well as floor space for all of the additional gear you wish to take with you.
Furthermore, your luxurious tent should be tall too, so you can stand up and walk inside. In relation to this, the best glamping tents have vertical or almost vertical walls to allow easy movement. Depending on how many people you plan to accommodate, you can choose between different tent sizes, usually ranging from four to ten or more people. These tents are in no way compact, so you need a proper surface where you can set them up. The space on your campsite may be limited, so keep that in mind when choosing.
Material
Tents aren't something we buy every day, especially if we decide to spend a little more and get a luxurious product. The fabric used should be strong so it doesn't tear or get damaged easily. Manufacturers often specify denier (D) rating for the materials they use, and a higher value is better since it means the fabric has larger fiber density. Materials which are most commonly used to make glam camping tents are nylon, polyester, cotton canvas or a combination of these.
First and foremost, your tent is a shelter, which means it must protect you when weather takes a turn for the worse. All tents we featured in our glamping tent reviews are waterproof, but not all of them have the same rating. This depends on the material itself, and whether it has some added protection (a PU coating for example). If you expect heavy rain while camping, you should look for a tent with higher waterproof rating.
Related Review: Waterproof Tent
It's not just the fabric that needs to be high quality, it's the poles too. They hold the tent in place and give it the stability required. Best glamping tents have steel poles which won't bend or collapse under the weight. In addition, sturdy poles and tough fabric keep the tent secure in strong winds.
Weight
Luxurious tents are not exactly lightweight. While there is some difference between products, they are not designed to be carried far away. Since this type of tent is often larger than regular ones (and comes with added features), extra weight is to be expected. This being said, synthetic tents are lighter than those made of canvas, if they are similarly sized. But as we said, this usually won't really be a problem. On the other hand, if weight is a concern for you, be sure to check out our selection of ultralight tents.
Related Review: Ultralight Tent
Doors And Windows
Having a larger number of doors and windows greatly increases your comfort. For example, having more than one door allows the occupants to move freely in and out without disturbing other people inside. Windows allow the air to circulate, and also allow light to come inside making it much nicer to be in during the day. It's a big plus if doors and windows have double panels – a fabric flap and a mesh screen. This way you can close the flap when the weather is bad or you want to keep warm, or you can open it and let the air come in while the mesh protects you from insects.
Ventilation
If you wish to have a pleasant stay inside, your tent needs to allow fresh air to move. We already mentioned the mesh panels on doors and windows, but it doesn't stop here. Some tents have mesh panels on the ceiling too, as well as specially designed floor vents. It's a big plus if the material is breathable, because this allows moisture to leave the tent instead of ending up as condensation on the walls. Keep in mind that materials with high waterproof ratings aren't very breathable, so if you're getting this type of tent make sure it has a sufficient number of vents.
Sturdiness And Durability
Since we often spend a larger amount of money when buying the best luxury tent, we expect it to last for many years. Manufacturers pay great attention to details so you'll often find double-layered walls, high-quality zippers, double stitching, taped seams and reinforced frames. All these things can contribute to strength and durability of your product. You can also contribute to this, by placing it on a tent footprint to prevent potential damage to the floor. In addition, make sure to clean your tent properly and regularly.
Use
Even though they are larger and heavier than most other types, glamping tents shouldn't be a problem to set up. You won't be able to put it up in minutes, but it's certainly good if you can do it on your own without taking all day. Some products have color-coded parts which can speed up the assembly process.
FAQs
Q: What Is A Glamping Tent?
A:
A glamping tent a luxurious tent designed for glamour camping. It's designed to raise the comfort level very high so you can enjoy yourself to the fullest. It allows you to set it up to your liking, and transform it into a really neat and cozy living space.
Q: What Are The 3 Most Important Features Of A Luxurious Tent?
A:
This is a broad subject, but perhaps the three most important things are space, build quality and smart design. Abundant space allows you to move around freely, get a good night sleep or even put a table and a camping chair inside. We discussed the build quality – strong materials give you better protection and make your luxurious shelter last longer. Finally, the design of doors, windows, walls as well as added features make the tent much more user-friendly.
Q: What Is The Difference Between Camping And Glamping Tents?
A:
The main difference is the comfort level. Some people are turned away from camping because you sleep in a tight space, on the ground, with bugs crawling around you.  Glamping tents are designed to eliminate these problems, and create a relaxing setting which feels great.
Globo Surf Overview
Glamping tents are a great choice for all of you who wish to have a carefree and extravagant stay in the nature. Your company will appreciate it too – everyone will be in a better mood and with more energy to enjoy themselves. Even though this type of tent isn't the cheapest solution, it's definitely worth investing in since it will last for a long time. Give it a shot, we promise you won't be disappointed.
More Camping Reviews:
More Tent Reviews:
Have you tried a glamping tent that made it onto our list? How did it perform? Was your trip enjoyable? Would you recommend it to others? Please share your experience with us in the comment section below.