Kayaking has become a favorite sport of so many outdoor enthusiasts. With their long narrow designs these boats can navigate through tight rivers and handle ocean surf expertly. This is why many people have begun to take their kayaks on fishing excursions. Despite their growing popularity you can find some high quality kayak under $500.
This makes fishing and weekend trips with your kayak even more desirable. Don't be fooled by the low cost of these kayaks, they are high quality and will stand the test of the elements. Instead of costly packages these boats will come equipped with just the kayak in mind which makes them perfect for a starter boat, or for bringing along another family member.
Kayaks don't need to be expensive for you to have a great time on the water. Choosing the best fishing kayak under $500 should be a priority. We have come up with a list of our top five below.
QUICK ANSWER: THE BEST FISHING KAYAKS UNDER $500
Best Fishing Kayaks Under $500
Fishing Kayaks Under $500 Reviews
1. Sun Dolphin Bali SS 10-Foot Sit-on top Kayak
Check Price Now
What Makes This Fishing Kayak Under 500 Stand Out:
UV stabilized
Spacious cockpit
Paddle holder
Comfortable seat
Model & Accessory Specs:
Length: 10 feet
Weight: 44 lbs
Maximum Capacity: 250 lbs
Materials: Polyethylene
This sit on top kayak is great for lazy days on the lake making it a great option for fishers. Made using tough UV stabilized materials the Sun Dolphin Bali SS kayak can withstand long periods in the hot summer sun without fading. This fishing kayak delivers an incredibly stable ride which allows you to be able to cast a line while standing. Built to perform in flat water this sit on top kayak navigates through the water with ease making long distance paddles even more enjoyable. The spacious cockpit is built to fit any size paddler and features adjustable foot braces and a large seating area. With a comfortable padded seat and protective thigh pads this kayak is built for comfort. A paddle holder frees your hands while ample storage space allows easy access to your gear. This fishing kayak has a lightweight design with carrying handles making transportation and portaging between lakes easy. With so many features and such a low price this kayak is an excellent bargain.
2. Sun Dolphin Excursion 10-Foot Sit-in Fishing Kayak
What Makes This Fishing Kayak Under 500 Stand Out:
Two rod holders
Two year warranty
Scratch resistant
Model & Accessory Specs:
Length: 10 feet
Weight: 100 lbs
Maximum Capacity: 250 lbs
Materials: Polyethylene
This inexpensive boat works as a great starter fishing kayak and will still perform well with more advanced paddlers. Truly designed for people who love fishing, this boat comes with two flush mounted rod holders allowing you to paddle while you have a cast line. With a rear storage hatch, you can bring all your gear along with you and keep it dry and out of the way. A comfortable, padded high-backed seat will allow you to sit comfortably for extended paddles. With a convenient water bottle close by hot summer days become even more enjoyable. Adjustable foot braces make this a great option for any size paddler to enjoy while easy to carry handles and a lightweight design ensures getting to the beach is a breeze. Shock cords on the fishing kayak's deck allow you to bring along a ton of gear. With a pure color scratches and dents are nearly invisible keeping your fishing kayak looking sharp longer. Sun Dolphin is so confident in their product it even comes with a two-year warranty. This is an excellent option for a beginner kayaker who is looking to go fishing.
3. Sea Eagle SE370K_P Inflatable Kayak with Pro Package
What Makes This Fishing Kayak Under 500 Stand Out:
Sun and saltwater resistant
Complete package
Spray skirt
Easy carry handles
Model & Accessory Specs:
Length: 12 feet 6 inches
Weight: 32 lbs
Maximum Capacity: 650 lbs
Materials: PVC
This affordable fishing kayak comes as a complete set giving you everything you need to get out on the lake. The high-end accessories that it comes with make it a stand out on our list. The two paddles, a foot pump, a carry bag and a repair kit, allow you to get on the water quicker and ensure there are no hidden or added costs with this purchase. Being inflatable means you can transport it in the trunk of your car which save you, even more, money as you don't need a roof rack or home storage option. This setup inflates in a matter of minutes and boasts an impressive 650-pound weight limit allowing it to hold up to three people. With a self-bailing drain valve and an inflatable spray skirt makes this kayak a great option to take into some surf and stay dry in the process. Carrying handles makes transporting even easier while two skegs make it a breeze to maneuver in the water. The hull of this kayak is sun and saltwater resistant making your money go even further by prolonging the life of this exceptional kayak.
4. Sun Dolphin Aruba 10 Sit-in Kayak
What Makes This Fishing Kayak Under 500 Stand Out:
UV stabilized
Large open cockpit
Adjustable foot braces
Lots of storage
Model & Accessory Specs:
Length: 10 feet
Weight: 40 lbs
Maximum Capacity: 250 lbs
Materials: Polyethylene
This fishing kayak is great for long distance paddles. With a comfortable open cockpit there is lots of room to move around and not feel claustrophobic. This Sun Dolphin kayak has an adjustable high backed padded seat which will be incredibly comfortable no matter how where your journey takes you. Adjustable foot braces allow your legs to rest comfortably for any height paddler. Carrying handles make it easy to portage and transport this lightweight kayak no matter how far away from the water you park. Plenty of gear storage allows you to pack and safely store even more gear for your trip. This boat isn't just a great deal financially but with its UV stabilized materials this kayak will last you even longer.
5. Advanced Elements Advancedframe Convertible Kayak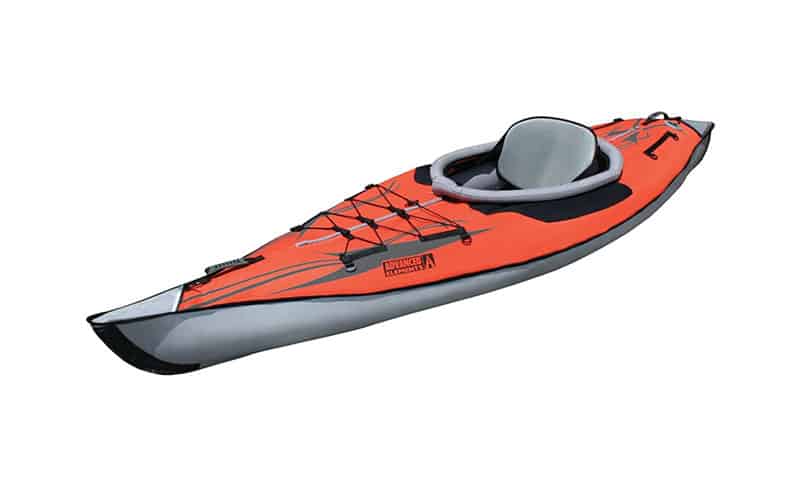 What Makes This Fishing Kayak Under 500 Stand Out:
Dry storage
Puncture resistant material
Adjustable seat
Model & Accessory Specs:
Length: 15 feet
Weight: 43 lbs
Maximum Capacity: 300 lbs
Materials: Polyethylene
This easy to inflate fishing kayak has aluminum ribs which allows it to ride much like that of a rigid boat. The Advanced Elements Advancedframe Convertible Kayak is incredibly easy to set up, simply unfold and inflate. Made of strong puncture resistant material this boat will stand the test of time and ensure you get to where you want to go no matter what the weather and water conditions are. This is a tandem fishing kayak that can also easily paddled solo as well. Fitted with comfortable and adjustable padded seats this kayak is built to handle long distance trips with ease. A dry storage compartment and bungee deck storage allows you to pack all the gear with you. This is an excellent option for a fishing kayak.
What Makes A Good Fishing Kayak Under $500?
There are many factors that make up the best budget fishing kayak. Things like the hulls material, how comfortable the seat is, and how much storage it has are all things that will affect the price of the rig. The key is to find a balance of these factors, only then will you find the best fishing kayak for the money.
Taking to the water for fishing often requires quite a bit of added supplies. You also require an area to put all that supplies and keep it within hands reach of you. We made sure all the fishing kayaks under 500 on this list have ample storage so you can bring all your gear with you. All the kayaks used for fishing on our list have the stability to cast a line and reel in with comfort. They have a spacious and comfortable cockpit where you will be able to move around. The best fishing kayaks will have some UV stabilization in their materials, this will allow you to kayak for long periods in the hot sun without worrying about the integrity of your boat. All while carrying a low, affordable price.
Material
The type of material a kayak is made from will play a large role in the overall price of the kayak. Typically lighter, stronger material will increase the cost due to the more expensive material.
The least expensive option is a durable plastic. This molded polyethylene material creates a rigid system that will stand up to the rough protrusions of the shore. Kayaks made from this material will increase in weight depending on how many layers are used. A glossy texture allows these kayaks to move through the water with little resistance making for an easier paddle. Since this is one solid piece of plastic repairs are hard to do and severe damage may require you to purchase a whole new boat.
One of the more common mid to high range options is a fiberglass kayak. This is a lightweight option with an easily repairable hull. Fiberglass is a trusted build quality that has been used for years on kayaks. It is more delicate in that it can't be slammed into the shore as much as the polyethylene.
The most expensive option is a Kevlar material. This is the lightest and most durable material available. It is able to withstand abuse while the incredibly lightweight design will make your arms thank you. But unless you have a desire for the best of the best, this will probably not fit your budget.
Seat
There are some areas that you can cut corners with to save some money but your seat is not one of these. Make sure the seat to your fishing kayak is comfortable with enough support to keep you stable in rough water. If the seat is too padded, or not padded enough, you could slide around instead of having a firm spot to secure your body especially during rough water.
Accessories
Due to the low cost the best budget kayak will usually not come with any accessories. This is actually a good thing as it means that the kayak is the only thing being focused on. If a company includes a whole package for a kayak this inexpensive that means that they cut corners to keep the cost down. This allows you to pick and choose the right accessories for you.
We recommend a high end, lightweight paddle. This will ensure that your arms don't tire as quickly allowing you to go on longer trips. Materials will take a regular paddle to the next level. Look for a nylon blade with a carbon fiber handle. This is an excellent combination of high-quality lightweight materials.
A high-end life preserver should be one of the top things on your list as well. Since kayaks are seen as water vessels by the Coast Guard it is required that you have at least one on board. These have come a long way and are now not bulky and are low profile. This means they will not get in the way while you paddle or move around
A bilge pump is another safety feature that every boat should have. This is an inexpensive
Globo Surf Overview
Kayaking is an incredibly enjoyable weekend activity. Using a kayak to fish with will allow you to get to the best fishing spots. This sport isn't always affordable but with these kayaks make this fun activity available to more people. All of these fishing kayaks under 500 are good quality for the price and allow you to get on the water for less.
Budget fish kayak reviews agree that the low price should not compromise performance and comfort. With the five fishing kayaks under 500 on our list, you will get a quality boat at an affordable price.
Sources
Sun Dolphin, Sun Dolphin Boats
Coast Guard, Military
Do you have one of these kayaks? Let us know what you think in the comment section below.
Globo Surf Fishing Kayak Review
★★★★★
"
Was looking for fishing kayak under 500 as I have a budget. Found this great list and was able to review the differences between all the fishing kayaks for the money.
"