If you are looking for a way to stay fit and healthy from the comfort of your home or office, an exercise bike is a good investment. The best exercise bikes offer an efficient and convenient way to lose body fat and burn calories whilst also strengthening your heart, lungs, and muscles.
The best part about working out using an exercise bike is that you don't have to strain your joints; making them great for anyone. Exercise and stationary bikes are also designed with improved adjustability to allow you to achieve a personalized fit for a comfortable workout. Plus, their compact build offers easy and convenient storage. 
Below is the list of the 10 best exercise bikes – choose your ideal option so you can stay fit and healthy, no matter where you are.
How To Choose An Exercise Bike – Buying Guide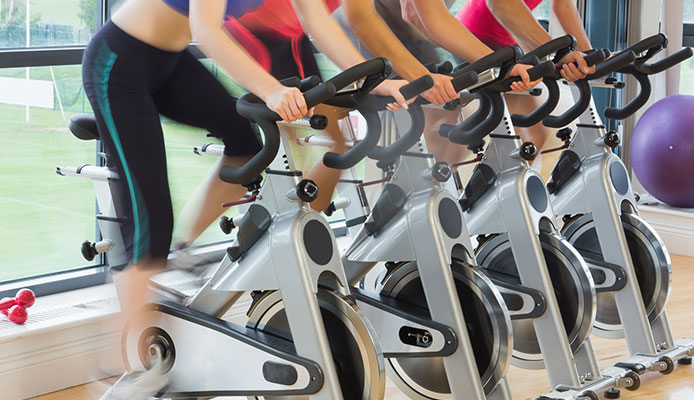 Resistance 
Resistance is an important factor to consider when choosing the best stationary bikes. Resistance is the feature that gives you stationary bike its exercise component. There are four common bike resistance types, namely, a flywheel based, friction, magnetic, and a lesser known fan-based resistance.
Flywheel Based Resistance
A flywheel is a heavy mechanical disk at the front side of your bike that is used to store rotational energy. Similar to a road bike, a flywheel (which mimics the front wheel) is connected by a belt or chain to the pedals.
So when you ride, the pedaling power or momentum generated, in the form of rotational energy, is stored in the flywheel. The heavy build of the flywheel is what creates the resistance when pedaling thus, giving your body a workout.
Magnetic Resistance
Some of the best stationary bikes are designed with magnetic resistance. These types of bikes use their flywheel, as a magnetic conductor, and two powerful magnets to generate the resistance. The magnets do not touch the flywheel, instead, it is the magnetic field that creates the riding resistance. Of these four types, magnetic resistance exercise bikes tend to be the most expensive.
Friction Resistance
Friction resistance on the other end uses braking pads to create the resistance. When the pads come in contact with the flywheel, rotation decreases to create the resistance, prompting you to use more energy to increase rotation. 
This is what gives your body a workout. Additionally, whilst friction resistance is basic and normally needs you to manually adjust it, magnetic resistance can be operated via internal bike computers.
Fan-Based Resistance
Fan based resistance operates without the use of flywheels. A fan is fitted to the bike in place of a flywheel. Thus, the resistance for these types of bikes is created by the air that is being blown. The fan is connected to the bike's pedal using a pulley system and a belt to allow you to counter the resistance.
Weight Capacity
You also want to go for an exercise bike that suits your body weight. So before you invest in one, always cross check its weight capacity. Generally, the majority of exercise bikes boast a weight capacity of between 200 to 300 lbs.
Pre-Set Programs
The best stationary bikes are built with pre-set programs in their internal computers. These programs can then be accessed on your digital LCD screen. Typically, most magnetic resistance exercise bikes come with pre-set programs. 
Similar to bike computers, pre-set programs give you an option to access a wide selection of work out programs, and track your performance. Bikes that come with pre-set programs are a little expensive but worth the investment. They can even keep you entertained with music during your workouts. 
Type
There are three types of exercise bikes. These include upright, recumbent, and indoor cycling bikes. Upright bikes have a similar design to regular bikes and normally require you to ride upright whilst your body is slightly tilted forward. Their handles are slightly higher than regular bikes, however. Recumbent bikes on the other end are lower in height and normally require you to sit in a back leaning position.
They come with padded seats and backrests to make them ideal for longer workouts without causing back, neck, or muscle pain. Indoor cycling bikes, also known as spin bikes are designed for intense workouts. They closely function as if you are riding a regular bike. The difference is that you are indoors and immobile.
FAQs
Q: Can You Lose Belly Fat By Riding A Stationary Bike?
A:
Yes, you can lose belly fat by riding a stationary bike. In fact, stationary bikes are designed with optimal efficiency; burning between 300 to 700 calories per hour. Riding on a stationary bike for at least 30 minutes every day helps to significantly burn down belly fat.
Q: Are Stationary Bikes Worth It?
A:
Yes, stationary bikes are certainly worth it. Stationary bikes offer an efficient and easy way to burn calories and body fat whilst also strengthening your lungs, muscles, and heart. Compared to other cardio equipment, stationary bikes put less strain on your joints.
Q: Is There A Better Bike Than Peloton?
A:
Yes, you can find better bikes with higher exercise bike ratings than Peloton. However, these alternatives can be more expensive. Some of the alternatives and better bike options include the Nordic Track Commercial S22i, Echelon Smart, and Schwinn IC4 exercise bikes.
Globo Surf Overview
The best stationary bikes give you the convenience and efficiency to stay fit and healthy from the comfort of your home. On those cold winter days or rainy days, you can substitute your mountain bike for an exercise bike and still be able to give your body a substantial work out. So keep your body fit and healthy by choosing your favorite option from the 10 best exercise bike reviews above.
More Bike Reviews: