See Customer Owner Feedback >>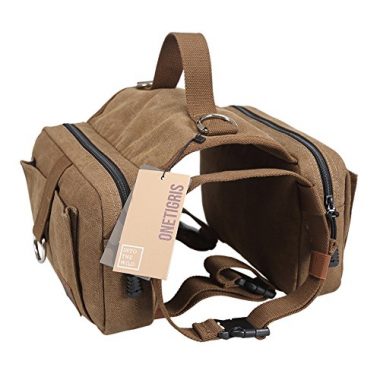 See Customer Owner Feedback >>
Dogs make wonderful adventure companions. They love the outdoors and their enthusiasm is contagious. Whether you're going backpacking, hiking, trail running, climbing, boating, or kayaking, the experience is even better with your four-legged best friend by your side.
While your dog hears the call of the wild, he or she is not naturally equipped for the wild as a wolf is. You'll need to pack the best camping gear for dogs to ensure the safety, comfort, and health of your friend in the great outdoors and keep their tail wagging on the trails. Below are ten best dog outdoor gear your furry friend needs when accompanying you outdoors.
Ready to get started? Let's go.
How To Choose A Dog Camping Gear – Buying Guide

The best dog outdoor gear for your canine companion will depend on your individual dog. There are a few things to keep in mind when you're looking for camping items for dogs: 
Size of The Dog
Outdoor dog accessories and gear are made in different sizes for different dog sizes. You will want to ensure the items you get will fit your dog. Have the size and weight of your dog in mind and pay attention to gear specifications to ensure you pick the right size.
Weather, Time and Place For Camping
You will want to acquire and pack camping equipment for dogs that suit the weather, time and place for camping. Before you acquire dog camping or dog hiking gear, find out about the weather, temperature range, and terrain conditions in your destination. This way, you'll know exactly what to bring to keep your four-legged companion safe and happy in the wilderness. 
How Long Will Be The Trip
The trip duration will also affect the type and amount of gear you will need to bring along. Ensure you pack enough food, water, treats, waste bags, gear, and other supplies that will last the entire trip. 
FAQs

Q: Why Do I Need Camping Gear For My Dog?
A:
While an animal in the same family as wolves, your dog isn't naturally equipped for the great outdoors. When you take your dog camping, it is your responsibility to ensure that your dog is safe and comfortable out there. You need gear for camping with dog to keep him or her fed, hydrated, warm, secure, healthy, and happy in the wilderness.
Q: Should I Have My Dog On Leash Or Leave It Free While Camping?
A:
To keep your dog safe, you should have him or her on leash while camping. This is actually a requirement in many campsites. Even when camping where you can let your dog run wild and free, it's not advisable to let him or her roam free. There are kinds of wildlife and temptations that might get your dog excitable and there are all kinds of dangers such as difficult terrain. A leash will keep your furry best friend from wandering into danger.
Q: Is It Safe To Bring My Dog Camping? Can Wild Animals Attack My Dog?
A:
As long as you educate yourself about your camping destination and take the necessary safety precautions, it is safe to bring your dog camping. Encountering bears, coyotes, and other wild animals is a possibility in the wilderness but it shouldn't keep you from bringing your canine friend along. To keep wild animals away, store all food securely and pick up after your dog as dog poop can attract wild animals. Keep your dog leashed but don't ever leave him or her tied up and alone.
Globo Surf Overview
Some of the best outdoor experiences you will have are the ones with your dog as your companion. But taking your dog along on outdoor adventures comes with the responsibility to ensure their safety, comfort, and happiness out there. You will need to pack the best camping gear for dog to ensure that the excursion is successful and that even Fido has the best experience out there.
More Camping Reviews:
More Gear Reviews:
We would love to read your thoughts or experience with the active dog gear we've reviewed! Feel free to share in the comment box below!