OUR TOP PICK

---

EDITORS CHOICE

---
Many pet parents are eager to go on adventures with their furry best friend, but safety and stamina may make you reconsider your plans. A top rated dog backpack carrier is the safest way that you can take your pup out and about. The backpack design is convenient for both you and your pup.
But the dog's level of stress and your comfort are crucial to consider when you're looking at different brands or models and it can be challenging to determine what makes a quality wearable dog carrier. To help relieve stress on you and your pup, we have selected the ten best dog backpack carriers to get you started in your search. With the extensive buying guide, we have also outlined all the features you should consider when you're looking for the best dog carrier backpack.
How To Choose A Dog Backpack Carrier – Buying Guide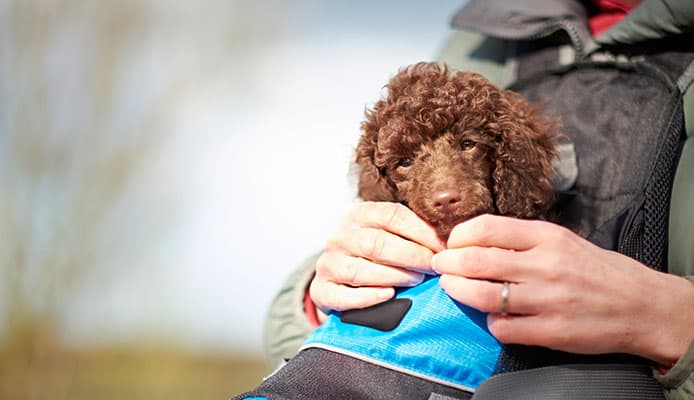 Durability
Dogs can live a long time and when you purchase pet gear you probably want it to last for multiple years in your dog's life, so durability is an important consideration. The best dog backpack carrier will have durable features like a reinforced construction with double-stitched seams and strong material. Dog carrier backpack reviews are an excellent resource to determine the durability of a design before you make the purchase.
Comfort
When we talk about the comfort of backpacks to carry dogs, we are focusing on both the owner and the animal. You should be comfortable when carrying the dog and should never have to deal with uncomfortable straps. Features like a padded back panel and straps can help ease the weight of your dog and ensure that you can have a full day of adventuring with your pooch.
But the comfort of your dog is essential too. Front facing dog carriers may be more comfortable for smaller dogs because they can look at you and their surroundings. Plus, the front facing dog carriers often feature an open leg and tail design to keep your pups cool. However, if you choose a large dog carrier backpack, it should have multiple mesh panels to increase airflow inside and prevent your dog from overheating.
Versatility
A top rated dog backpack carrier should be versatile to use in different outdoor activities. Whether you are camping with your dog or hiking with your dog, you should be able to comfortably strap them into a wearable dog carrier and take them for a ride when they get tired. However, versatility also refers to the style of dog backpack. Some backpacks can be carried on both the front and back, which makes them more versatile for city and backcountry excursions.
Type
While all the designs on are list are backpacks, there are a few different types of backpacks to carry dogs that have different features to set them apart from the crowd.
The classic dog backpack design is the same as travel backpacks, except it features mesh panels instead of a solid construction. In these backpacks, your dog sits secured inside and has no body part exposed or free in the open air. This type of backpack is best for traveling with your dog because they are secure and kept fully inside.
Another type of dog backpack resembles hiking backpacks, except there is an open top and mesh sides. The open top allows the dog to keep their head outside of the wearable dog carrier while mesh panels keep the dog cool and comfortable during travel.
The harness backpack design are what most front facing dog carriers resemble and they leave the legs and tail free to hang out. This type of backpack is ideal as a small dog hiking carrier and has great ventilation. While carrying your dog like a baby, you always see them and worry less about them overheating.
Finally, some types of backpacks for dogs to ride in have wheels. The wheels are an easy way to transport your dog and reduce the stress on your body. If you're traveling through airports, wheels are a great feature to have.
Material
The best dog carrier backpack will use a durable material that is water-resistant and anti-wear. Quality backpacks for dogs to ride in will use premium materials in their construction, which ensure the backpack is secure, strong, and long lasting.
Size
The size of your top rated dog backpack carrier will depend on the size of your dog. A backpack dog carrier for 20lbs is great for smaller sized dogs, but medium sized dog will probably need a different size. Most brands offer a variety of sizes that can fit a variety of dogs. A dog carrier backpack for long dogs will need to be taller so that your pup can comfortably fit inside.
It is important that you follow any measurement instructions and sizing guides to find the beset fitting dog carrier backpack for hiking. A small dog carrier that doesn't will be uncomfortable for your dog.
Lightweight
Over time, even small dogs can start to feel heavy, so your wearable dog carrier should be lightweight. With lightweight backpacks to carry dogs, you are ensuring that you aren't carrying unnecessary weight or adding more strain on your body.
Straps
The straps are how you will secure the backpack to your front or back. The most excellent dog backpack carrier will have padded straps that rest comfortably on your shoulder. However, a large dog carrier backpack or front facing dog carriers made have additional straps to secure around your chest and waist. These help distribute the weight of your dog and make them more comfortable to carry.
Pockets
When you're already carrying one backpack a second bag is just a nuisance. The best dog carrier backpack will have at least one storage pocket so that you can carry all your gear for the day, whether it's for you or your pup.
Built-In Wheels
As we mentioned, some backpacks for dogs to ride in feature built-in wheels. The wheels are an easy way to transport your dog without putting the burden on your back or chest. Any backpacks to carry dogs will feature a telescoping handle to pull the carrier along or can be used as a traditional backpack.
Air Flow
For your pet's health and safety, it is extremely important that you choose a well-ventilated doggie backpack carrier. A top rated dog backpack carrier will have multiple mesh panels to keep your dog cool and stop them from overheating. Without ventilation, your dog can be in danger experiencing heat exhaustion or suffocation.
FAQs
Q: How to measure my dog so I know which backpack to buy?
A: 
Most brands will include a measurements guide that ensures you are properly measure your pooch to find the best sized dog carrier. It is important that you follow the guide to find the best fit and ideal comfort for your dog. Most measurements asked will be the length, width, and circumference of your dog.
Q: Are dog backpack carrier safe for the dog?
A: 
Yes. All the designs on our list have safety features that ensure your pup has a smooth and comfortable ride. But when you're shopping around you should know that ventilation, leash attachments, and adjustable openings make a wearable dog carrier safer for your pup.
Owners should ensure the safety of their dog by always using measurement or sizing guides to find the best fitting backpack for your dog. Do not just a backpack only by the weight limit of the design and your dog. The dog's measurements may indicate a different sized backpack carrier is needed.
Q: Why should I use a dog backpack carrier?
A: 
Sometimes people travel to locations where it isn't always the safest option to have your dog walk alongside you. Whether you're traveling in the city or by plane, a top rated dog backpack carrier can keep your pup safe from accidental bumps, scrapes, or jostles. But if you're hiking with your dog, a small dog hiking carrier can be handy too. Dogs sometimes get tired and it can hinder your progress on the trail to stop and wait. With a dog backpack carrier for hiking, you don't have to stop but can give your pup a much-needed rest by carrying them with you for a short while.
Globo Surf Overview
Many owner's dream of always taking their pups with them and a top rated dog backpack carrier can make that dream a reality. The best dog carrier backpack is a secure, safe, and easy way to take your dog anywhere you go. Backpacks for dogs to ride in are quickly becoming a popular way to safely travel with your pet and our guide is aimed at pairing you with the best dog backpack carrier. With your dog at your side, you can unlock a whole new adventure.
More Backpacking/Hiking Reviews:
Do you own one of the dog backpacks that made it onto our list? Let us know how much you love to use it when adventure with your pup in the comments section below.