OUR TOP PICK

---

EDITORS CHOICE

---
Camping is an excellent way to relax and to get away from the hustles and bustles of the city. It's also way to get in touch with nature – take in the fresh air of the wilderness, eat fresh, trek the nearest trail, just to mention a few.
Like many other occasions, the highlights of camping are when you prepare your fresh catches and enjoy it with your family or friends. And just because you are not at home, this doesn't mean your cooking should be limited. Cast iron camping cookware is quite handy and eases the process of cooking in the outdoors so you can enjoy the same quality food.
Listed below are the 3 best cast irons for camping in 2022 that you should absolutely invest in.  They are versatile and offer just the convenience you need – simply pick the option that appeals most to you.
OUR TOP PICK
Lodge Cooker Cast Iron For Camping
See Customer Owner Feedback >>
What Makes This Cast Iron For Camping Stand Out

Built for searing, sautéing, simmering, braising, baking, roasting and frying

Seasoned for natural and better flavor with every use

No synthetic coatings or added chemicals

Excellent heat retaining abilities
Size: 3.2 quarts
Weight: 13 lbs
Price range: $$
EDITORS CHOICE
AmazonBasics Cast Iron For Camping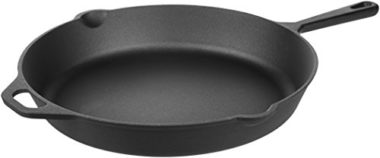 See Customer Owner Feedback >>
What Makes This Cast Iron For Camping Stand Out

Pre-seasoned with oil and ready to use

Even heat distribution and retention and up to 500 degrees Fahrenheit safe

User friendly handles for easy lifting and transport

AmazonBasics limited 1-year warranty
Size: 15-inch
Weight: 10.8 lbs
Price range: $$
View More By AmazonBasics »
BEST VALUE
Lodge Stovetop Cast Iron For Camping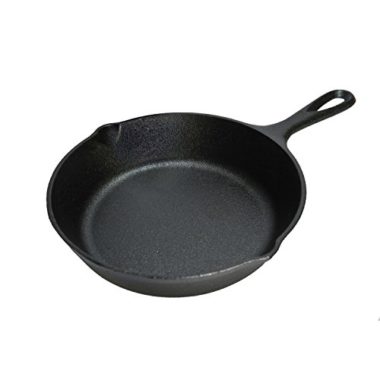 See Customer Owner Feedback >>
What Makes This Cast Iron For Camping Stand Out

Suitable for use on all heat sources

Guaranteed durability

Superior heat retention and even cooking

Made in the USA
Size: 6.5-inch
Weight: 1.85 lbs
Price range: $
How To Choose A Cast Iron For Camping – Buying Guide

Seasoning
The best cast iron skillet for camping no longer incorporates chemical treatment in their construction. Seasoning is a concept used by many manufacturers to enhance quality and safety of their cast iron cookware.
Seasoning a cast iron simply means cooking oil o fat in it. The purpose of seasoning a cast iron to create a non-stick surface to prevent your food from sticking to the surface when cooking, no matter the temperature. Seasoning also helps to protect the cast iron from rusting, which would affect its quality and safety of your food.
Some cast iron cooking sets for camping and skillets come pre-seasoned, such as those manufactured by Lodge, a manufacturer renowned for revolutionizing the pre-seasoning concept. However, some cast iron skillets don't come pre-seasoned; thus, they require the user to always pre-season them.
Top rated cast iron skillet for camping come pre-seasoned because they eliminate the hassle of seasoning for you especially in limited space and resources such as when you are camping.  They also ensure that the cast iron is protected from rust.
However, if you find yourself in the outdoors with an unseasoned skillet, simply heat up the skillet till very hot, add oil and rub it all over the skillet. Remove the skillet from heat and let it cool. The Lodge brand recommends using vegetable oil, shortening or seasoning spray for maximum results.
Furthermore, even with pre-seasoned cast iron gear for camping, it is a great idea to re-season them after some use. The best way to do this at home is to first scrub the cast irons with hot soapy water, rinse and then dry thoroughly.
Then, spread a thin layer of melted shortening or vegetable oil over the skillet. Place the skillet upside down on the middle rack of the oven (line the lower part with aluminum foil or parchment paper to protect the oven) and bake for one hour at 375 degrees Fahrenheit. After an hour, switch off the oven and let the skillet dry in there. The skillet should be seasoned and ready for use.
Ease Of Use
The best cast iron camp pots, skillets, Dutch ovens and other sets are quite handy when camping. If you want a basic no too fancy, a simple cast iron skillet will do whilst if you  are thinking of a more lavish out of the way cooking, then a cast iron cooking sets for camping is a better choice.
However, some manufacturers make combo sets such as the Lodge combo set which can double as skillet, griddle, Dutch oven and fryer for all your camping cooking needs. The latter is perhaps the best option for either context – a smaller group or large, simple cooking or an array of choices.
Furthermore, cast iron skillets are favored for camping beccause they are chemical free and seasoned for a non-sticky surfaces which makes cooking easy, fast and safe. Despite their ability to be used for a range of cooking, cast irons are still known to be very durable and  thus, they can be used in any heat source efficiently- be it an oven, frill or camping fire.
Their construction also withstands the highest of temperature whilst being able to evenly distribute heat thus, ensuring food is evenly and fully cooked and in a reasonable time frame. As for the iron deficient individuals, cast irons are not chemical leaching however, they leach iron which enhances iron content in your food.
Ease Of Cleaning
It is fairly easy to clean cast irons. Simply use a stiff brush and wash the cast iron under running water. Results are better when you wash the cast iron when it's still warm. Avoid the use soap. However, if your cast iron is too stained or if you feel you need to absolutely use soap then, use mild soap with running water and smoothly scrub out the stains. Rinse with water then dry thoroughly with lint free cloth or paper towels.
Additionally, there are useful care tips to follow to ensure your cast iron is easier to clean and maintain. The first thing is to always know what kinds of food to avoid cooking in your cast irons. Acidic foods or example will damage the seasoning on your cast iron. This leads to the cast iron's leaching of more iron thus, making your food taste metallic and adding rusting appearance which becomes cumbersome to clean and get rid of.
It's also wise to apply an "express" season process before cooking with the cast iron each time. Simply apply vegetable oil to the surface, heat the oil over low heat until pan is hot. Discard the vegetable oil and continue cooking. Investing on small useful gadgets such as rust erasers to rub out rust on the spot also helps relieve the strain of collectively cleaning the build up when you are washing the cast iron.
FAQs

Q: Why Use A Cast Iron For Camping?
A: 
When properly seasoned, cast iron cookware is an excellent choice for camping. Cast iron is ideal because of its stiff and brittle construction which gives it the ability to evenly distribute heat this property in turns allows them to evenly and fully cook food.
The strong make of cast iron allows makes it able to still function even at high temperatures. This allows for cast iron skillet to be used in a range of heat sources be it an oven, grill, stove and even camping fire or on burning coal. This also gives cast iron a durable, high-quality and indestructible finish.
When effectively seasoned, cast iron is impressively "non-sticky" thus; food prepared comes out clean with sticking to the surface. And compared to other metal cook ware, seasoning prevents corrosion which is unsafe to your food.
Furthermore to easy cooking process with cast iron, it is also quite easy to care for and to clean. It literally takes a few minutes to express season cast iron and the process is still effortless even when you season it b baking at home. So at the camping grounds, all you have to do is heat up the skillet with oil on the surface let cool, then start cooking because your cast iron will have been pre-seasoned.
Plus, as mentioned before, many of the best cast iron for camping are pre-seasoned and ready for use. All you need to quickly clean your cast iron at the camp site is a brush and water. And as your cast iron is still warm, the cleaning process is just as effortless as a simple scrub and rinse.
Q: What Recipes Can I Make In A Cast Iron?
A: 
The best cast iron for camping can relatively make most recipes however; there are key foods to avoid cooking in a cast iron. Some of the common ones include;
• Acidic foods because they damage the seasoning and bring about rust • Sticky foods such as eggs and rice – unless skillet is fully seasoned • Delicate fish such as salmon or flounder • Sticky desserts such as cobblers and crumbles
However, for foods that can be cooked in cast irons, the best recipes are made. Due to their, heat retaining, distributing and strong make, the best cast iron skillet for camping make the best steaks, fillet non-delicate fish for a quick sear and bustling flavors, sauté crunchy and crispy vegetables or bake skillet bread. Some cast irons that come as a combo are also versatile in making recipes. A Dutch oven for example will let you make excellent stocks, sauces and soups.
Globo Surf Overview
The best cast iron for camping reviews provides excellent insight to these invaluable additions to your kitchen essentials. The buying guide on the other end adds value to your knowledge bank on what to look for in your cooking essentials to go with your ideal camping trip. Whether you are looking to invest in the best cast iron skillet for camping or even a combo set to save space and money, the list of the 3 best cast irons in 2022 above is a great place to look.
More Camping Reviews: