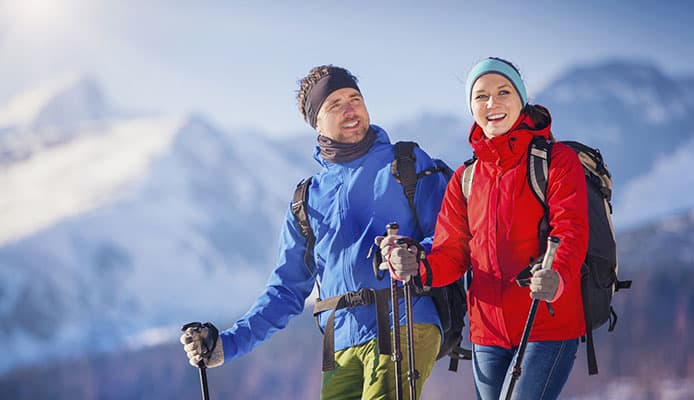 EDITORS CHOICE

---
Climbing is a fun sport that can be enjoyed all year round because you can head out into the summer canyon heat or tackle a mountain peak in the dead of winter. Safe climbers will use belaying as their safety system, but that also means that you need the toughest gear to get the job done.
When you're climbing in cooler temperatures, it is especially important that you stay warm because the temperature will continue to drop as you gain elevation. For most climbers, the invention of synthetic belay jackets has greatly assisted them by providing warm, but durable layer.
A winter belay jacket needs to be extra strong, but also comfortable so that you can focus on the task at hand and stay safe. The best belay parka should also be roomy, so it never restricts your movement. To help you pick a great belay jacket, we have made a list of the ten best belay jackets and included our comprehensive buying guide, so you can conquer the cold weather.
OUR TOP PICK
Big Agnes Men's Fire Tower Belay Jacket
See Customer Owner Feedback >>
What Makes This Belay Jacket Stand Out

Baffled construction with vertical draft tubes for contouring

Filled with a warm 700 DownTek material

Made of ripstop nylon for strength and resistance

Full front zipper and multiple zipper pockets for better functionality

Helmet compatible hood with adjustable draw cord closure

Elastic cuff sleeves for comfort and safety
Material: Ripstop nylon
Insulation: 700 DownTek
Hood: Attached, helmet compatible
Size: Men's X-Large
Colors: Blue or Red
EDITORS CHOICE
Black Diamond Men's Belay Jacket
See Customer Owner Feedback >>
What Makes This Belay Jacket Stand Out

Synthetic shell and insulation are better at resisting water

Synthetic materials are stronger and longer lasting

Multi-layer construction keeps you warm

Easy to use design with a full front, two-way zipper and multiple pockets

Helmet compatible hood with ThermoLite insulation

Relaxed fit gives you room to move
Product Dimensions: 26 x 17 x 6 inches
Weight: 2.04 pounds
Material: Synthetic
Insulation: ThermoLite
Hood: Attached, helmet compatible
Sizes: Men's Small-X-Large
Colors: 5 options
View More By Black Diamond »
BEST VALUE
Outdoor Research Perch Belay Jacket
See Customer Owner Feedback >>
What Makes This Belay Jacket Stand Out

Staggered insulation prevents cold spots and provides an even layer of warmth

Primaloft insulation is water resistant and breathable

Nylon shell has Pertex endurance and is lightweight

Stuff the jacket into an exterior pocket for easy transportation

Wire brimmed helmet for adjustability

Machine wash for easy care
Material: 100% Nylon
Insulation: Primaloft
Hood: Attached, wire brimmed
Sizes: Adult X-Small-X-Large
Colors: Black or Glacier
View More By Outdoor Research »
How To Choose A Belay Jacket – Buying Guide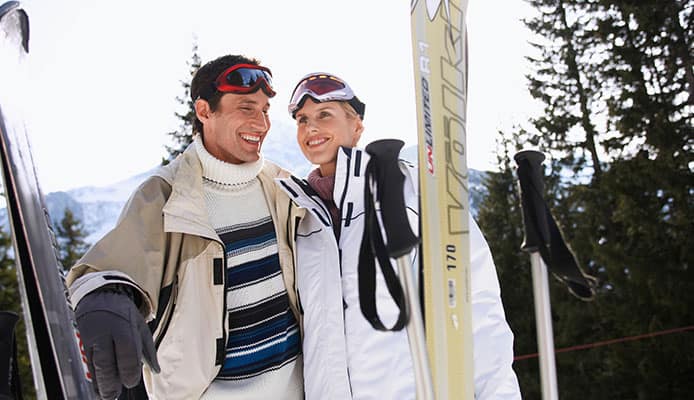 Material
When you're looking for the best belay parka, it is important that you consider what materials are featured in the design. The material for the shell of your top rated belay parka should be extremely durable but also lightweight. You also want the shell to be water repellent and windproof for better protection against the elements.
Synthetic belay jackets are the best choice because the materials are everything we listed above. Synthetics like nylon are strong but lightweight, while still being slightly water resistant. It is important to understand the difference between water resistant and waterproof because they are not the same. Nylon is water resistant and while it may get damp, it is also fast drying so that you aren't wet for long. There may also be a DWR (durable water repellent) coating to assist in the jackets proofing ability and stop water from seeping through the material.
But when you're climbing and around jagged points or sharp rocks, it is also important that your Rab belay jacket be durable. Nylon is tear resistant and also prevents signs of wear, which again, makes it a top choice for the best belay jackets. A durable winter belay jacket should be able to handle all the rough handling from ropes and climbing so that it is long lasting and reliable for every trip.
Warmth
While the shell is important for your protection, you will need more than a thin layer of nylon to keep you warm. This is where it is important that you consider what type of environments and conditions you want to go climbing. Moderate temperatures will only need a lightly padded jacket, which means that you can get away with using a more compact design.
If you are going to be pulling out your ice axes and adventuring into colder climates, you will need at thickly padded jacket. The only downside to a thicker jacket is that it won't stretch as much and tends to be quite bulky. You may also find it more difficult to pack, but it's more important to stay warm and safe.
You should always spend the time to determine the proper amount of warmth that you need for a trip. Belay jacket reviews can assist you in your search by providing you with information on how warm a Patagonia belay jacket is and whether it would suit your needs.
Protection
As we mentioned, water protection is an important feature of any top rated belay parka. You may be caught in unexpected weather or you may be climbing in snowy environments, where your winter belay jacket needs to be able to stop your underlayers from being soaked.
But other forms of protection include being windproof and abrasion resistant. The wind can quickly have you shivering and as you climb higher, the wind chill will only drop alongside the temperature. A windproof Primaloft belay jacket should be able to stop the breeze from penetrating through the jacket, which will keep you warmer.
Abrasion resistance is another form of protection that can stop you from being scraped up by the rocks. While most synthetic belay jackets are tear resistant, it doesn't mean that they aren't impenetrable. But should a tear occur, the jacket can protect your skin from being damaged. With abrasion resistance, you should have less risk of being cut while you're climbing.
Hood
Alongside protection is the hood. The best belay parka should have a built-in hood, which provides vital protection for a sensitive area of your body – the head. You also lose a lot of heat from the top of your head and by using a hood to cover up, you can stay warmer.
But for climbers, any hood design won't work and could actually be a safety hazard. Instead, the best belay jackets will have a hood that is helmet compatible and form fitting. Helmets are always important when climbing to keep you safe and to stay warm, you want to be sure that the hood can easily and comfortably fit over your protective head gear.
It is also important that the hood is not too loose or floppy as you could risk it falling over your eyes and being a safety hazard. A top rated belay parka should have a hood that can be adjusted or even uses a thin wire so that you can keep it out of your line of sight while you belay.
Most hoods will be built-in and may also have a chin guard. A chin guard is another part of the hood and collar, which will provide you with more protection from the elements.
Filling
While we've discussed various aspects of belay jackets, the final feature that is important to consider is the filling or insulation. Insulation is what is placed between the layers of material – shell and lining, to keep you warm. Most of the best belay jackets have a strong construction like baffled or draft tubes that are filled with insulation.
Down belay jackets will use a natural feather material to fill the space between the layers to keep you warm. Down is a good insulating material, but there are a few downsides. Down belay jackets are more likely to soak through all the materials and stay wetter for longer. While they can be lightweight, if you are planning on climbing in the rain or snow and do not have a fully waterproof shell, it is best to skip down insulation.
Other insulation options include synthetic materials, like those featured in a Primaloft belay jacket. Primaloft itself is a brand of synthetic insulation, which is commonly used in quality belay jackets. Synthetic insulation can be better than down insulation because it is more water resistant and less likely to soak through. For weight conscious climbers, synthetic insulation is also less puffy, so your jacket is more compact and easier to transport. It can also be easier to move with synthetic insulation versus down insulation, where the bulkiness of the design may hinder your movement.
FAQs
Q: What's A Belay Jacket?
A: 
A belay jacket is an important part of your climbing gear, which is used to keep you warm as you as exploring with a partner. The jacket is better than other designs like fleece jackets because it has been designed to handle the tough conditions of the mountain and be extra warm.
The idea of a belay jacket is also geared towards layering. The best belay parka will be compact so that you can easily remove and store it when it is not in use. This may mean that you are too warm when actively moving and only need an additional layer when you stop and assist your partner in belaying.
Q: Which Is Better? A Down Or Synthetic Jacket?
A: 
For most climbers, a synthetic jacket is better because it is more water resistant. As we highlighted above, down jackets tend to soak through all of the insulating material, which means that you could get cold on the mountain if your shell is not 100% waterproof. Down jackets are also puffier, so they can hinder your movements.
Synthetic jackets are lightweight and better at resisting water, which makes them great for climbers. With better water resistance, you are less likely to soak through the layers and feel wet in your bottom layers. Synthetic materials are less bulky than down belay jackets, which means that you can easily carry your jacket in your pack when it is not being used. Less bulk also means better freedom of movement for safety while you are belaying.
Globo Surf Overview
When it comes to climbing, you want the best gear to stay safe and have a good time. When the temperatures drop, a top rated belay parka is the best way to stay warm on the mountain. With durable and comfortable designs, the best belay jackets will keep you warm so that you can adventure all day and climb to new heights.
More Snow Reviews:
More Jacket Reviews: