Snowboarding is a fun way to spend a day on the slopes and ensures that you stay active in the winter. But in order to have the best experience on the slopes, you need the right snowboarding gear. Your boots are essential to keep you connected to your board, but for beginner's, having quality entry level snowboard boot is especially important for your safety on the slopes. Quality snowboarding boots for beginners will have all the right features, like a soft flex, to keep you safe as you learn to turn, steer, and stop.
We want to help you to fall in love with snowboarding, so we have made a list of the six best beginner snowboard boots and included a comprehensive buying guide to assist you in your search for quality gear. With our guide, you'll have everything you need so you can spend less time shopping and more time learning the tricks of the slopes.
How To Choose Beginner Snowboard Boots – Buying Guide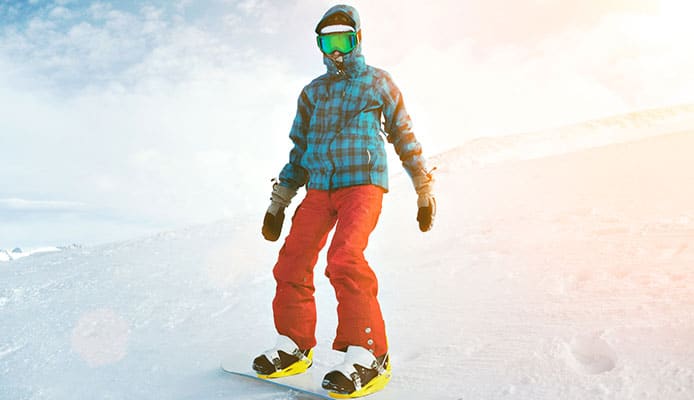 Flex
Not all top rated snowboard boots for beginners will have the same flex. In fact, any pair of snowboard boots can have a different flex rating. But for the best experience on the slope, it is important that you consider what type of flex you need for how you ride and your skill level.
Most snowboarding boots for beginners will have a soft flex because it is more comfortable and offers the best mobility. For beginner riders, mobility is what they'll need to learn how to control and maneuver the board over different terrain conditions.
A medium flex would be better if you are riding on mixed terrain conditions because it provides more support and control but is still rather flexible. The softer flex allows you to glide over the snow and learn how to master powder, crud, or off trail snow conditions.
A stiffer flex would be best left to experienced snowboarders who have already mastered how to carve turns and travel at high speeds. The stiffer the snowboard, the more control you will have to carve through harsh terrain conditions.
Liner
The best entry level snowboard boots will have a quality liner, which works to keep your feet warm and cold on the slopes. But just like flex, there are different types of liners available in beginner's snowboarding boots.
The most affordable would be a non-moldable liner, which means that you will have to take the time to break-in the boots. A thermoformable or custom moldable liner will be more expensive but reduces or eliminates the break-in time by making the boots more comfortable straight out of the box.
Both of these types of liners can also be customized using heat and pressure to mold the liner to your foot. The best beginner snowboard boots will often feature one of these types of liners because they are extra comfortable and quickly slope ready.
Fit
The fit of your entry level snowboard boots is also important to consider because you want them to be snug, but not so tight that your feet are hurting or uncomfortable. Top-rated snowboard boots for beginners will have an adjustable lacing system, which can allow you to control the fit of the boot.
Related Reviews: Ski Boots For Wide Feet & Ski Boots For Narrow Feet
Ideally, your boots should fit snuggly so that your foot can slip or slide around inside while you're trying to control the board. But if you can't feel your toes or your shins start to hurt, it may indicate that your beginner snowboard boots are too tight.
Comfort
The fit of your boots can affect the overall comfort, but you should also look at other features like the lining and tongue to determine if you will be go to do for a day long snowboarding session on the mountain.
The best starter snowboard boots will be comfortable and cushioned to ensure that your feet are supported and won't be aching halfway through the day. Comfortable features include a soft lining and padded tongue, alongside a durable outer sole for support.
Lacing
It is extremely important that you learn how to properly lace your beginner's snowboarding boots so that you get the best support, comfort, and performance while you ride your snowboard. But there are few different lacing systems and styles that you should be aware of when choosing your snowboarding boots for beginners.
Traditional laces will use a system much like a normal street shoe and is the most affordable system. The laces can be pulled tight or loosened and secure with a tight knot. The only downsides are that if your boot does become unlaced, it can be hard to re-do them with your snowboard gloves on your hands.
Quick pull laces are like traditional laces, but they can be tightened with a single pull. They also use two different sets of laces, which allows you to customize the fit around the ankle and foot. The only downside is that again, it can be difficult to manage your laces while wearing gloves. It is also harder to replace quick pull laces and more expensive, so you have to take more care to not break or snag the cord or eyelets.
Finally, the BOA system uses a set of dials and stainless-steel cables to fasten and secure the boots to your feet. This lace system is easy to use, even while you are wearing gloves. It also allows you to find your customized fit before every ride, quickly and efficiently. The only downsides is that these laces are the most expensive to replace if they break and they can cause pressure points where the cables pull at the eyelets.
If you are unsure about which lace system to choose, we suggest you read beginner snowboard boot reviews. Many reviewers will give their honest opinion about the laces and can help you decide between one system or the other. But not matter which system you choose, the best entry level snowboard boots should be easy to use and lace up.
Style
Lastly, style may be a concern to snowboarders who are looking to reduce the overall bulk of their beginner snowboard boots. There are many styles of boots on the market, but many brands have worked hard to redesign their products to be compact and sleek. You can look for top rated snowboard boots for beginners that reduce the footprint size, which makes the style of the boot more attractive and compact.
FAQs
Q: How Much Should I Spend On Snowboard Boots?
A: 
Whenever you're trying something new, you'll probably be hesitant to make a huge investment with the worry that you may not like the activity. This is a common concern and it can affect which product you choose to purchase.
For beginner snowboarders, boots do not come cheap and you'll have to make a large investment right off the bat. But it is actually worse to look for the cheapest boots because you will likely end up with a poor quality and uncomfortable boot. While the boots are expensive, entry level snowboard boots shouldn't break the bank.
It can also help to read beginner snowboard boot reviews to determine whether a pair of boots is the best value and quality, or if you should continue on your search.
Q: Do I Need Special Snowboard Boots?
A: 
Yes, you will need special snowboard boots to use your snowboard. If you are a skier, ski and snowboard boots are not the same. You will have to invest in a pair of snowboarding boots to strap into your snowboard bindings. The main different is that snowboard boots do not "click" in at the toe and heel like ski boots.

Instead, snowboard boots use a strong binding system to keep your boots attached to the board. The boot does not click in and no extra features besides being thicker and more rugged for the snowy conditions.

Related Reviews: Freestyle Snowboard Boots & Ski Boots For Beginners
Globo Surf Overview
When you're a beginner, it can be hard to find quality gear, but entry level snowboard boots are important if you're going to master the sport of snowboarding. Top rated snowboard boots for beginners should be durable, flexible, reliable, and comfortable so that you have the best time learning how to turn and stop in the snow.
We hope that with our guide you have provided you with all the information you need to find a quality pair of beginner snowboard boots that will help you conquer the slopes.
More Snow Reviews:
More Boots Reviews:
Do you own a pair of the beginner snowboard boots that made it onto our list? Let us know which pair your favorite is to use to tear up the slopes in the comments section below.