OUR TOP PICK

---

EDITORS CHOICE

---
There are many types of tents and they are available in a variety of shapes and sizes. If you are planning to head outdoors in a large group, the most efficient way to camp would be to use a larger tent. If you're planning a trip with 7-8 people, a top-rated 8-person tent is an excellent choice if you want both comfort and storage space.
Before you purchase a tent, you should review the overall design and features to see whether the tent will suit your needs. To help you get started, we have made a list of the ten best 8-person tents, all of which are packed with outstanding features. Plus, our comprehensive buying guide provides concrete tips to find a quality 8-person family tent.
Pitching an 8-man tent alone is

not easy!

Always ensure you have help from someone who understands the pitching process.

Tents of this size aren't just great for family camping, they're perfect for groups of friends too. Probably best to get one which is separated into 2 or more rooms though, so that you can get changed/dressed in a private area.

Tents with large "living" areas and separate bedrooms are brilliant, especially if the weather is bad, because they allow you to socialise in one space, and then be able to roll into bed without having to rearrange the entire tent.

Camper
How To Choose A 8 Person Tent – Buying Guide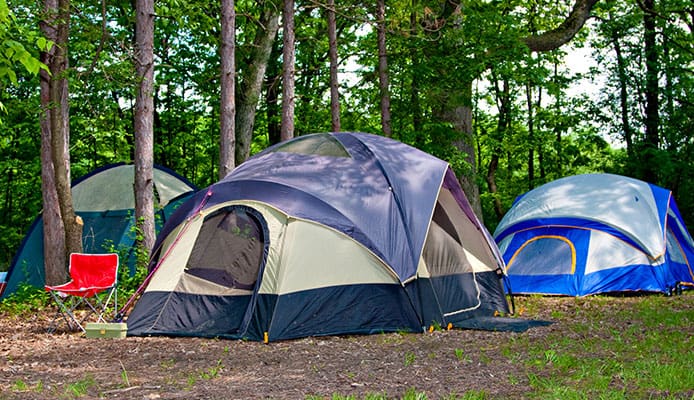 Size
When we talk about eight-person tents, the size of the tent refers to the number of people that can comfortably fit inside. Tent size can be hard to determine because 8-man tents may say they fit eight people but would be more comfortable with 7 people plus their gear.
A good way to judge the size of an 8-person tent is to look at the exact dimensions (provided below each product on our list). Checking first-hand customer Reviews may indicate how many people slept comfortably inside a tent and how much space was left over for storage.
Construction
The best 8-person tent should be durable and resistant to weather elements like wind and rain. Most tents use a freestanding design where the poles and fabric work in conjunction to create a self-supporting structure.
A top-rated 8-person camping tent will have a variety of tent poles that interlink to build a solid structure. Aluminum and fiberglass are popular materials because they are strong and lightweight.
You should also look at the fabrics used in the tent to assess whether if it is weatherproof. The best 8-person tent will have a fully weatherproof construction that uses sealed seams and a waterproof coating to stop rain from penetrating the interior space.
Ventilation
Ventilation is important because it will reduce condensation build-up on the inside of the tent. A top-rated 8-person camping tent will be well ventilated so that it can be used for 3 or 4 seasons during the year comfortably. In the summer, ventilation will help keep the tent cool and dry inside.
As the temperatures drop, ventilation becomes especially important to stop the build-up of condensation. Eight-person tents that are also four-season tents will have vents, windows, and mesh to keep you warm and dry by reducing condensation. 
Related Review: 4 Season Tent
Protection
The main purpose of an 8-person tent is to provide a group of campers with protection against the outside elements. The best 8-person camping tent will put protection at the front and center of its design. After all, a tent that can't adequately protect its campers would be useless.
8-man tents should protect against the sun, rain, and wind. The tent should use a durable material that has a fully waterproof coating so that any moisture beads off the sides. Additionally, a strong frame will ensure that your shelter does not collapse on windy days and that you catch a break from wind exposure. There are many types of camping and if you find yourself out in winter, you should be certain that your tent can also protect against cold temperatures and snow.
Related Review: Waterproof Tent
Weight
When you're camping in a large group, it's a safe assumption that you will not venture far from the car because carrying sufficient gear for a group of eight would be difficult. If you add your tent weight to that gear, it might be impossible to take what you need on a long excursion. Most campers who are looking at taking an 8-person tent on their adventure won't be carrying the tent for long distances, so the weight isn't a huge factor.
Campers should be aware of the weight of their tent to determine if they need help carrying the tent to its pitch location. Most tents are around 30 pounds, but you may find designs that are significantly lighter or slightly heavier. The weight should always be indicated in the product specifications so that you can estimate how much space and strength you need to take your tent on your trip.
Related Review: Ultralight Tent
Poles
The tent poles are the heart of your tent's frame and construction. The best 8-person camping tent will have strong poles that are also flexible and easy to use. Fiberglass poles are popular because they are lightweight, durable, and affordable. Aluminum poles are also lightweight but can easily bend out of shape or snap under pressure, so they are not suited for group camping. 
No matter what type of pole your 8-person tent comes with, you want to be certain that it can support the fabric and hold up in the wind. A few of the top-rated 8-person camping tents use poles that are color-coded for faster setup times. If you are concerned about the durability of your tent poles, you can read 8-person tent reviews and see what other buyers have to say regarding the poles and their design.
Space
When you're camping with 8 people, space is very important because you want to be certain that there is enough room inside the tent for everyone and their camping gear, while also providing a sense of privacy. Some 8-man tents manage the space well by including removable room dividers. These dividers can break up the large spacious interior and create more privacy for couples in the camping group.
The product specifications should give you the dimensions of the interior space and indicate whether dividers are included in the design. For a private space, it would be better to use a tent for 8 people that includes at least one room divider.
Related Review: 10 Person Tent
Ease of Set-Up
Large tents can be a headache to set up, but the best 8-person camping tent will have a smart setup design that can be completed in a matter of minutes. Most of the 8-person tents on our list can be set up in about 15 minutes, , however, you may find you like the design of an 8-person instant tent, which should be ready to go in just a few minutes.
The ease of set-up will most likely be down to the tent pole design and instructions. A top-rated 8-person camping tent will use a smart system like color-coding to make it easy to set up the structure. 
Material
Material is an important consideration because you want your tent to be protective, durable, and long-lasting. Synthetic materials like polyester are an excellent choice because they are durable, lightweight, waterproof, and can be re-created easily. The downside to most synthetic materials is that they are only warm enough for 1-3 seasons.
If you are looking to venture out in the fall or winter seasons, having a natural material like cotton canvas, might be a better choice. Canvas is a great material because it is breathable and waterproof as long as it's treated correctly, it is a bit on the heavy side though, and will come in at twice the weight of the polyester
Related Review: Canvas Tent
No matter, whether you choose a synthetic or natural material, you want a tent that will last throughout the years. Quality materials should not deteriorate if they are properly cared for by the camper. 8-person tent reviews can be a great resource to determine the quality of a tent's material. Reviewers may state how protective the material is and whether or not it is durable.
Layout
The layout of a tent's design can be an important consideration if you plan on using camping furniture like air mattresses or cots. You should be able to easily find a diagram of the tent's layout so that you can plan accordingly. If a floor plan isn't available, you will be able to roughly figure out whether your furniture will fit by drawing a plan from the dimension specs.
FAQs
Q: What are the most important features of 8-person tents?
A: 
The two most important features of 8-person family tents are the level of protection they provide and their construction. A tent for 8 people needs to protect against the rain, wind, and possibly snow, so, protection and structural integrity needs to be at the forefront of the design. This means quality materials but also a durable construction. The quality of the materials and construction methods of an 8-person instant tent can determine whether the tent is worth the investment and will be long-lasting. A durable tent should provide all the protection you need and be ready to be taken down and set up, trip after trip.
Q: How to clean and store a tent?
A: 
The best way to clean your tent would be to follow any brand or manufacturer's instructions. Most tents can be cleaned with water and rubbed lightly with a soft sponge to remove dirt.  Be cautious of using detergents because it could damage the material's coating and detriment its waterproof value.
You should always store your tent bone-dry. Moisture is the enemy for tents and if you store your tent wet, it will be prone to growing mold and mildew and even rotting away. A dry tent can be safely stored in a dry location during the off-season to prolong its life.
Q: How comfortable is the 8-person tent?
A: 
The level of comfort will depend on how much you pack inside your tent. A tent for 8 people should have the space to sleep 8 people and store a few gear items. If you are using air beds you might have less space, but you will certainly be more comfortable.
The majority of eight-person tents are extremely comfortable because they have a spacious interior that can accommodate a few air beds and leave space for gear. The best 8-person tent will also have plenty of headspaces so that you can stand comfortably inside without having to crouch.
Q: Do I need room dividers?
A: 
Whether or not your tent for 8 people has dividers will be up to the design and your personal choice. Some designs do include up to three-room dividers to section the interior space into separate rooms for privacy. If you want more privacy between your group, you should look for a design that has at least one room divider. It should be indicated in the product specifications whether or not the tent in question has dividers.
Globo Surf Overview
Camping is a fun activity for the whole family that has many health benefits, but what isn't fun is being stuck in the rain. 8-person family tents are designed to provide campers with comfort and protection with enough space to accommodate the entire group and their gear. With our guide, we hope that you find the best 8-person tent that your family will enjoy for years to come.
More Camping Reviews:
More Tent Reviews:
Do you own one of the 8 man tents that made it onto our list? Let us know how well your 8 person tent works for group camping in the comment section below.