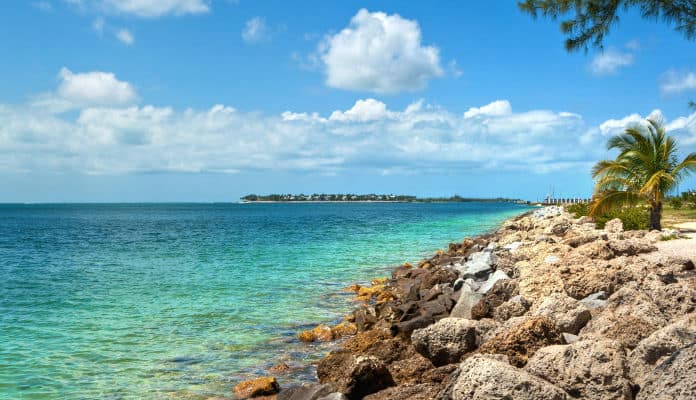 Snorkeling in Key West can be a difficult task. This is one of the most popular spots on the east coast of America and becomes overcrowded especially in the summer months. If you don't know of some secret locations you can keep in your back pocket you may not even get a spot on the beach.
With that being said, Key West has one of the largest barrier reefs on Earth. In total there are over 220 miles (354 kilometers) with most of it being protected as a National Marine Sanctuary. You can explore much of it but knowing where you can and can't swim is important. Always follow the signs on maps and beaches.
We have researched so you don't have to. Ready to get started? Let's go.
Quick Answer: 5 Best Snorkeling Spots in Key West
1. Sand Key
This part of the keys has everything from great snorkeling to animal habitats. Some amenities range from a concession area to showers and even a designated dog zone (which includes a dog park). The snorkeling is pristine. You may even get lucky and be able to see some turtles in this area. It is protected which means it should be less busy than other parts of Florida. It is located just west of Tampa, slightly north of Largo and St. Petersburg.
2. Rock Key
This is one of the best places in Florida that nobody really knows about. Rock Key sits in the very south of Florida off the main string of Keys. There are many species of fish that call this reef home that can range from yellowtail snapper, sergeant major, blue tang to parrotfish. The water here can range from 5 to 35 feet and even include coral canyons.
3. Eastern Dry Rocks
Don't be surprised if you've never heard of this snorkel spot. If you drive to the end of the Keys in Florida and hop on a quick boat ride you will end up in the Eastern Dry Rocks. You may be thinking that that sounds like quite a lot of work, but you will be impressed by the payoff.
You will be greeted with finger canyons to explore. These are essentially long tubes of coral that have formed amazing habitats for fish. You can expect to see an amazing range of marine life depending on the time of year you visit. In the summer (August in particular) you will find large tarpon, permit, nurse sharks, and even spotted stingrays.
4. Cottrell Key
Much like the Eastern Dry Rocks, Cottrell Key is an adventure to get to. It is only accessible by boat (it actually sits in the Gulf of Mexico) but will impress you. At this reef, you won't just experience one of the biggest reefs in the world, but also a sponge garden. It is actually one of the larger Keys that you can explore. This makes heading to this place even more special as you can explore on land and in the water.
Depending on the time of year, and even day, the conditions can vary. If you don't feel comfortable just move to the other side and you should be good. There are lots of sights to see in the water. Cottrell Key has a Dolphin Watch that you can experience as well as snorkeling the reef.
The ocean floor here is sandy with coral outcroppings. If you are lucky you can see some Goliath grouper, an array of stingrays, and sharks (if you're lucky).
5. Western Sambo
Make sure you have an exceptional mask and a high-quality underwater camera for this diverse underwater haven. The Atlantic ocean hosts exceptional water clarity in this 9 square mile preserve. Vibrantly colored coral canyons line the ocean floor while schools of tropical fish surround you.
6. Man Rock
You may not even be able to get to this location. It is so secret that even people who live in Florida have never heard of it. You will have to ask around to find a captain that knows of its location because it's not on any map. We hear that it's around 6 miles southwest of Key West – meaning you will need a boat to reach it. There is a halo reef at this location. This is when coral forms in a circle which is quite rare.
Final Thoughts
Florida is known as an accessible tropical destination. Its tropical waters are home to one of the largest barrier reefs in the world. This means that you could explore this area for as long as you want and still never see everything it has to offer. Knowing where the secret beaches and snorkeling spots are will ensure you find an ideal spot on the beach. Some of these places aren't easy to access, but we can assure you they are worth the trip.
More Snorkel Reviews:
Source
Key West, Keywest.com