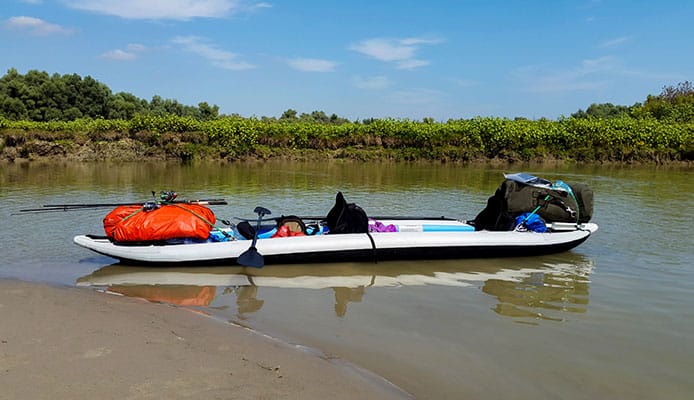 Tips For Inflating Your Kayak To Get Your Adventure Started
For the outdoor enthusiasts with compact kayaks the importance of inflating your kayak is essential. You want to ensure that you are using the best method as well as correctly inflating your kayak. These tips for inflating your kayak break down what pump to use and how to inflate your kayak.
Type Of Pumps
The type of pump that one chooses to inflate their kayak with comes down to personal preference, location, and time. If you are unable to use electricity, it is best to go with a manual pumping method. If you would like a faster method, an electric pump is the best choice. You will ultimately be the best judge for what pump is best for you.
The Foot Pump
The foot pump is a decent choice for pumps if you would like your kayak inflated relatively quickly and tire easily. The device saves your back by not forcing you to bend over and if you tire, a change in legs can bring a welcome relief. The pump does have some downfalls. It can be worn out over time, become jammed with sand, and be broken with excessive force. However, the foot pump is a reliable method that brings easy transportation in a manual pump for your kayak. You can expect your kayak to be fully inflated in about 5-8 minutes time.
The Hand Pump
The hand pump is the most common method and one that is most likely to be provided with your kayak. The hand pump does require you to kneel or bend over to use the pump. Some hand pumps have a low and high-pressure mode which can assist in inflating your kayak. One pump that has a high-pressure mode is the K-pump. The K-pump is sold as its own device but is an upgrade from the traditional hand pump with a low pressure. Hand pumps for kayaks have about the same time as the foot pump for full inflation; about 5-8 minutes.
The Electric Pump
The electric pump is the fastest method and the easiest pump to use when inflating your kayak. The electric pump can inflate your kayak in about 2 minutes and requires minimal effort. Unlike the other pumps, the electric pump requires only set up but not work or pumping action to inflate your kayak. The motor does all the work for you. The drawback is that for some, the electric pump may not be as portable. The pump does need a power source which can come in the form of a battery pack or a 12V power supply. However, the electric pump can be set to different air pressures ensuring the proper inflation of your kayak. One electric pump that is easy to use is the Sea Eagle BTP Electric Turbo Pump.
Attaching the Pump
All pumps should come with the required pieces needed to attach themselves to your kayak. The foot and hand pump usually come with attachments that fit the different valves that are used on inflatable kayaks. For beginners, it can be a learning process with attaching the pump device to your kayak, but once learned it should come quickly to attach and detach.
When to Inflate

The above tips for how to inflate your kayak are strictly about the devices used to pump air into your kayak, but this is about deciding the best time to inflate your kayak. For most, the decision of when to pump air into their kayak depends on their method of transportation to their kayaking site.
Transportation
If you are planning on transporting your kayak inside a car or truck bed, it is best to leave your kayak deflated and inflate it upon arrival at your location. If you have a rack on your vehicle, you can safely inflate the kayak prior to arrival at the location and use your rack to transport the already air-filled kayak. If you have the availability of a rack to transport your kayak, it gives you the option of leaving your kayak inflated all the time. It is best however to not store the kayak in direct sunlight and be mindful of the air pressure before each use.
Air Chambers: How to Inflate Your Kayak
Most inflatable kayaks will have three air chambers. It is best to inflate the floor air chamber first, before moving on to each side chamber. To ensure that the floor of the kayak is properly positioned, it may be best to not fully inflate the side sections immediately. Instead, fill each side part way and double check that your floor is properly positioned. Once the floor is positioned, you can fully inflate the side chambers. Remember that if you have a skeg, it will need to be attached before the inflation of the kayak.
Kayak Care
Whether your kayak is deflated or inflated, it is important to remember that proper care should be used at all times. You don't want to drag your kayak on the floor as that can easily wear the material. By ensuring proper care of your kayak, you are extending the years you will be able to use it without risk of damage, as well as minimizing the risk of the craft developing a hole in the material.
When in Doubt, Check the Manual
While these tips for how to inflate your kayak are meant to give you everything you need to know about putting air into your kayak, if confusion or doubt is still present because you need to know a specific detail about your personal device, it is best to check the manual. If you are confused as to how an attachment is used or how your style of inflatable kayak works, refer to the manual provided with the kayak.
No matter your preference in styles of pumps, inflating your kayak will become second nature. Once you learn how to use the attachments and what pump is best for you and your kayak, inflation will become easy. These tips for inflating your kayak will have you off on your adventure in no time!
More Kayak Reviews: